Event Information
Refund Policy
Contact the organizer to request a refund.
Eventbrite's fee is nonrefundable.
somatic healing through breath, song, subtle energy practice and yogic arts
About this Event
A somatic healing immersion through breath, song, subtle energy practice and yogic arts
Vocal Therapeutics Immersion
Live stream:
Saturday Dec 5th, Sunday Dec 6th 12pm-5pm PDT (with lunch break)
Replay / Recordings included
*Live participation encouraged, yet you are welcome to take this immersion in your own time at your convenience through the recordings.
In this weekend immersion, we will be experiencing:
– the voice as a unique, powerful tool for sound therapy
– nervous system regulation techniques
– the medicinal use of the human voice in healing
– learning trauma therapy and stress relief through the voice and movement
– the purpose of singing in context of social bonds and community healing
– practices and improvisation to unveil the voice and to cultivate pure tone
– speech and song therapy
– practices for healing the relationship ones voice and finding empowerment through sound.
We will be implementing effective vocal technique, meditation, Qigong, visualization, and toning as well esoteric Taoist principles, and Yogic arts.
We will experience the expanding of our voices through the most liberating vocal techniques and exercises I have found throughout the Eastern and Western world. The foundation of these techniques lie in the creation of pure, natural tone, discovering overtones, unveiling the full range of our voice, and discovering the healing phenomena of coherence through our voice.
Our body is our instrument, therefore alignment practices are included that create an open, clear channel for our voice and purest expression. We will strengthen and coordinate the breath, creating a strong foundation for our tone, balancing our nervous system and experiencing the spaciousness of our instrument.
An introduction to the ancient and hauntingly beautiful songs of the Balkans and the Near East, with their powerful and delicate vocal ornamentation will be covered. Collected over two decades of personal field research, they speak to a time of open communication between humans, animals, plants and minerals. In singing these ancient songs, we immerse ourselves into the wisdom and animistic ways of our great ancestors. We have the ability through song to not only to transform grief and blockages, but as well the unsung emotions of our ancestors, allowing this energy to be liberated into its essential quality of beauty. In immersing ourselves in these songs we can experience the unity within seemingly disparate lineages and cultures, and in turn, the unity within ourselves.
The creative process of art, and specifically song, has the power to transform unlike anything else in this world. We only need to show up for this process and learn to open, while increasing our own consciousness.
The foundation for our sound and expression lies in the increased ability and practice of sensate awareness and embodiment.
In these times of being more isolated from natural world than ever before, many of us have unconsciously learned to survive slightly outside the body, and with gaps of presence of the form and function of the body. Practices for heightened presence, focus and expanding ones awareness are practiced along with the art of deep listening, refining our instruments as artists and humans thriving in creative potential.
Our art is the end result of our depth of listening and acute sensing. Through experiential learning the dynamics of attention, we are able to bring awareness into the organization of the natural coherence of our body through sound and movement.
Embodiment, and the skill of locating psycho-emotional sensory awareness within our greater field of awareness is fundamental to somatic therapy within daily life as well as the expressive arts.
All of the songs and practices will be given in the context of expanding the singer's range, breath support, vocal colors and textures. Here we discover our unlimited capacity of creative expression, deep healing and wholehearted joy.
Sonja Drakulich is best known as singer, producer, composer and founder of the internationally-acclaimed world music ensemble, Stellamara, and as singer and percussionist for the Northern European Medieval-Folk band, Faun. With Stellamara, she has toured throughout the US and Europe and has produced three critically-acclaimed CD releases, five star reviews from Alternative Press, Electronic Musician, New Age Voice, SF Weekly and many other notable publications, with albums in the top ten of the World Music Charts. With Faun, she completed three years of extensive touring throughout Europe and recorded on their top ten charted, platinum albums Von den Elben and Luna, from Universal Music.
As a master vocal teacher specializing in freeing the voice into unlimited expression, Sonja has lead international, workshops and private courses for over fifteen years and master classes and retreats for over seven years. Her clients include public figures, professional singers and dancers, actors, martial artists, performers, coaches, healers, students and professionals from all walks of life. She has developed a unique method of vocal based Somatic Therapy, Qigong and Practical Ritual, rooted in Nada Yoga, Ancestral Healing and in the synthesis of optimal techniques practices she has learned throughout the Eastern and Western world. She is currently co-facilitating international retreats integrated with internationally respected dance artists, qigong and yoga instructors and ceremony facilitators. Throughout her studies and her career as producer, performer and teacher, she maintains her focus on the devotional aspect of song and on intercultural unification through music.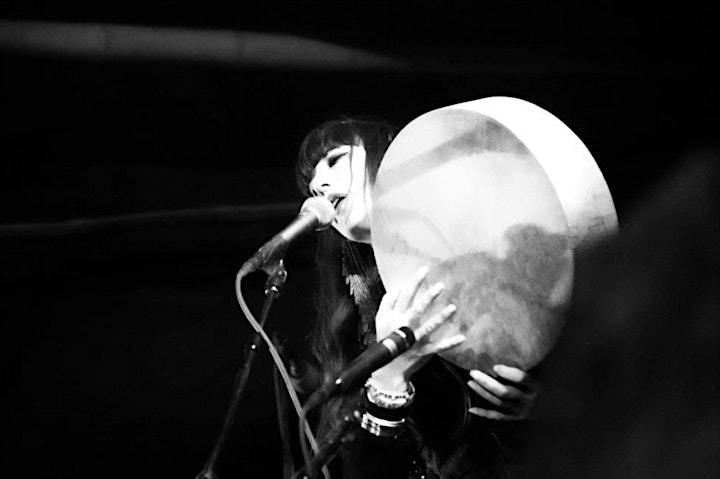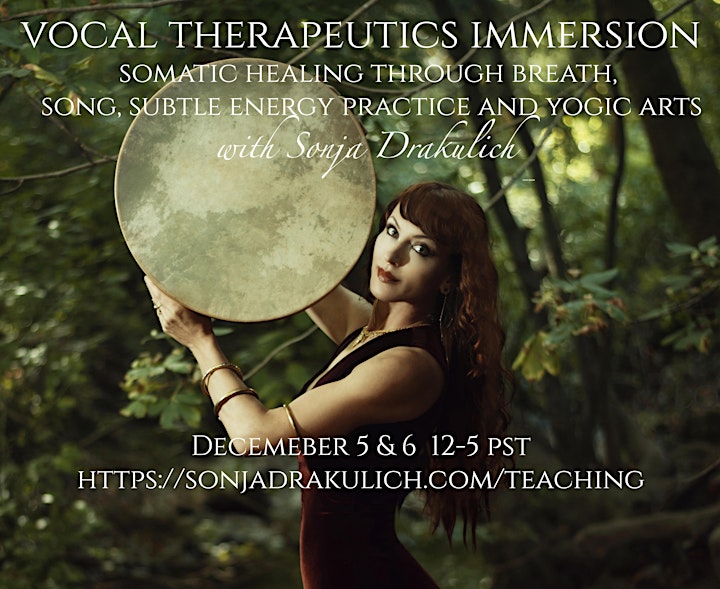 Date and Time
Location
Refund Policy
Contact the organizer to request a refund.
Eventbrite's fee is nonrefundable.