Event Information
Location
New York New York
Las Vegas
Description
TICKET UPDATE for Saturday, Aug 27:
There will be tickets at the door for VMunderground-WuPaaS-MoaVB ... .com. If you have ticket, you can gain entry at 7. However, if ticket holders don't show by 7:30, walk-up customers will be granted access. There are about 50 tickets as of now that have been given back to the pool. Hurricane Irene may also free up another dozen tickets. So if you don't have tickets, you can still come party. Follow #vmunderground on Twitter for the latest. Thanks!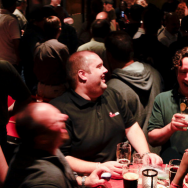 For the last few years, a small, unofficial crew has been organizing a rapidly growing event to meet up, have a few drinks, socialize, network, and generally get psyched up for vmworld the night before it all gets started. This started as a community effort and we remain true to our roots this year.
This will be the FIFTH year we've organized this event, the third year we've gotten FANTASTIC sponsors. This year boys and girls, we're raising the bar (for part 5).
So get ready. Our sponsors are lined up, and our location has been booked. This year, vmunderground is invading Nine Fine Irishmen, the premier Irish pub in Las Vegas. For those of you familiar with our event, we should have double the capacity for this years event!
You will need a ticket to guarantee entry to the event at 7 PM start time and you will not be able to re-enter (without paying). Tickets will become available soon. Please watch this site, vmunderground blog, or twitter hashtag #vmunderground so you don't miss when tickets become available. Registration opens Wed, July 27 6PM CDT.
Looking forward to seeing you all in vegas this year for the Mother of All vBeers, stay tuned for more details!
-VMunderground Team
unofficial vmworld party as a service provider
---
A Big thanks to our returning sponsors for helping vmunderground get vmworld 2011 US off to a rockin' start:
Veeam
Veeam Software, a VMware Technology Alliance Premier partner, helps organizations safeguard their investment in virtual infrastructure by providing innovative systems management software designed to reduce costs, increase productivity and mitigate risk. Veeam is an international company with U.S. headquarters in Columbus, Ohio and European headquarters in London, UK.
HyperIP
HyperIP software delivers WAN Optimization for data replication, cloud storage, iSCSI replication, and other large IP storage and file transfer applications. Deploying HyperIP for replication, backup, recovery and data center migrations provides our partners and customers the confidence that their valuable information will be protected and moved on-time, every time.
Trainsignal
Train Signal is the global leader in professional computer training and one of Inc Magazine's 5000 Fastest Growing Companies. Their video training products include Microsoft, Cisco, CompTIA, and VMware. Included in their product lineup is the best selling video training product for VMware ESX by vExpert David Davis. If you're looking to get great vmware training, here's the place to do it.
Nexenta
Nexenta, a VMware Technology Alliance Premier partner, is the developer of the leading OpenStorage solution NexentaStor. NexentaStor is a fully featured NAS/SAN solution based upon the ZFS file system; the VM Data Center module for NexentaStor simplifies the management of storage and data replication for virtualized environments.
a huge thanks to our NEW sponsors this year!
BlueLock
So much about cloud computing is hyped up and irrelevant to the enterprise. BlueLock understands what public cloud hosting is not about, and can help you begin to take steps forward from today's datacenter toward a logical public or hybrid cloud business model. With BlueLock, you'll find a cloud hosting partner who see your challenges. Clearly. Challenges like needing to move quickly. Not knowing exactly what you'll need and when. And needing to be able to change your mind later if things don't go quite as planned–because let's face it, they never do.
Panologic
By itself, the idea of virtualizing your current desktop PCs sounds like a complex and even daunting task. We've recognized that, making it as simple as possible for you to install, deploy and support virtual desktops. And we've not only made it easy to use - we've made it easy to buy. With the Pano System you get everything you need in one easy to buy product and for one easy to understand price for each desktop.
Xangati
Xangati is the leading provider of infrastructure performance management solutions that accelerate virtualization with confidence. Enterprises, governments, healthcare organizations, and cloud-computing providers use the Xangati solution to infuse better design, optimization, and troubleshooting techniques into their complex virtualization initiatives.
Thanks!
A big thanks to everyone involved in supporting this effort, and to our sponsors for helping support a great community event providing a great way for weary travelers to get ready for an exciting week at VMworld 2011!
Date and time
Location
New York New York
Las Vegas