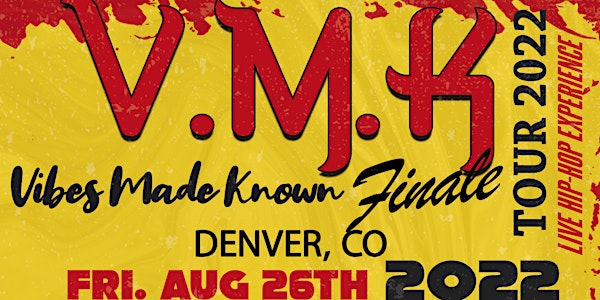 VMK Denver 2022 - Don MegaTron, Hanzo The Phantom, Dante ThatGuy, COVU, Po
Trackyon Music Presents the Finale to their independently funded tour, Vibes Made Known. This marks the one year anniversary.
When and where
Location
The 778 778 Mariposa St Denver, CO 80204
Refund Policy
Contact the organizer to request a refund.
Eventbrite's fee is nonrefundable.
About this event
VMK: Vibes Made Known Tour 2022 Finale - Vibe Symposium and Mega Birthday Bash Denver
Friday 8-26-2022 Trackyon Music Presents the Finale to their independently funded tour, Vibes Made Known. This marks the one year anniversary. This show is a celebration for many things and accomplishments. Trackyon Music is celebrating their very own Don MegaTron's birthday, Trackyon Music opening for Tech N9ne in Gering, Nebraska, AND the one year anniversary since the inception of VIbes Made Known. With all these things happening, we decided to preface this event as a Vibe Symposium and Mega Birthday Bash.
Come enjoy Live Hip-Hop Music, Food, Drink Specials, Gogo Dancers, and Birthday Festivities.
Featured Food From GOOD EATZ and Celebrity Chef Questa Walker III
Get Pre-Sales today! Stay Tuned For Updates
Promo Codes for each artists get you 10% off your ticket!
MEGA - Don MegaTron
HANZO - Hanzo The Phantom
THATGUY - Dante ThatGuy
COVU - Covu
POLLO - Pollo Papi
3N1 - 3n1 Reckordz
MYELL - Myell Westcoast
BE - Be. Medina
KDJ - KDJ Above
SAREE - Ariel Saree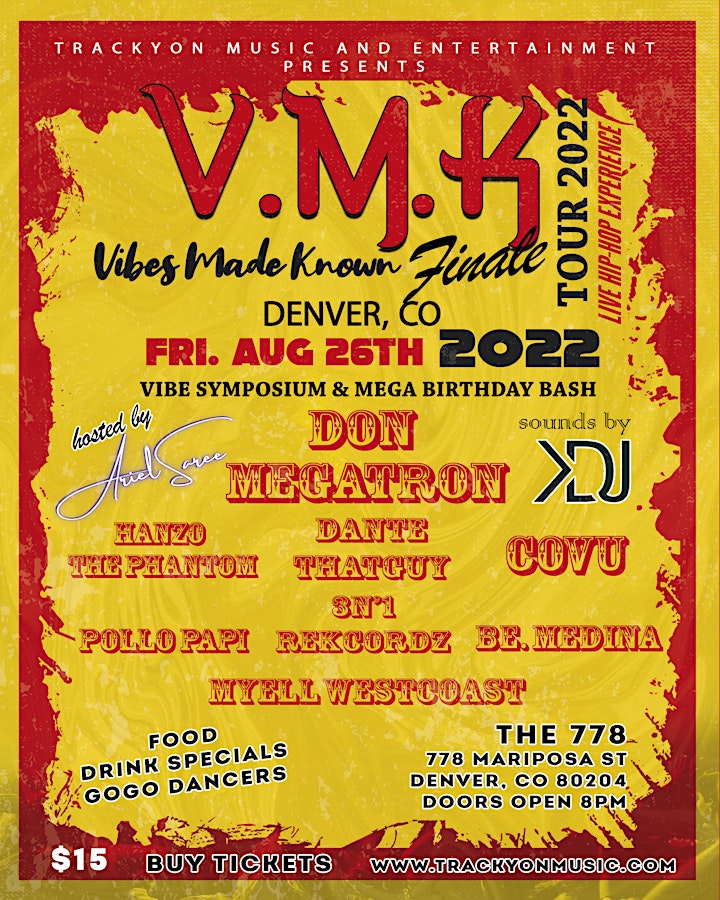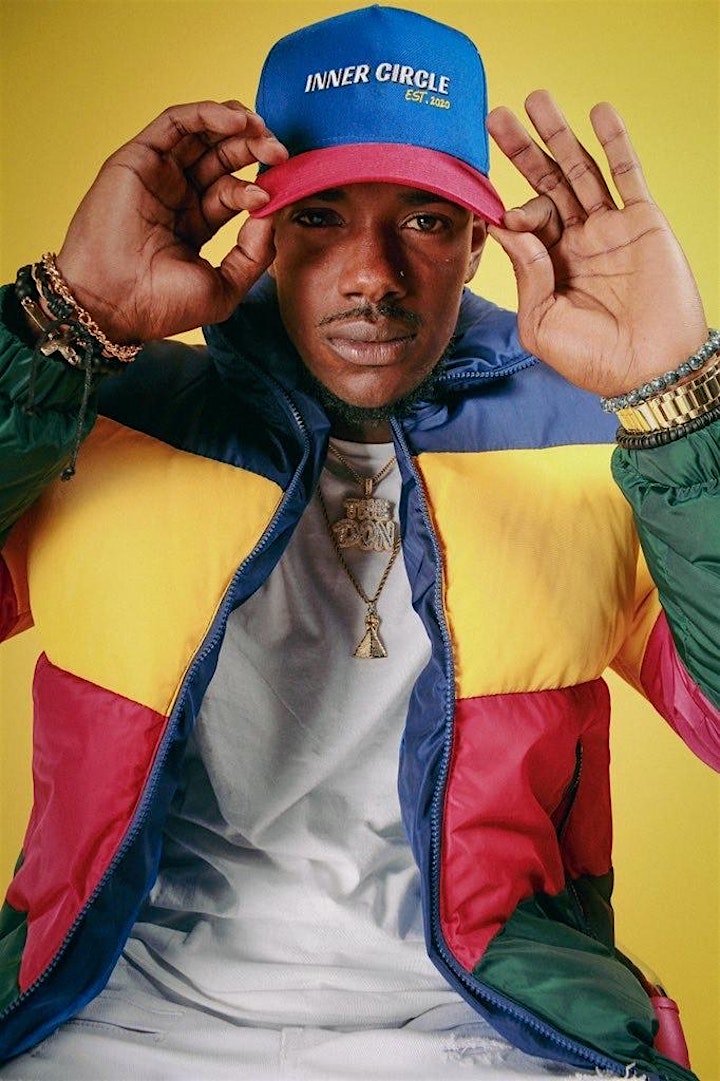 Don MegaTron
Talented as they come. Recording Artist, Published Model, and Actor. Originally born in Los Angeles, California, matured in Denver, CO. Repping the Mile High to his fullest, and bringing his talents all over the West Coast.
Starting in 2017, Don MegaTron produced his own fashion experience entitled "The World is Ours"; bringing the runway and the concert experience together. Additionally, in 2019 Don MegaTron participated in "The Model Experience" in Los Angeles, CA as a runway model hosted by Ashley Runway and Lamiya Good.
To credit his acting presence, in 2018 he also was in Wale's "Black Bonnie" music video and circa 2019 was in Wiz Khalifa's and Curren$y's "Gettin Loose" music video in support of their collaboration "2009".
Don MegaTron has released two independent projects since 2019 available on DSP. In 2019 the "Sovereign EP" and in 2020, the "Warrior EP". The "Warrior EP" is a 9 track tape that has banger after banger, and includes 4 visuals that has accumulated over 50K views in total.
It's such a great opportunity to have him on the VMK 2022 Tour, and have him representing Trackyon Music and Entertainment.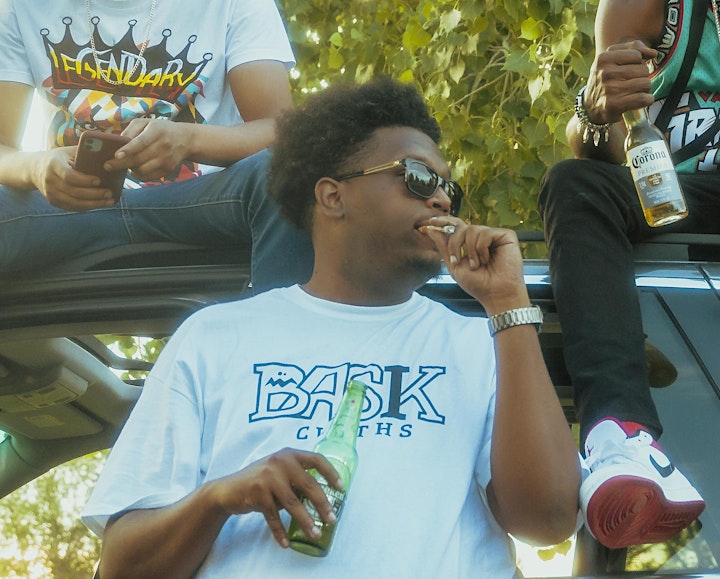 Hanzo The Phantom
Hanzo The Phantom hails from Denver, CO and prides his music on being nostalgic, lyrical, and feel good. Hanzo puts bars and flow in a manner that is refreshing. Speaking from the heart in all his songs, his passion is truly unparalleled. His sound is an interesting blend of Westcoast and Southern influence. Sure to be a great outing every time he performs.
Follow Hanzo on instagram @hanzotp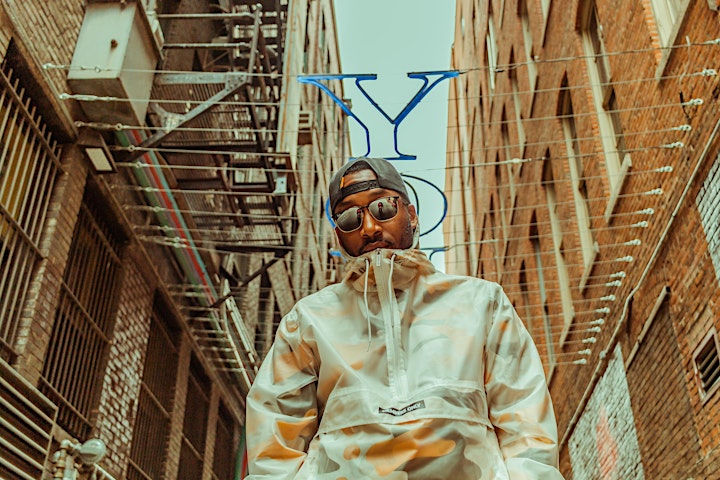 Dante ThatGuy
"The kool is in me, it didn't happen over night."
Creator, Artist, homie Dante ThatGuy is all that and more. With titles such as Number #1 open mic in Denver 2017 by the WestWord Magazine, to top song in Colorado with Jay Triiiple 2018 by the Rooster Magazine, to making it onto the Radio in Warsaw Poland and popkiller.pl. Coast to Coast he gets the job done, now he is on tour with his with his homies, and they are showing no signs of slowing down.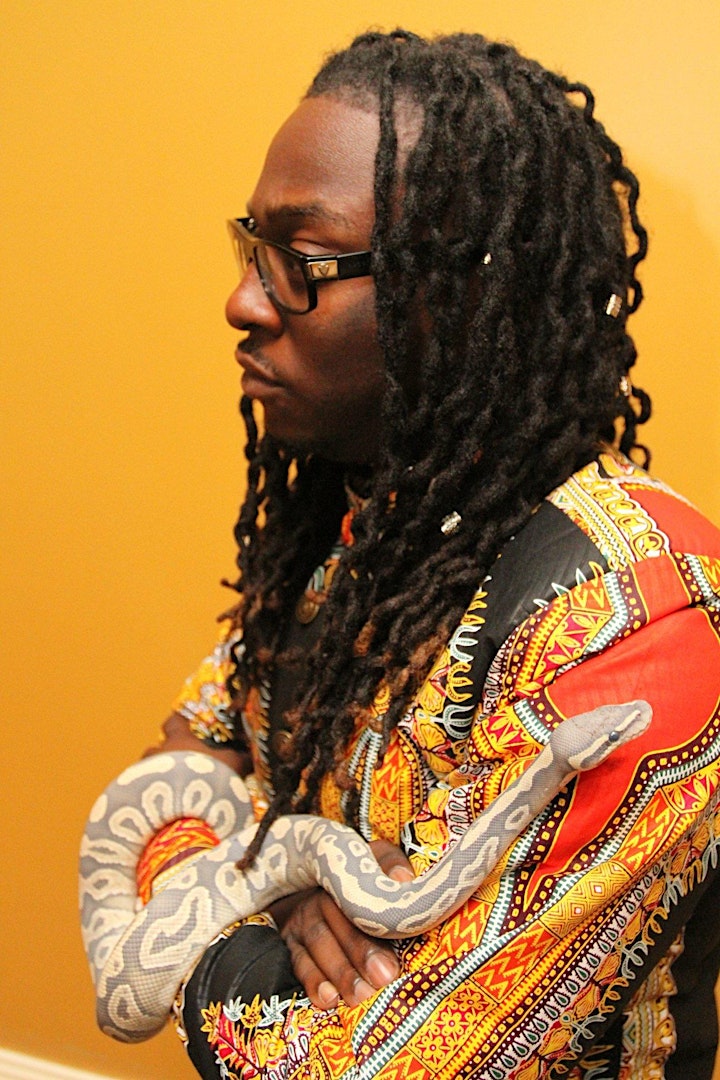 Covu
Next up and coming indie artist straight out of Detroit is Covu. Combining his passion for music with the love of anime and comics, he dazzles his audience with captivating beats and exciting lyrics.
Creating clever lines inspired by his favorite characters is what the fans look forward too. Consistently pushing the boundaries of his imagination, he collaborates with other artist with various styles to create an amazing sound. He is inspired by artist like Michael Jackson, Tupac, Lil Wayne, Eminem and Master P, being original, speak with intelligence, rap with confidence, help others and pay your respects.
These elements forged him into the artist he is today. His biggest goal is to take care of his mother to thank her for all the sacrifices she's made over the years to ensure he stayed on course. Growing up on the Southwest side of the city he attended St. Cecilia, there he fell in love with the game of basketball. Everything he learned in regards to discipline and hard work, came for sports with that came patience and understanding of being a team. Welcome
Follow on Instagram @covu_313
Pollo Papi
Who is Pollo Papi? He's your friendly neighborhood chicken wing dealer/ rapper, serving Southern fried food and delectable bars from state to state on a mission to bring flavor and quality back to the rap game. Heavily influenced by 90's nostalgia, the titans of Southern hip hop, and his experiences growing up in Alabama, Pollo Papi is a breath of fresh air. Breathe deep.
Follow Pollo Papi on instagram HERE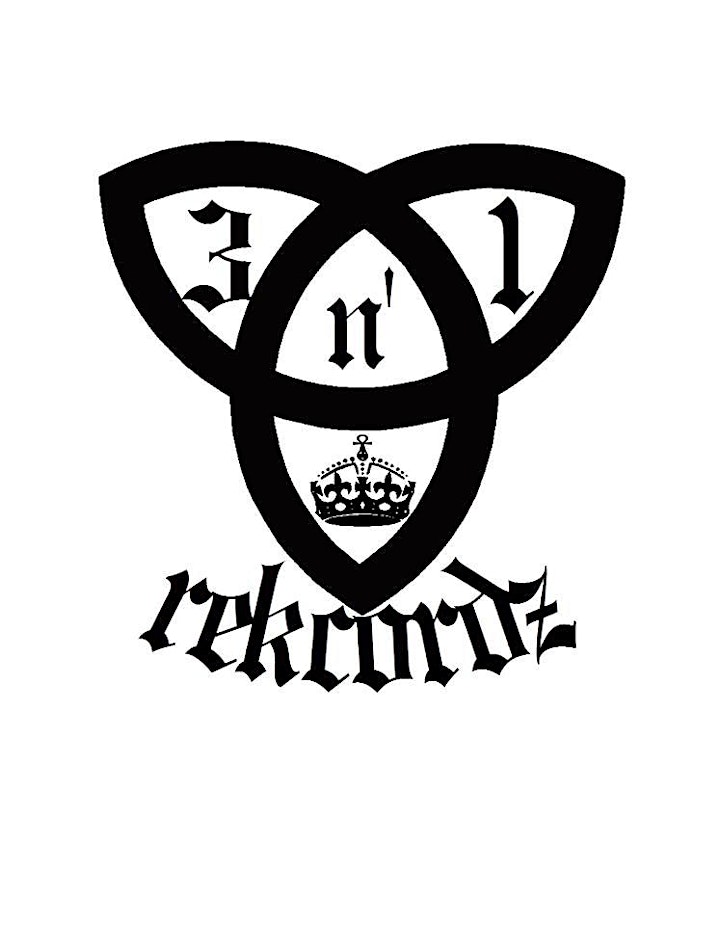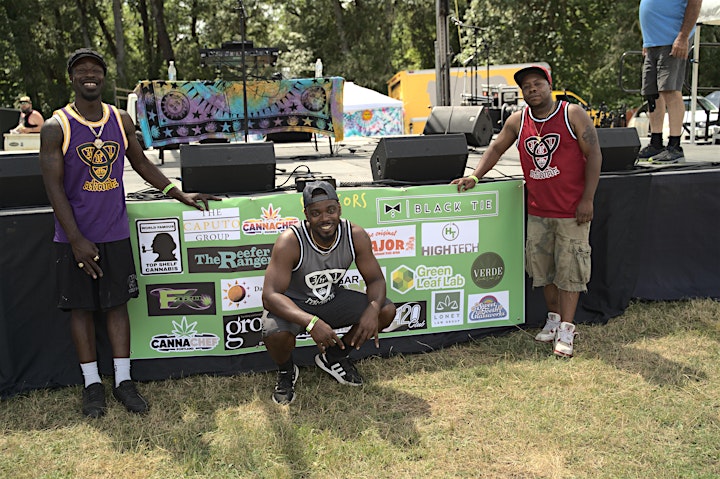 3n'1 Reckordz
3n'1 Rekcordz is a music brand collective based out of Tacoma Washington. 3 dynamic energies come together to bring one wave of reality rap full of vibrations and substance. Influenced by the 90's era of rap once you get a dose of 3n'1 it will feel like you've opened a portal to another time. Founded by King Kah05 & carried out by Sir Charles N' AYE Primo.
VMK is excited to have met these amazing artists on the road and are excited to have to present for the finale.
Check out 3n'1 Reckordz on Instagram @3n1_sounds
Myell Westcoast
Myell Westcoast hails from Denver, Colorado, and represents the Green Valley neighborhood in all his breaths. Myell Westcoast is known in the cannabis community as a trusted source for the best rosin, flower, and joint rolling practices. While flattered by his respect, Myell Westcoast refers to himself simply as "Your Friendly Neighborhood Pack Smoker". His music is reminiscent for the classic hip hop and all the stoner favorites from Curren$y to Wiz Khalifa, he brings a fresh take on working toward your aspirations, fighting over obstacles, and how to stay fly while smoking the dankest strands. Myell Westcoast is truly a Denver gem in both the hip hop and cannabis community.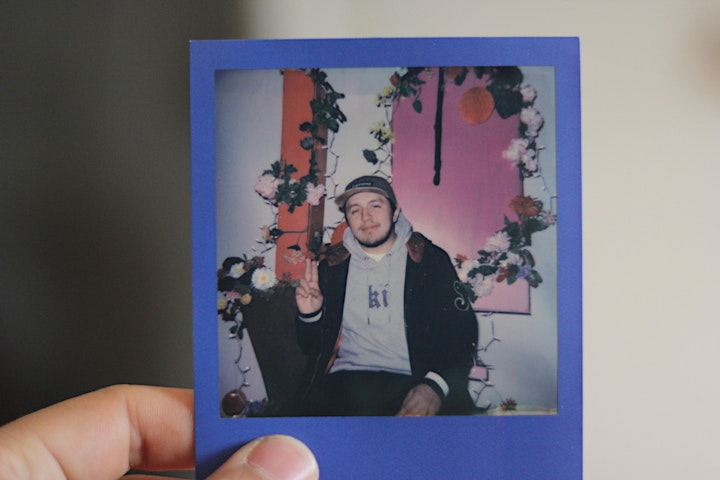 Hosted by Ariel Saree with Denver's Number 1 DJ KDJ Above on the One's & Twos