Event Information
Location
The ArtHouse Hotel, Gallery Room
275 Pitt St
Sydney, NSW 2000
Australia
Description
Tuesday 4th November
7pm- 11pm at the Art House Hotel
Gallery Room
Returning for an amazing fourth (4th) year, VMdownUnderground will again help you get in the social mood before vForum in Sydney. This is a great way to catch up with people from out of town and meet new people who work in virtualisation.
Join with technocrats from around ANZ who will be attending the event, this social gathering will be a great chance to meet like minded people, socialise with industry experts and get you ready for vForum's 10th Anniversary!
Taking place at the new venue of Art House Hotel, Gallery Room. Places will be limited, so get yours early.
The party and giveaways are funded by our super sponsors, without these great organisations and their awesome people we wouldn't have a party!
This year's Sponsors are :-
NetApp creates innovative storage and data management solutions that deliver outstanding cost efficiency and accelerate business breakthroughs. Customers around the world choose us for our "go beyond" approach and broad portfolio of products and services. Our solutions provide nonstop availability of critical business data and simplify business processes so you can deploy new capabilities with confidence and get to revenue faster than ever before. Discover our passion for helping companies around the world go further, faster at www.netapp.com.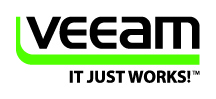 Veeam® provides Availability for the Modern Data Center™ by leveraging virtualization, storage, and cloud technologies to deliver recovery time and point objectives (RTPO™) of less than 15 minutes for all data and applications. Veeam's solutions enable the Always-On Business™ with high-speed recovery, data loss avoidance, verified protection, leveraged data and complete visibility.
Veeam Backup & Replication™ provides new capabilities that deliver Availability for the Modern Data Center™ through cutting-edge improvements in high-speed recovery and data loss avoidance. Veeam Management Pack™ extends Microsoft System Center monitoring to enterprise vSphere environments and also offers monitoring, reporting and capacity planning for the Veeam Backup & Replication infrastructure. Learn more at www.veeam.com.
Date and time
Location
The ArtHouse Hotel, Gallery Room
275 Pitt St
Sydney, NSW 2000
Australia