VMAWM Conference 2019: The Future of the Field
Description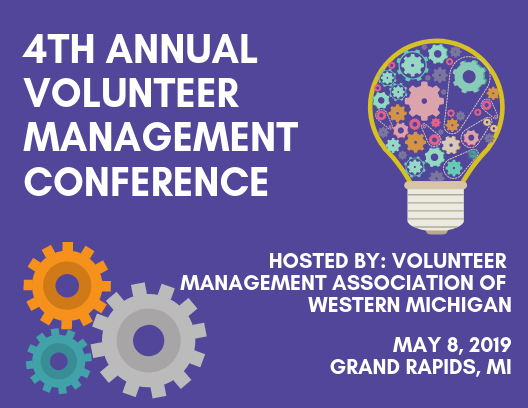 Join volunteer management professionals from across the state in a half-day of education and networking.
This year's conference will include a keynote speaker and two breakout sessions. A light breakfast and full lunch will be provided. See details below for more information, then register for each breakout when you purchase your tickets.
We hope to see you there!
EARLY BIRD: Save $10 by registering between March 1-April 1!
---
Schedule:
8:00am - Check-in / Registration and Breakfast
8:30am - Welcome
8:45am - Keynote, "Second That Emotion", Dave Kampfschulte, Amazing Circles Workshops
9:50 - 11:05 Breakout Session #1
Targeted Volunteer Recruitment

Do you have all of the volunteers you need?

Most programs struggle to recruit enoughvolunteers to meet the needs of the target audience that they serve.

In this session, we willexplore the concept of targeted volunteer recruitment, the types of recruitment (broad based vs. targeted), and how you can use it to create different messages to appeal to the motivation of people to volunteer. You will leave this interactive session with ideas to maximize your recruitment efforts and a template plan that can be used by an individual staff or team.

Frank Cox, Michigan State University Extension

Creating the Caring & Sharing Community

This fast paced, totally interactive workshop based on Dave's book, Amazing Circles, allows you firsthand to experience activities and discuss strategies of Social Emotional Learning that can turn a group from a room of individuals to one of community and respect. Bonds are formed and members feel comfortable and more apt to relate life experiences to the objectives of the day. In addition, participants will learn techniques to add to their facilitation skills and be able to recognize the clues of "What is not being said" in conversations. Warning – Come prepared to participate! This is not a lecture.
Dave Kampfschulte, Amazing Circles Workshops
11:15 am -12:30 pm - Breakout Session #2
Building an Inclusive Culture

Participants will be able to increase their awareness of barriers to inclusivity and explore ways that they can personally play a role in creating and maintaining inclusive environments. We'll cover the things like microaggressions, implicit bias, managing difficult conversations, and what it means to be an active bystander.
Mark Saint Amour & Relando Thompkins-Jones, Grand Valley State Universty

Engaging Volunteers for Good: A Community Collaboration for a Dynamic Volunteer Force

Do you find that your volunteer programming is lacking the energy it once had (or perhaps has never had)? When you work to mobilize volunteers around a new initiative, are you greeted with joy or pause? Do you speak more about retention and recruitment than you'd like, and find that it gets you no further than the day before?Let's get unstuck! During this session, we'll talk to you about telling your organizations story and allowing volunteers to serve as your storytellers. You'll learn about embracing change, structuring sustainable programming, engaging volunteers in meaningful work, and enhancing what you're already good at. We'll touch on the things that make your volunteer opportunities stand out, and how to navigate the challenges of things that often turn volunteers away. Overall, the focus of this session will be around engaging volunteers in your programming by learning how to face changes, embrace challenges, and utilize talent to enhance the positives. You'll walk away more ready to receive and give feedback, and critically assess your programming.

Kay Fricano & Carly Karasiewicz, Kids Food Basket
12:30pm Lunch
1:30pm Adjourn