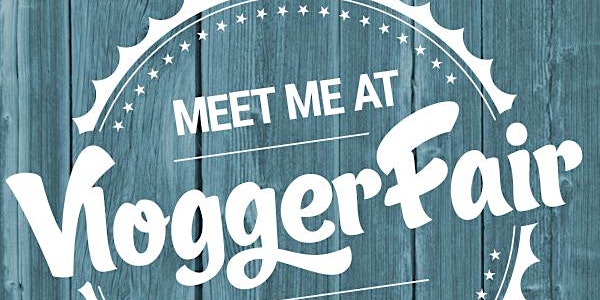 VloggerFair 2015
When and where
Location
Exhibition Hall, Seattle Center 305 Harrison Street (Entrance on Mercer Street, across from Parking Garage) Seattle, WA 98109
Description
TWO DAYS! August 22 & 23
All tickets give you access to both Saturday & Sunday!
In the words of Chris Pirillo, founder and VloggerFair imaginer, "Think of VloggerFair as an amped-up gathering of sorts - an event that surfaces community energy in a single space."
Hey Vlog Enthusiasts!
We're excited you're joining us at the 3rd Annual VloggerFair!

Event Details
The event will be held on Saturday, August 22nd, 2015 from 10:00 am – 5:00 pm (or so) AND Sunday, August 23rd, from 10:00 am - 4:30 pm at Seattle Center's Exhibition Hall. The Hall is located beneath the Pacific Northwest Ballet at 301 Mercer St, Seattle, WA 98109
Hosts: Chris, Diana & Jedi Pirillo of Pirillo Vlogs

WHO IS COMING TO VLOGGERFAIR?
http://vloggerfair.com/featured-vloggers/
April & Davey - April's Life

April & Justin - AprilJustinTV

Austin & Brittany - The Nive Nulls

Albert Prigodich

Andrew Bodine - The Giant Waffle

Baylee Jae

Benji - Video Influencers & It's Judy's Life

Bryan & Missy -Daily Bumps

Charles Trippy & Allie Wes - CTFxC

Chris, Diana & Jedi - Pirillo Vlogs

Clintus & Family!

Corrado & Saskia - ApprenticeEh

Cullen & Katie - BamaChick1101

David Camarena

Dee & Jerry - TheLaVigneLife

Dom Esposito

Ellie + Jared

Epoddle Family

Erica Griffin

Gabrielle & Chad - GabeBabeTV

Jerry - Barnacules Nerdgasm

Jon Prosser - Front Page Tech

Kati Morton

Keaton Keller

Lamarr Wilson

Lane & the FunnyRats

LaToya & Adam of LaToyasLife

Linus Sebastian - Linus Tech Tips

Marie & Ryan - BitsAndClips

Matt Philie - SwashinTV

Matthew Santoro

Matthew Zagursky -

Sevadus

Meghan Camarena - Strawburry17

Meghan Tonjes

Nick & Ken - StillSoundlyAwake

Nicole Arbour

Rachel Whitehurst & Chris Hubbard

Sam & Jennika - Samika Vlogs

Sam & Nia

Sarah Penna

Shay & Collette - Shaytards

Taylor - thataylaa

Tim & Dana Schmoyer

James & Ashley - The Chick's Life

Trucker Josh

Will & RJ - Shep689
Is there someone you REALLY want at VloggerFair? Tweet them! Let them know!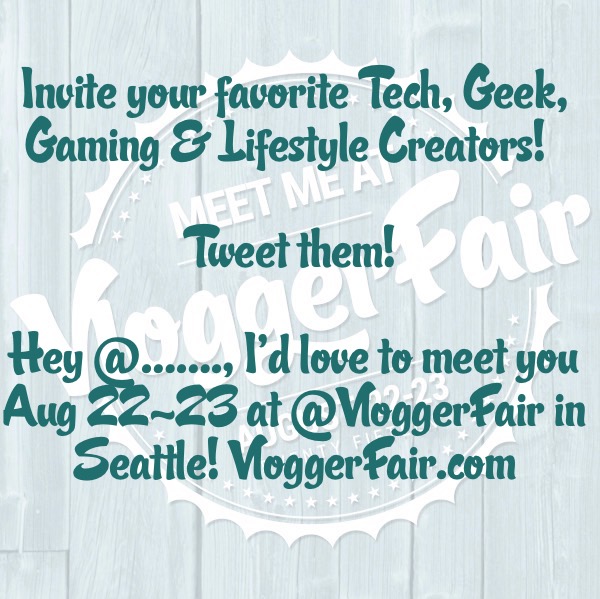 FAQs
NOTE: All tickets for VloggerFair apply to both days - Saturday, August 22nd and Sunday, August 23rd!
Who is hosting VloggerFair?
(We also have an awesome team of people, including Brent @iboughtamac and Liz @pezliz, as well as the Proper Planning Team!)
Are there ID requirements or an age limit to enter the event?
Anyone under 12 needs to be accompanied by an adult. Bring photo ID to get your badge!
Do I have to bring my printed ticket to the event?
It would be helpful to check you in quickly!
Aww, we'll miss you a lot! Be sure to watch all the vlogs that everyone makes of the day!

You can always transfer your ticket to someone else, share the love :)

To transfer your ticket or update your VloggerFair ticket info - Eventbrite has a great link:

http://help.eventbrite.com/customer/en_us/portal/articles/430100-how-to-update-your-ticket-registration-information

We do not offer refunds. You can transfer tickets to another person, up until August 20th!
Can I update my registration information?
Will I get to meet ______ for 100% super duper sure?
WE AREN'T MAKING GUARANTEES.

If you plan properly, you'll likely get to see everyone you would like to! If you are coming to VloggerFair with your heart set on one person, you might be in the wrong place - we want you to meet lots of people!
What happened to VIP Tickets? Can I be a VIP Vlogger?
This year, we made some changes. We don't like what "VIP" alludes to. We have "Featured Vloggers" to showcase Vloggers that are really connected to their community and may have Meet & Greets, etc. We also have "Participating Vloggers," or smaller Vloggers who are creating community, and just as important to making VloggerFair a great event! :)

VloggerFair is about Vloggers and their communities, so we want them to have the chance to walk around and meet you! We'll have organized scheduled Meet & Greets, One-on-one "Ask A Vlogger" tables, and more! We don't want people spending their entire day waiting, so Priority Pass holders will have early access to the venue, and prioroty when it comes to meet ups, etc. Regular ticket holders will have a chance to participate in meet ups and activities, too!
I REALLY want a Vlogger to come, but they aren't on your list!
INVITE them! Letting your favoruite Vlogger know about VloggerFair is the best way to get them to come! Tweet them, and we'll do our best. Every Vlogger is invited to VloggerFair!
Where can I contact the organizer with any questions?

One last thing - we couldn't have done this again without our Vloggers - and you guys - their COMMUNITY! Make sure you #VloggerFair in all your Tweets, your Instagrams, your Vlogs… we'll be sure to share them too!
As a reminder, here are our links:
Website: http://www.vloggerfair.com
Twitter: https://twitter.com/vloggerfair
Instagram: http://instagram.com/Vloggerfair
Facebook: https://www.facebook.com/Vloggerfair
YouTube: https://www.youtube.com/user/vloggerfair
Can't wait to see you!
info@vloggerfair.com
Pssst: Looking for a PROMO CODE? Ask your favorite Vlogger!