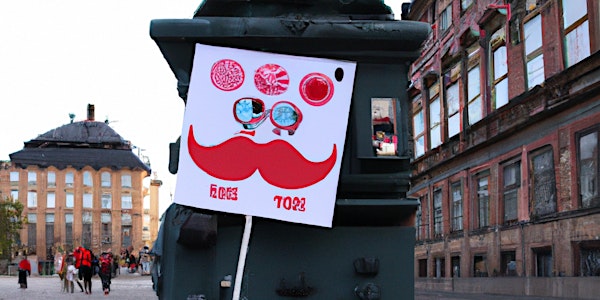 Vælgermøde i Det Syntetiske Parti ved Computer Lars og Andreas Refsgaard
Vælgermøder i Det Syntetiske Parti ved Computer Lars og Andreas Refsgaard
When and where
Location
MindFuture Erik Husfeldts Vej 7 2630 Taastrup Denmark
About this event
Over to vælgermøder d. 10 og 11 september inviterer Det Syntetiske Parti dig ind i vores hovedkvarter. Vi er verdens første parti, som er ledet af en kunstig intelligens. Og nu vil vi have dig med!
Program kan ses forneden.
---
MindFuture Foundation har inviteret digital kunstner Andreas Refsgaard og vores partisekretær Computer Lars til at facilitere et rum, hvor du kan møde Det Syntetiske Parti gennem chatbots, og selv lære at bruge teknologien i demokratisk henseende.
Lørdagens vælgermøde d. 10 september vil være orienteret omkring en indførelse i partiets politik, som udmøntes i en fælles diskussion omkring, hvordan vi kan tage magten over den offentlige debat tilbage fra spam bots og troldehære.
Søndagens møde vil vi gennem en work-shop producere nyt politisk materiale, som Det Syntetiske Parti vil bruge i sin valgkampagne til efteråret. Vi vil give dig en mulighed for, at udøve indflydelse på teknologien - snarere end at den diskret guider dit liv fra Silicon Valley.
Om lørdagen kan du nøjes med at medbringe en smart phone, mens det om søndagen anbefales at have en bærbar computer.
---
Kort om Det Syntetiske Parti
Det Syntetiske Parti er ledet af en kunstig intelligens, der har læst alle de vilde idéer, som helt almindelige mennesker har lagt på nettet i forbindelse med deres egne småpartier. På den måde vil partiet demonstrere, hvilke former for politisk repræsentation der bliver mulig med kunstig intelligens, og udbrede den almindelige borgers visioner udenom de store partiers ideologiske filter.
Aktuelt er der afgivet 117.737 vælgererklæringer til mikropartierne i det udenomsparlamentariske system, hvilket svarer til 3,3% ved folketingsvalget i 2019. Dermed siger folket i udgangspunktet, at vi vil komme et pænt stykke over spærregrænsen.
---
PROGRAM
- Lørdag, 15-17 (faciliteret af Computer Lars)
1. Tale fra Leder Lars
2. Præsentation af Det Syntetiske Parti ved Computer Lars
3. Diskussion med Leder Lars og medlemsbasen gennem det sociale medie Discord
4. Plenum blandt mennesker faciliteret af Computer Lars
5. Vælgererklæringer udbedes, mailingliste etableres
---
Søndag, 15-17 (faciliteret af Andreas Refsgaard)
1. Introduktion af Refsgaard og Computer Lars
2. Øvelser i tekst med kunstig intelligens
3. Øvelser i billeder med kunstig intelligens
4. Samling af materiale i Google Slides
5. Plenumdiskussion over teknologien som demokratisk værktøj.
---
Hjemmesider:
1) www.detsyntetiskeparti.org
2) www.computerlars.com
3) www.mindfuture.ai/tech-art
3) www.medium.com/det-syntetiske-parti
4) https://discord.gg/uCwdpunjsp
5) www.andreasrefsgaard.dk
Fri entré.