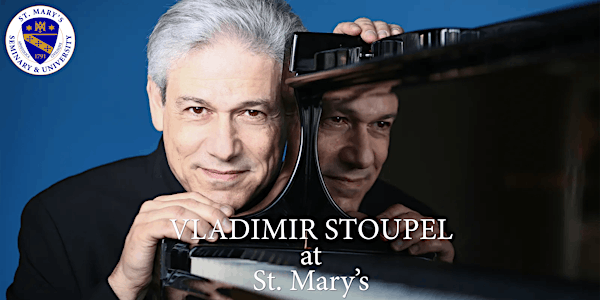 Vladimir Stoupel Recital at St. Mary's
Event Information
Location
St Mary's Seminary & University
5400 Roland Avenue
Baltimore, MD 21210
Vladimir Stoupel returns to St. Mary's to present a timely piano recital featuring works by Schubert, Franck, Schulhoff, and Ravel.
About this event
At the concert piano in the beautiful St. Mary's Chapel at St. Mary's Seminary & University, Vladimir Stoupel presents a recital on May 20, 2022 at 7:30 PM. The program includes works which are too rarely performed in concert:
Sonata in E Minor D. 566 (unfinished) by Franz Schubert (1797-1828)
Prélude, Aria et Final (1887) by César Franck (1822-1890)
Suite No. 3 for the Left Hand (1927) by Erwin Schulhoff (1894-1942)
La Valse (composer's version for solo piano) (1919) by Maurice Ravel (1875-1937)
Stoupel brings us a recital with works from yesterday that echo in our difficult world today. His program features several pieces composed in reflection on World War I. This look back into history helps us to cope with the crisis-ridden present and to commemorate the lives lost in the war. We need distance to be able to process all this. Music is especially necessary in times of crisis! It offers us a protected space; it gives us the opportunity to reflect. War destroys, music builds up.
Vladimir Stoupel is an individualist with an extraordinarily rich tonal and emotional palette. The Washington Post praised his "protean range of expression" and Der Tagesspiegel Berlin described his performance as "enthralling and atmospherically dense." His extraordinary technical command allows him to explore the outermost limits of expression, mesmerizing audiences with his musical intensity. After a solo recital, the Frankfurter Allgemeine Zeitung granted the pianist a critic's greatest compliment: "Unforgettable!"
Vladimir Stoupel has appeared on many of the world's notable stages, including Berlin's Philharmonie and Konzerthaus, Avery Fisher Hall in New York, the National Gallery of Art in Washington DC, Hamburg's Grosse Musikhalle, and Dortmund's Konzerthaus, to name just a few. Festival appearances include the renowned Schleswig-Holstein Music Festival, Piano en Valois (France), Brandenburgische Sommerkonzerte (Germany), Printemps des Arts in Monte Carlo, the Helsinki Festival, and Festival La Grange de Meslay in Tours (France).
A French citizen since 1985, Vladimir Stoupel currently makes his home in Berlin.
Learn more at Vladimir's website.
Guests are invited to make a free will offering to defray the expense of Mr. Stoupel's performance and to make it possible for St. Mary's to host more such events. (Suggested donation: $25.) If you'd like to make a donation, visit the St. Mary's event page.
Date and time
Location
St Mary's Seminary & University
5400 Roland Avenue
Baltimore, MD 21210