VJN 2017 Forum: Seeking the Peace of Our Cities // Yakima // Oct 20-21

Friday, October 20, 2017 at 8:30 AM

-

Saturday, October 21, 2017 at 4:00 PM (PDT)
Event Details
SAT. BREAKFAST & LUNCH INCLUDED | CHILDCARE AVAILABLE | SPECIAL HOTEL RATES | HOST HOUSING AVAILABLE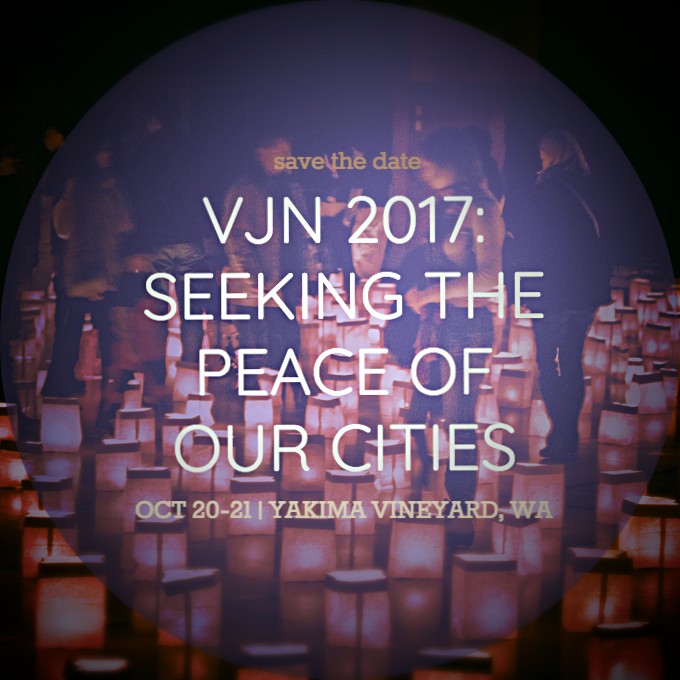 How is God calling you and your church to serve the poor? Are your engaging your head, heart, and hands? Does your church already have community partnerships, or do you run your own legal clinic or homeless outreach? Or maybe you're just beginning your compassion and justice journey.
Come to the VJN 2017 FORUM to get the resources you need to both a deepernand broaden  your church's approach to "seeking the peace of your city"--whether you're from a small town of 5,000 or an urban center of 1 million. We want to do this first and foremost as Kingdom witnesses for the sake of our King Jesus. We want to demonstrate how God's mercy leads us to God's justice, and this creates relationships where it may seem impossible and unjust systems and structures can be healed. 
A Forum on Seeking the Peace of Our Cities
If your church disappeared from your neighborhood tomorrow, would anyone in that neighborhood notice?

How can your church, small group, ministry, or church-plant to be more missional in identifying and developing community partnerships?
How can we move from client-provider relationships to more mutual, empowering relationships when serving vulnerable people like refugees, undocumented immigrants, and the formerly incarcerated? 
How do churches pursuing the Justice of the Kingdom be culturally relevant to the poor and marginalized communities in their own backyard? And serve alongside them?
How does caring for the environment cultivate the peace of our cities?
What does reconciliation (with God and with each other) look like in your neighborhood/town/city?
Why do we need a Vineyard Justice Network?
Vineyard Justice Network (VJN) does not exist to promote a singular ministry, nor are we trying to start a non-profit for Vineyard USA. Instead, we're focusing on bringing together our Vineyard church pastors and leaders who are already tackling one of the three targeted areas of structural, systemic injustice: human trafficking, poverty, and the environment.
VJN offers a new space to have conversations that either aren't happening, are happening in isolation, or are sporadic. Within our movement, we so rarely even celebrate or highlight the significant justice work that is going on in our Vineyard churches. We recognize that it is essential for existing Vineyard pastors and leaders to shape the conversation with an "inside-out", rather than a "top-down" approach.
In particular, part of the leading edge of VJN points to the question: what does it look like and mean for the poor to lead the way in ending poverty? This can be reframed to: what does it look like and mean for the exploited to lead the way in ending exploitation, the trafficked to lead the way in ending trafficking, the homeless to lead the way to ending homelessness, the undocumented immigrant to lead the way in immigration reform?
Schedule
Friday, October 20
8 AM Registration Opens
8:30AM-12 PM | Lab Day in the Local Community 
1:30-3:30 PM: Session 1
3:30-6 PM: Session 2
6:00-7:30 PM Dinner on your own
7:30-9:30 PM Session 3
Saturday, October 21
8:30 AM-9:30 AM: Continental Breakfast and Registration
9:30 AM-10:45 AM Session 4
10:45 AM-12:15 PM practical workshops that will dive into the nuts and bolts
12:15-1:30 PM Lunch (provided on site)
1:30-2:45 PM: practical workshops that will dive into the nuts and bolts
2:45-4:00 PM Session 6
Speakers
coming soon
Workshop Facilitators

coming soon


Travel and Lodging
Airport
The closest airport is Yakima Air Terminal, about 4 miles away (10 minute drive) from the church. Alaska Airlines is the only airline option. McAllister Field, 2406 W Washington Ave B, Yakima, WA 98903
Seattle-Tacoma International Airport is 145 miles away, or a 2 hour drive. A car rental would most likely be necessary, but VJN is also planning on arranging some airport pick-up and drop-off shuttles.
Hotels
coming soon
Host Homes
Yakima Vineyard would also welcome the opportunity to place people in host homes. For more info, email  dave[at]vineyardjusticenetwork[dot]org.
Scholarships
We have a limited number of travel scholarships available. If you'd like to apply, please send an email to contact[at]vineyardjusticenetwork[dot]org with the total cost of your travel budget, as well as the amount you're requesting.
Attendee List
Sort by:

Date

|

First Name

|

Last Name
No one has registered for this event yet.
Save This Event
When & Where

Vineyard Christian Fellowship
221 East Martin Luther King Junior Boulevard
Yakima, WA 98901


Friday, October 20, 2017 at 8:30 AM

-

Saturday, October 21, 2017 at 4:00 PM (PDT)
Add to my calendar
Organizer
Vineyard Justice Network
 THE VINEYARD JUSTICE NETWORK EXISTS TO EMPOWER VINEYARD PASTORS AND LEADERS TO PURSUE AND ENACT THE JUSTICE OF GOD'S KINGDOM.VJN WILL EQUIP YOU BY CONNECTING THE WORK OF HEART, HEAD, AND HANDS WITH KEY ISSUES OF STRUCTURAL INJUSTICE AND LEADERSHIP.
VJN IS DEDICATED TO SHOWCASING THE WORK OF VINEYARD CHURCHES AS THEY CONFRONT INJUSTICE, CREATE SOLUTIONS, AND SHARE THEIR STRUGGLES.
 VJN PROFILES VOICES FROM THE FRONT LINES, WRITES BOOK REVIEWS, AND OFFERS TRAININGS TO KEEP THE VJN COMMUNITY ON TOP OF CURRENT RESEARCH AND PRACTICE.
We offer holistic wisdom to all our churches, along with many easily-accessed resources for getting started and growing with a missional, kingdom-centered approach. OUR NETWORK ALREADY SPANS VINEYARD CHURCHES ACROSS 32 STATES, IN EVERY REGION. WE'RE ALSO ENGAGED WITH SISTER NETWORKS IN VINEYARD CANADA, UK&IRELAND, AND VINEYARD NORDIC.
The VJN Steering Committee is currently led by Dave Hanson, Kathy Maskell, and Cheryl Pittluck. 
www.vineyardjusticenetwork.org
VJN 2017 Forum: Seeking the Peace of Our Cities // Yakima // Oct 20-21