Vizionare documentar "I'm fine, thanks"
When and where
Location
Mansarda FFFF - strada Ion Brezoianu nr.4, etaj 4
Description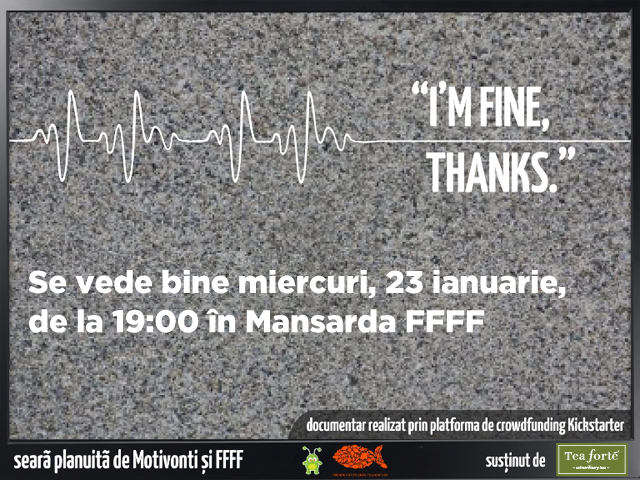 UPDATE 17 IANUARIE
Lista de înscrieri s-a închis. Cine mai vrea, totuși, să participe, se poate înscrie pe lista de așteptare completând formularul de la butonul ADD ME TO THE WAITLIST. În funcție de confirmările primite, îi vom anunța pe cei de pe lista de așteptare dacă s-a eliberat un loc pentru ei, în ordinea înscrierii pe această lista. Mulțumim!
Motivonti & Fundația Friends For Friends te invită miercuri, 23 ianuarie, de la ora 19:00, la o seară de film - așa, să mai potolim începutul ăsta de an și să ne încărcăm cu ceva inspirație și motivație. :)
Vizionarea va avea loc în Mansarda FFFF, din str. Brezoianu nr. 4, etaj 4.

Este vorba despre un documentar pe care l-am mai proiectat și în vară și care se pare că a avut succes, așa că o facem din nou, la cererea publicului.
"I'm fine, thanks" este un documentar despre automulțumire, este o colecție a unor povești de viață, este despre alegerile pe care le facem și despre căile pe care decidem să o luăm în cele din urmă.
Filmul a fost realizat cu ajutorul platformei de crowdfunding Kickstarter.
O echipă de cinci tineri a străbătut Statele Unite timp de două luni adunând povești despre viețile și alegerile făcute de oameni cu diferite background-uri.
Experiența de a face acest film le-a schimbat viețile definitiv și acum nu mai răspund cu un simplu "I'm fine, thanks", ci cu "I'm fucking great, never been better, how about you?"
P.S. Compensăm gradele de afară cu un ceai cald de la Tea Forte, cu arome pe alese.