Go behind-the-scenes and discover the hidden doors and passages throughout the estate — formerly an exclusive member perk.
About this event
DATES + CHECK OUT | The date you pick does not affect your access. This is an online video tour that you can access anytime at your convenience.
SECRET DOORS VIDEO TOUR | DISCOVER VIZCAYA FROM HOME
In Vizcaya's "Secret Doors" video tour, Deputy Director for Collections and Curatorial Affairs Remko Jansonius takes you behind-the-scenes to show you different hidden doors and passages throughout the estate — formerly an exclusive member perk.
All videos are pre-recorded (not live) so you can watch at your own pace, any time.
You will receive access to the buyer-only portal once you purchase the tour.
PREVIEW THE TOUR
Curious about the tour? Watch an episode for free below and get a taste of what's to come.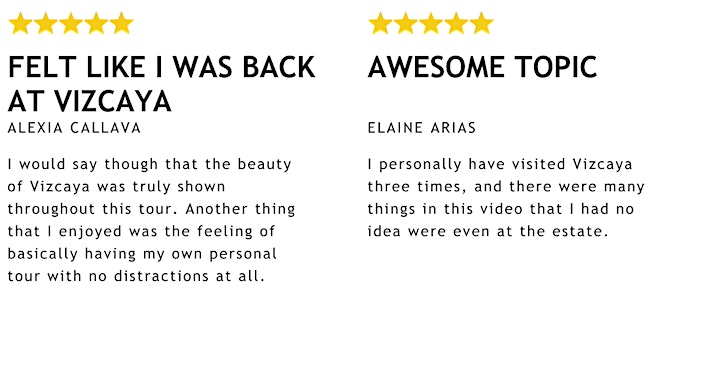 FREQUENTLY ASKED QUESTIONS
Q: How long is the video tour?The video tour contains more than 14 episodes exploring different spaces at Vizcaya and their hidden secrets. Videos are pre-recorded, so you can watch it at your own pace, and include a comment section regularly monitored by museum staff where you can ask questions as you watch.
Q: How long will I have access? When you purchase it today, you will have unlimited access to the video tour, including any future updates and additions.
Q: Why should I pay for this?
Consider purchasing the Secret Doors Video Tour as a way of supporting the museum during this trying time. As you may know, Vizcaya closed to the public on March 14, 2020, in response to the COVID-19 crisis. As a result, revenues have decreased significantly, making it difficult for us to sustain operations. We understand that everyone is experiencing financial challenges as a result of this crisis and we greatly appreciate that you are considering supporting Vizcaya.
If you prefer to access free content, please visit vizcaya/free to view a full suite of options, including virtual tours, performance videos, art lectures and more.
Your contribution helps us continue to engage our community in connecting with the past, understanding the present and shaping the future — both online and in-person upon reopening.
Q: How is this tour different from the tours you do in person?
In-person guided tours at Vizcaya cover the general history of the estate. This video tour focuses ongoing behind the partition in decorated spaces and limited access areas to uncover hidden aspects that cannot be seen during a regular visit.
Q: How is this tour different from what you post on social media and the website?
This video tour is led by Vizcaya's Deputy Director of Collections and Curatorial and delves into the secret and hidden aspects of the estate, which we have not covered online before.
Q: What if I have a question about something on the video tour?
Each episode has a comments section located directly below the video and our staff are closely monitoring these in order to answer your questions in a timely manner. Feel free to leave comments, questions and suggestions in this section and we will get right back to you.
Q: What is the refund policy?
This is an online program and buyers are given direct access upon purchasing. As such, refunds cannot be granted because this access cannot be undone.
GOT QUESTIONS
If you have questions or need tech support, please send us an email @ alejandra.serna@vizcaya.org.
Date and time
Location
Refund policy
Organizer of Vizcaya's Secret Doors | ONLINE Video Tour
Vizcaya Museum and Gardens is a National Historic Landmark that preserves the Miami estate of agricultural industrialist James Deering to engage our community and its visitors in learning through the arts, history and the environment. Built between 1914 and 1922, Vizcaya is one of the most intact remaining examples from this era in United States history, when the nation's most successful entrepreneurs built estates inspired by the stately homes of Europe. Vizcaya features a Main House filled with a decorative art collection, 10 acres of formal gardens, a rockland hammock (native forest), mangrove shore, and a historic village that is being restored to tell Vizcaya's full story and provide additional spaces for programs and community outreach, including those on agriculture. Vizcaya has been a community hub since it opened to the public in 1953; it currently welcomes about 300,000 visitors annually.
Located on Biscayne Bay at 3251 South Miami Avenue, Vizcaya is open Wednesday through Monday from 9:30 a.m. to 4:30 p.m. Closed Tuesdays, Thanksgiving Day and Christmas Day. For more information, visit www.vizcaya.org, connect via social media, or call 305-250-9133.