Visit Vizcaya after hours and explore the estate for a low-key evening with your favorite person or people!
About this event
ONLINE TICKETS ONLY. TICKETS NOT SOLD AT THE DOOR.
Every person, regardless of age or member status, is required to have a ticket and will not be admitted without one.
Contemporary Art in practice
Did you know that art has been made on Vizcaya's site for more than 100 years?! James Deering, Vizcaya's original owner, commissioned artists to make pieces for the estate and also welcomed artists, like John Singer Sargent, to create onsite. This is a tradition we continue today and what this month's Vizcaya Late is all about!
We have invited alumni from Vizcaya's Contemporary Arts Program (CAP) to come and create onsite. From sound performances to mosaics, each creation will speak of how Vizcaya inspired the artist. Watch them create and chat to them as they work.
Curious to learn more about the origins of commissioned art onsite? Join a drop-in, limited-capacity discussion about art at Vizcaya over the last 100+ years.
The Artists: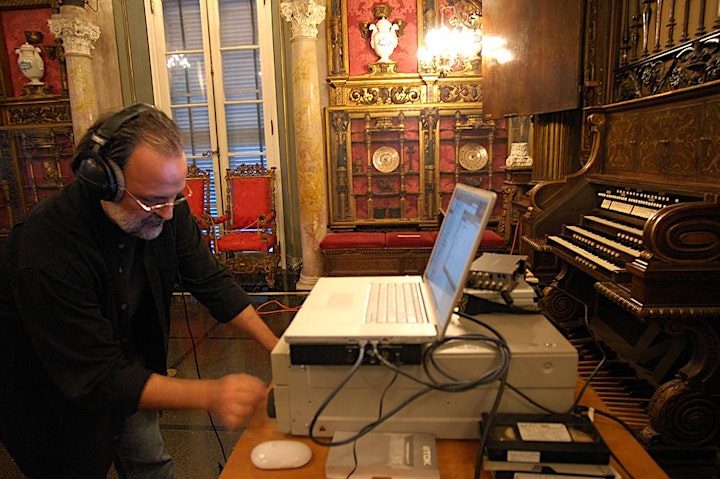 "The function of art is not to communicate one's personal ideas or feelings, but rather to imitate nature in her manner of operations." — John Cage
Gustavo Matamoros is the first artist to receive a CAP commission at Vizcaya back in 2006. He will offer visitors a three-hour-long world premiere of FM: Early-Timely-Late by Frozen Music.
FM is an experimental sound artist collective and performing ensemble that designs immersive audible environments in response to the acoustic characteristics of a place. FM uses sound to bring together science, nature and architecture.
The world premiere of FM: Early-Timely-Late is a multichannel soundscape that highlights the nature and architecture of Vizcaya's Forecourt, creating, over that three-hour period, the perfect acoustics for the space.
Sebastian Duncan-Portuondo's captivating 2015 installation, Arrangements for a Concrete Box, projected stained glass transparencies from Vizcaya's archives onto shadow theater screens in the Main House.
For Vizcaya Late, Sebastian will use stained glass to light up a DISCOmosaic rock made in memory of the Pulse Nightclub Shooting victims, reasserting the significance of a dance floor illuminated by disco ball reflections 5 years after the tragedy.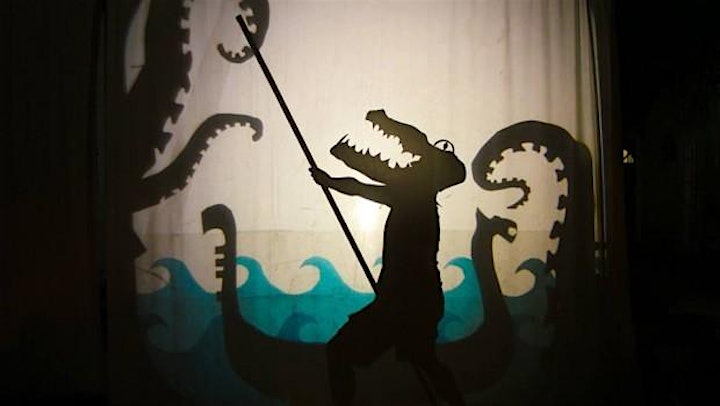 Christina Pettersson created "Sweet Nepenthe, You Are The Medicine For My Sorrow" for 2014's Vizcaya-fy or Bust exhibition. A multi-disciplinary piece, Pettersson's work highlighted the fantasy of Vizcaya's estate through dramatic shadow-puppetry and whimsical mermaids swimming in the waters of Biscayne Bay.
For Vizcaya Late, Pettersson's work explores the connection of the land pre-Vizcaya to the spirit of Vizcaya in a ceremony that begins with a mermaid in the pool and ends with a marriage on the East Terrace.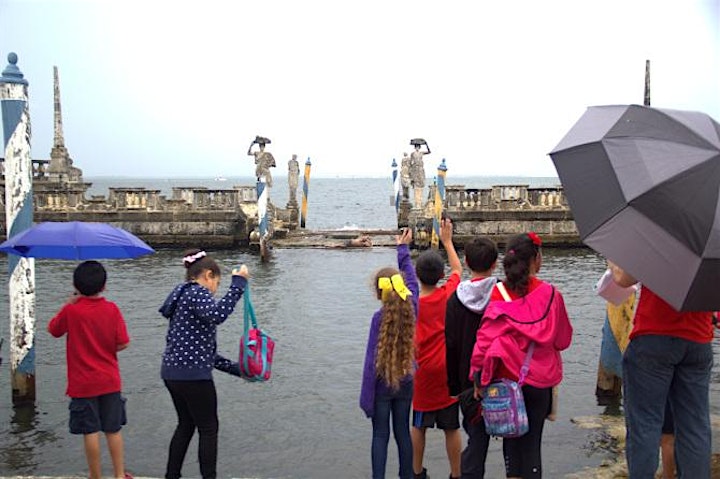 Misael Soto's performance for the 2015 CAP exhibition, Fantastical Vizcaya, undertook six distinct "Spatial Awareness Exercises" throughout the grounds of the estate. Each performance evolved from a set of actions and gestures exploring the physical, social, and contextual boundaries of the accessible space. The actions presented an effort to better understand the space, the performers' relationship to it and their relationship to each other.
For Vizcaya Late, Soto brings a new project using reflective road signs to create tension between passersby and their environment as well as dialogue about the spaces around us.
WHAT IS VIZCAYA LATE?
You asked for more late hours and you got it! Vizcaya is now open for extended hours, closing at 8:00 p.m., each month. #VizcayaLate
The evening features access to the gardens and Main House after hours as well as fun activations and experiences that change every month.
Heath and safety regulations, including the use of masks and social distancing, remain in place. Click here for more information.
This program is rain or shine.
REFUND POLICY | Visitors can request a refund up to 24 hours prior to the event. To do so, submit a request directly through Eventbrite or email rebecca.peterson@vizcaya.org
GENERAL ADMISSION | $18
VIZCAYA MEMBERS | 20% OFF. Tickets required. Get them here!
Heath and safety regulations, including the use of masks and social distancing, remain in place. This program is rain or shine.
Organizer of Vizcaya Late: Artists at Work
Vizcaya Museum and Gardens is a National Historic Landmark that preserves the Miami estate of agricultural industrialist James Deering to engage our community and its visitors in learning through the arts, history and the environment. Built between 1914 and 1922, Vizcaya is one of the most intact remaining examples from this era in United States history, when the nation's most successful entrepreneurs built estates inspired by the stately homes of Europe. Vizcaya features a Main House filled with a decorative art collection, 10 acres of formal gardens, a rockland hammock (native forest), mangrove shore, and a historic village that is being restored to tell Vizcaya's full story and provide additional spaces for programs and community outreach, including those on agriculture. Vizcaya has been a community hub since it opened to the public in 1953; it currently welcomes about 300,000 visitors annually.
Located on Biscayne Bay at 3251 South Miami Avenue, Vizcaya is open Wednesday through Monday from 9:30 a.m. to 4:30 p.m. Closed Tuesdays, Thanksgiving Day and Christmas Day. For more information, visit www.vizcaya.org, connect via social media, or call 305-250-9133.