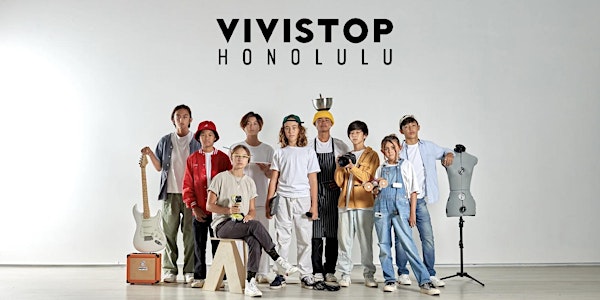 VIVISTOP Honolulu Orientation day
Join us to learn about the creative lab "VIVISTOP Honolulu" and get your kid(s) started on trial activities toward membership
When and where
Location
VIVISTOP Honolulu 1025 Waimanu Street #103 Honolulu, HI 96814
About this event
VIVISTOP Honolulu, a free creative lab for kids ages 10-17 years old, just opened in August 2022 in Ward/Kaka'ako area. This is the day to learn about our activities and the membership process for kids to start their new creative journey!
Attendee
Kid(s) 10-17 years old + Parent(s)/Guardian(s) must be present
[1 ticket per family]
Agenda
1: Quick tour - You can visit our lab (music studio, makerspace, tech area, dance studio, kitchen) to learn about our facilities and activities
2: Presentation - Learn about our philosophy, membership process, and activities at VIVISTOP Honolulu
3: Trial Activity - Kids seeking membership will participate in their first trial activity
*Please do not be late. If you are, we may ask you to reserve another orientation day.
Waiver
Please make sure to sign our waiver prior to arrival
What is VIVISTOP Honolulu?
VIVISTOP Honolulu (run by VIVITA USA, Inc.) is a Creative Lab in Ward/Kaka'ako area that cultivates creativity for Hawaii's keiki. Our space incorporates a dance studio, music studio, recording booth, kitchen, maker/builder space, a materials library that includes upcycled supplies, and various cutting-edge tools and gadgets. Kids are free to explore and experiment in these different areas to unlock their creativity and discover their life's passion(s).
In a NO-curriculum and NO-teacher setting, kids will take charge of their own creative journey through curiosity-based and project-based learning. We will have various professional artists, creators, and entrepreneurs as mentors in our studio to naturally inspire and motivate children. Our primary method of operation is free-flow where members are free to start any creative projects with the tools and materials we have. For bigger projects that might need more attention and/or materials, kids can pitch projects to our crew for approval.
You are unique. Be creative and design your life.