vivint. Build Here Entrepreneur Day

Thursday, April 19, 2018 from 2:00 PM to 4:00 PM (CDT)
Event Details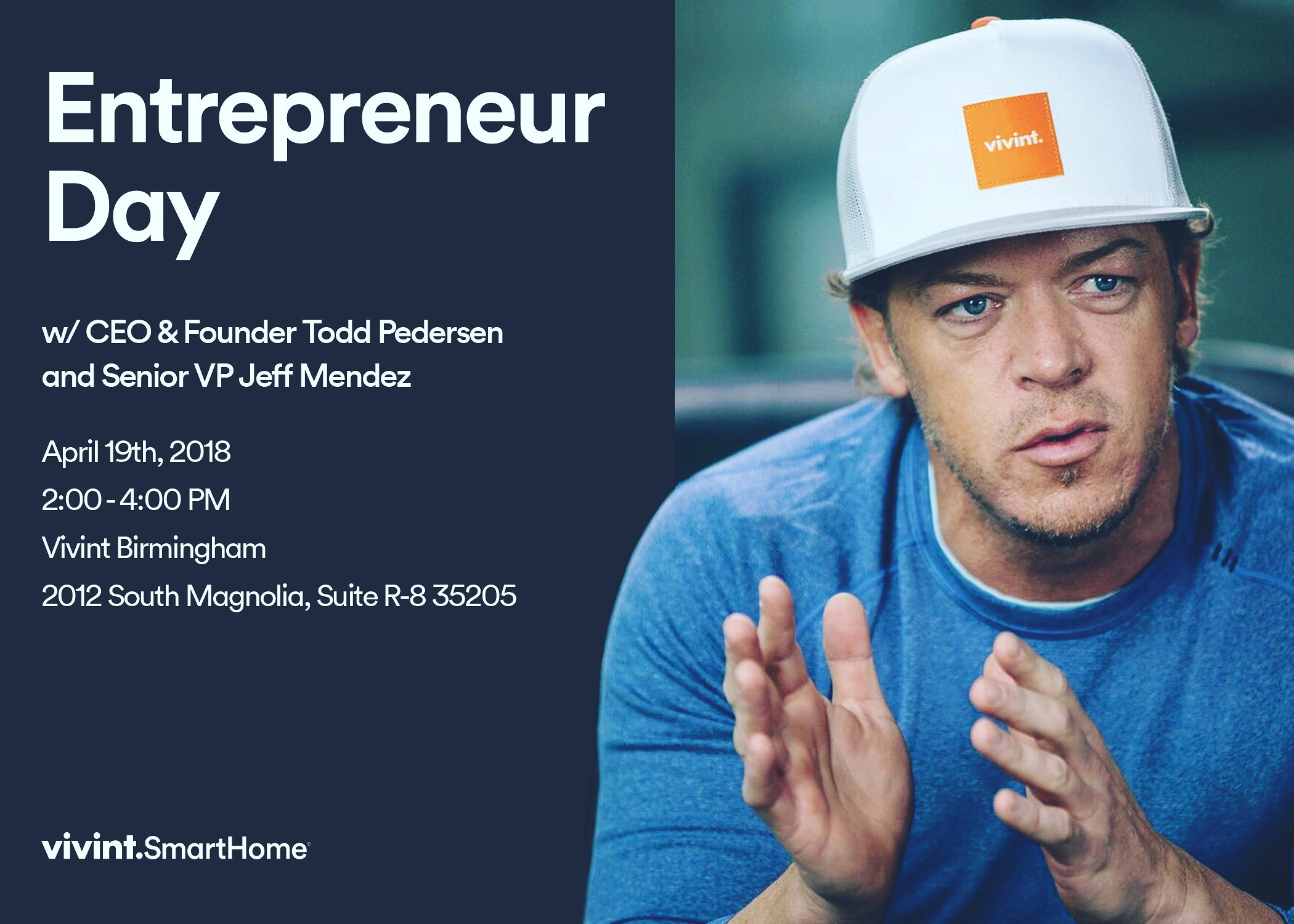 Join us on April 19, at 2pm to hear from vivint. CEO Todd Pederson. Todd is the CEO and founder of Vivint Smart Home, the leading provider of smart home services in North America. The Blackstone Group acquired Vivint for $2 billion in 2012. Vivint Smart Home is one of Fast Company's World's 50 Most Innovative Companies.
What do you want most?
We don't always get the chance to be a part of something big–something that will change the way people live their lives every day. Vivint gives you that chance. There's no better time than now; there's no better place than here.
Build 
you.
What does your financial plan look like?
Whatever your plans for the future are, it all starts with you. Whether you want to graduate debt free, buy a house or start a business, it begins here. Personal growth and finacial achievements are part of what makes our company great. Use Vivint as a summer job to save money for school or turn this opportunity into a year round career. Which ever route you take we have a program for you.
What motivates you?
Culture is the lifeblood of our company. With over a dozen sales competitions, international incentive and charity trips, and $6 million in awards, and prizes. Smart Home Pros is positioned as a leading employer in North America.
Build Here.
Build is a frame of mind. Breaking new ground. Welcoming the challenge of growth. Having the courage to throw out the old blueprints for a better plan. It's the satisfaction of progress, and knowing you are always ready to learn more, do more, build more. Vivint Smart Home, Build you.
Venue map / vivint. Birmingham Office
When & Where

vivint. Birmingham Office
2012 Magnolia Avenue South
Birmingham, AL 35205


Thursday, April 19, 2018 from 2:00 PM to 4:00 PM (CDT)
Add to my calendar
vivint. Build Here Entrepreneur Day