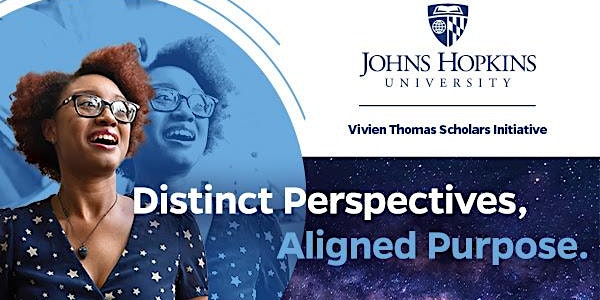 Vivien Thomas Scholars Initiative (VTSI) Information Webinar
Register to attend a virtual session to learn how to earn a fully funded doctorate from Johns Hopkins University as a VTSI scholar.
About this event
This event aims to introduce STEM students to the Vivien Thomas Scholars Initiative.
The Vivien Thomas Scholars Initiative (VTSI) is a $150 million program backed by Bloomberg Philanthropies, dedicated to nurturing and mentoring exceptional diverse talent at historically Black colleges and universities and minority-serving institutions, and connecting these students to graduate education and future leadership in STEM.
VTSI Provides:
Research Training: Join one of over 30 STEM PhD programs for your graduate journey of discovery, working closely with the world's leading scholars and scientists at the nation's first research university.
Advising and Mentorship: Meet regularly with dedicated mentors for personal advising, mentorship, and sponsorship, all directed toward ensuring that VTSI scholars thrive personally and professionally along their graduate journey and beyond.
Professional and Career Development Activities: The VTSI will provide and support professional, career, and life design opportunities to provide a robust foundation for VTSI scholars to soar in their future STEM careers.
Community: Join an outstanding community of Hopkins students and scholars whose diverse histories and life journeys bring exceptional community and richness to the Hopkins space. Join fellow VTSI scholars for regular social and community activities across the entire course of your journey at Hopkins.
Benefits: Full tuition, stipend, health, and other benefits. VTSI applicants are eligible for a full waiver of the application fee for Hopkins VTSI PhD programs.