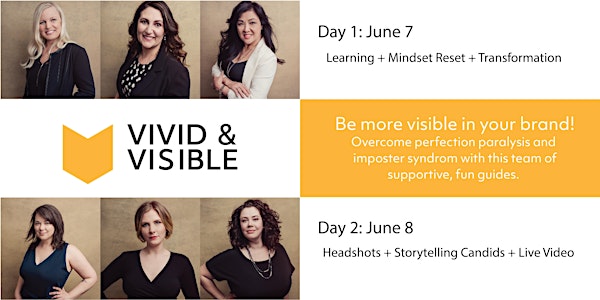 Vivid & Visible - Personal Branding Workshop & Photoshoot
When and where
Location
Hapo Community Credit Union 13909 Southeast Mill Plain Boulevard Vancouver, WA 98684
Description
Do you want to be more visible in your brand, but are experiencing any of the following?
The nagging anxiety of imposter syndrom: "I don't have...xyz...so I'm not a real ______."

The paralysing fear of perfection paralysis: "As soon as I...xyz...then I'll share my story."

The intimidation of the social media world: "I have no idea what to say or what to share."
We created Vivid & Visible to offer a safe space, with "real" people to learn these skills, conquor your fears, and actually come away with new visual assets for your brand.
Day 1
A transformational learning experience featuring:
Annie Hieronymus - Brand Story Director, Vivid Reveal
Everyday Heroes: Harness the Superpower of Vulnerability
Jackie Meldrum - Relationship Coach, Making Your Own Bed
Finding You: Lighting the Path to your True Self
Lani Grass - Personal Brand Coach, Backstage with Lani
Your Brand Promise: Create a Name for Yourself with Powerful Words
Day 2
Create authentic visuals in a supportive and fun environment:
Emily Mercer - Professional Hair & Makeup, Emily Mercer Beauty
Hands-on Hair and Makeup: Learn to Elevate, not Mask, your Most Valuable Business Asset
Irina Negrean - Portrait Photography, Irina Negrean Photography
You Don't Have to Smile: Empowerment Portrait Photography
Crystal McMonnies - Lifestyle Photography, Cyrstal McMonnies Photography
Storytelling Portraits: Celebrate your Brave, Authentic Self
Join this new community of like-minded, authentic professionals. Reserve your space now. We can't wait to see you and for you to be seen!
FAQs
How can I contact the organizer with any questions?
Email reveal@vividreveal.com with any questions and we will get back to you ASAP.
Can I attend only 1 of the 2 days?
No, these 2 days are designed to give you maximum value. The purpose is to learn, clarify, and create, so you can connect with your story.