Description
The Funding Network (TFN) event is a live crowdfunding experience, unlike anything you've seen before. Imagine TEDx crossed with a friendly Dragon's Den. Three social entrepreneurs each have six minutes to pitch projects that are designed to help some of the most disadvantaged and marginalised people in the community. These initiatives all use creativity and the arts in new, innovative ways. For anyone interested in how ground-breaking ideas can improve society, this is a must-see event.
After pitching and a brief Q&A, presenters leave the room and audiences are invited to publicly pledge their support for each project. Donations start at $100 and there is no obligation to give, however, the excitement of live crowdfunding can inspire unexpected generosity. The goal is to raise at least $15,000 for each project and all pledges will be matched collectively by Creative Partnerships Australia and PwC (up to $20,000 per project). Thanks to the power of collective giving, most projects exceed their fundraising targets.
Presented by The Funding Network in collaboration with Creative Partnerships Australia and hosted by PwC.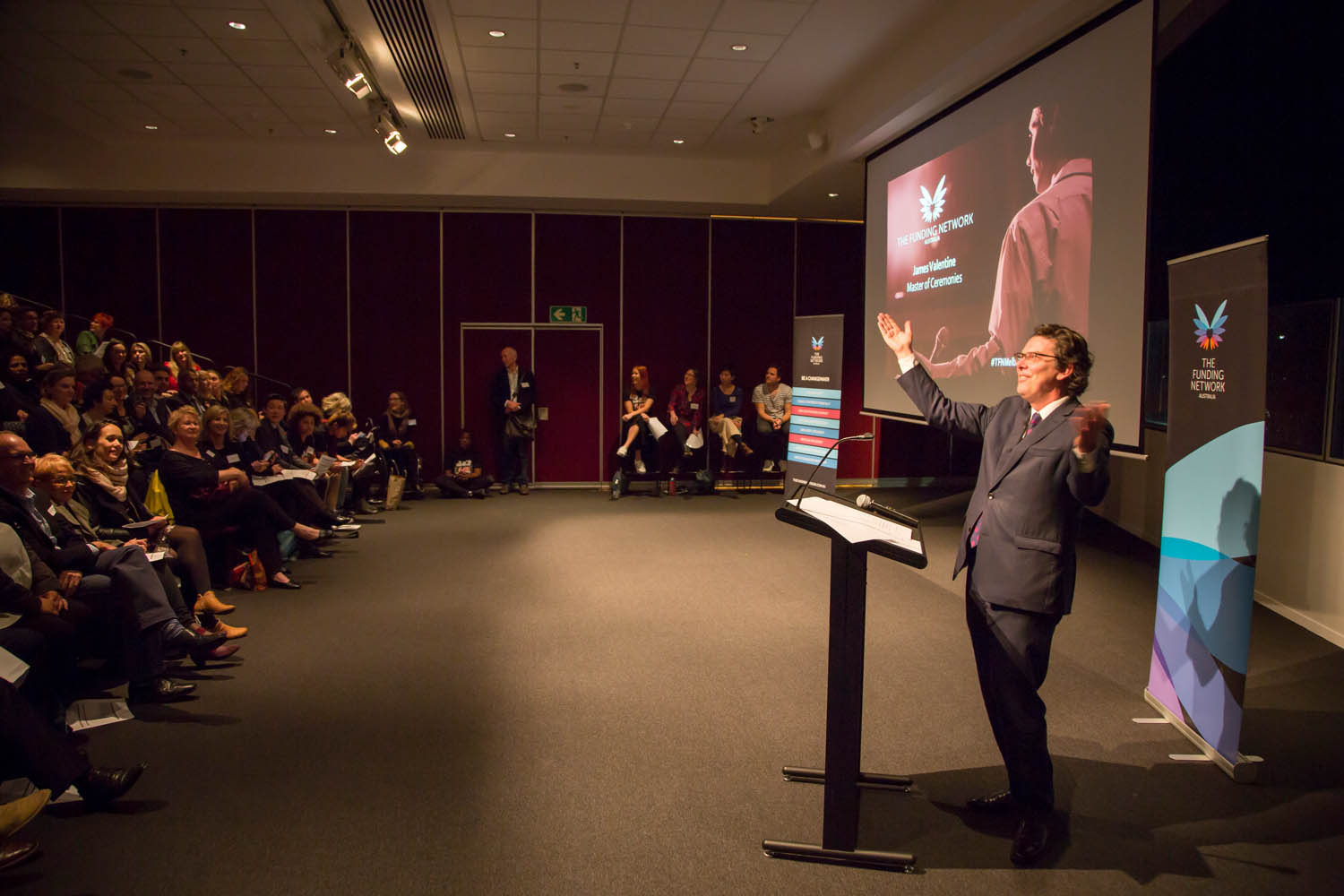 Project #1: Musicians Making A Difference (MMAD)
Musicians Making A Difference (MMAD) works to break intergenerational cycles of disadvantage in the lives of young people experiencing issues such as homelessness, social isolation and trauma. Through music, dance and mentoring, MMAD run programs that harness cutting-edge creative therapy to help young people reach their full potential. To carry on with such critical work, MMAD are seeking funding for the 'Sound Foundations' program - a ten-week course that teaches young people the foundations of songwriting, recording and performing, while learning how to build a sound foundation in life for a potential future in the arts. mmad.org.au

Presenter: Will Small
Will Small is the Creative Facilitator of MMAD's pioneering social enterprise "The Lounge Room". As a Spoken Word Artist, Will's heart for community and creativity drive his passion for creating safe and creative spaces of belonging for all people, particularly vulnerable youth.
Project #2: KidsXpress
KidsXpress transforms the lives of children impacted by emotional trauma through innovative expressive therapy programs. A psychologically traumatising experience can have a considerably adverse impact on a child's developing brain and if unresolved, can develop into serious personal challenges in their adult life. KidsXpress supports families, schools and communities to better manage and minimise the impact of childhood trauma through early intervention. They are seeking funds for their 10-week therapy programs that use music, art, drama, dance and play as therapy to immerse children's senses, imaginations and entire bodies into the communication of difficult emotions or experiences. kidsxpress.org.au
Presenter: Margo Ward
While working for many years as both a play therapist and in a national suicide prevention role, Margo saw first-hand how unresolved childhood trauma could lead to greater social and psychological problems later in life. Margo founded KidsXpress to help these kids turn their challenges into opportunities and change their life trajectory.
Project #3: Information & Cultural Exchange (I.C.E.)
Information & Cultural Exchange (I.C.E.) is a Western Sydney community arts organisation working to create opportunities for indigenous families, at-risk youth, refugees, people with disability and emerging community-based artists through cultural development, screen and digital media related education programs. They are seeking funding to support their 'Razzle Dazzle Orchestra' (RDO) project, an intensive 20-week experimental music and music video creative development and production program for 40 young people with autism (mostly high needs and non-verbal). ice.org.au
Presenter: John Kirkman
With an extensive career spanning the visual and performing arts worlds nationally and internationally, John joined Information and Cultural Exchange (I.C.E) as Executive Director in 2012 to draw on his passion for empowering the most vulnerable people in Western Sydney's communities through contemporary arts practice, to drive positive social change.
About The Funding Network
The Funding Network started in the UK in 2002 and holds regular live crowdfunding events where members and guests can discover and engage with innovative charitable projects. TFN gives people the opportunity to pool their time and resources to fund charitable projects that catalyse social change. These events now attract inspiring presenters and generous audiences around the globe from London and Singapore to New York and Sydney.
About Creative Partnerships Australia
Creative Partnerships Australia works to increase investment in Australia's arts sector; bringing donors, businesses, artists and arts organisations together to foster a more sustainable and vibrant arts sector for the benefit of all Australians. Creative Partnerships Australia is supported by the Australian Government through the Cultural Development Program of the Ministry for the Arts, Attorney-General's Department.