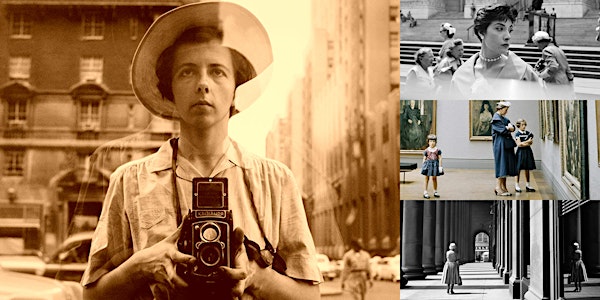 'Vivian Maier: The Greatest Photographer of the 20th Century?' Webinar
Can't make it live? Register and get access to the full replay for one week! New York Adventure Club | www.AdventureClub.com
About this event
The life, career, and truly unbelievable story of American photographer Vivian Maier (1926-2009) gives truth to the adage that "truth is stranger than fiction." After all, how else could one describe how a woman with no formal artistic training took over 100,000 photographs in her lifetime, hardly develop or print any of them, and die unknown and unmourned? And then in the quirkiest of fates, have her works accidentally discovered posthumously, which would go on to receive global acclaim and fame? This is the incredible personal and professional story of Vivian Maier, arguably the greatest photographer of the 20th century.
Join New York Adventure Club as we explore the mysterious life and career of Vivian Maier, a nanny in the Chicago area during the mid-20th century who took over 100,000 personal photos of predominantly urban life in Chicago and New York — a collection that would have stayed unknown forever without the chance discovery of her photographs' negatives in the 2010s.
Led by pop culture historian Arlen Schumer — author/designer of "The Silver Age of Comic Book Art" — this digital showcase of Vivian Maier will include:
A carefully curated overview of Maier's immense body of work — in black and white, color, film, and scrapbooks
The trajectory of Maier's crazy-quilt life journey, from Europe to New York City to Chicago, and eventually around the world and back again
The story of how her bountiful body of work was discovered and disseminated, along with her semi-surreal story of her life — thanks to the young photographer John Maloof in the early 2010s
How her esteemed body of photographic works measures up to some of the greatest photographers of the 20th Century, like Robert Frank ("The Americans"), WeeGee (a.k.a. Arthur Fellig), Diane Arbus, and Helen Levitt
Afterward, we'll have a Q&A with Arlen — any and all questions about Vivian Maier are welcomed and encouraged!
See you there, virtually!
*Immediately upon registering, you will receive a separate, automated email containing the link to join this webinar
**For the best possible viewing experience, please ensure you're using the latest version of your internet browser — Google Chrome is the most compatible. Exact technical requirements and a webinar user guide will be shared in the automated confirmation email upon registration.
***A full replay of the experience will be available to all registered guests for up to a week
About Arlen
Arlen Schumer, MFA is one of the foremost historians of comic book art, named by Comic Book Artist magazine in 1998 as "one of the more articulate and enthusiastic advocates of comic book art in America." His coffee table book, The Silver Age of Comic Book Art, won the Independent Publishers Book Award for best Popular Culture book.
Schumer is also one of comic book art's most idiosyncratic practitioners, creating award-winning illustrations for the advertising and editorial markets.
"One of the country's pre-eminent authorities on comics and culture." —Jon Meyerson, Producer, ABC News' 20/20
"Nobody speaks about comics with more authority, understanding and love than Arlen does. He is to comics what Pauline Kael was to movies." —Clem Robins, letterer for DC and Marvel Comics
Testimonials
"Interesting and well done. Much enjoyed!!" -Beth
"Everything....presenters enthusiasm and the content...." -Susan
"Love seeing the Vivian Maier photos. She was amazing. Liked hearing her story." -Ellen
"The information on Vivian was plentiful, the look through her life and amazing photography." -Mona
"Good mix of photography and film media mingled with context of both Maier's own background and comparison with photographers of her era." -Ann-Marie
"Enthusiasm. Good research. Great comparisons between known photographers' images and Vivian Maier's." -Chris
"Arlen's passion, knowledge, and content was simply outstanding!" -Steven
"I really liked the comparisons with the work of the other photographers. It provided great perspective." -Terry
"The content was compelling! I did think it went on just a tad too long." -Pamela
"Very informative regarding Vivian Maier's past. Thank you for all your hard work" -Dave
"Explored the life and work of a photographer I'd never heard of. Many good images." -Peter
"Fabulous photo images and comparisons between the various photographers." -Eleanor
"I was introduced to a photographer that was new to me. I learned a lot and want to learn more." -Nancy
"Good pacing and excellent visuals with interesting and informative commentary." -Leon
"Very informative and the art comparisons were helpful to see what critics are looking for when they consider the photos to be "good"." -Rose
"The subject, the photos, the context." -Karen
"The presenter's enthusiasm for the subject matter, and his thoroughness." -Patricia
"The hosts obvious enthusiam for the subject matter." -Theresa
"The comparison to other photographers of the 20th century." -Paul
"Vivian had a gifted eye and I've been enamored by her work since I discovered it. I particularly loved the comparisons and contrasts Arlen brought together of her work and her work alongside contemporaries." -Jessica
"I Loved the photos, history, video clips and passion for the topic." -Maggie
"Background info on Vivian. Tying Vivian's photography to her contemporaries." -Kathy
"The superb images and great information." -Marc
"The comparison of Vivien to other photographers." -Roberta
"The photos themselves are wonderful, and it's always great to see them again." -Wendy
"Good selection of her pictures." -Lynne
"So many photographs. I liked how work by other photographers was also shown." -Mary
"The artwork & bits about Maier." -Tom
"It was well planned and, while the pace was quick, I appreciate the breadth of the material covered and the comparison to other photographers." -Kathleen
"Comparison between Maier and other photographers." -Janet
"Seeing some Maier photos which I had not seen before." -Joan
"I thought it was excellent look into the life of Vivian Maier!" -Mel
"Loved learning about this photographer!" -Ann
"I liked learning more about her work and seeing the comparisons with other 20th century photographers." -Aleisa
"Loved the photos" -Rick
"Loved the approach of comparing the various photographers' images." -Sue
"The presentation and info. was very interesting and complete.. this was the 2nd time that i subscribed to it... liked it both times just as much!" -Russell
"I really enjoyed it. I'm a retired high school photography and journalism teacher and did not know very much about Maier." -Catherine
Disclaimer
By attending a New York Adventure Club experience, you accept our terms of service.
Categories: Virtual, Art & Entertainment