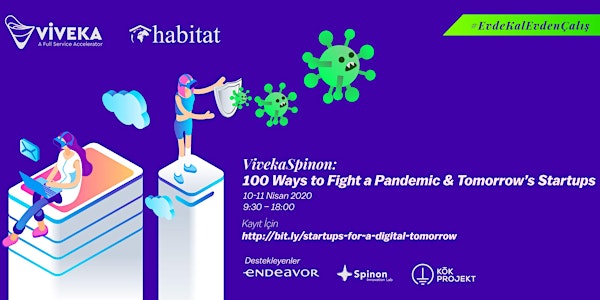 VivekaSpinon: 100 Ways to Fight a Pandemic & Tomorrow's Startups
Farklı sektörlerdeki remote çalışma zorluklarına ve beklenmedik krizlere beraber çözüm üretelim!
About this event
3-4 Nisan'da gerçekleştirmeyi planladığımız sprint etkinliği "VivekaSpinon: 100 Ways to Fight a Pandemic & Tomorrow's Startups" sprinti ile birleştirilmiştir.
Web Sitemiz: vivekaspinon.com
Bu günlerde çoğunlukla Covid-19 önlemleri kapsamında işlerimize evlerimizde devam etmekteyiz. Bu süreçteki zorlukların büyük fırsatlar ve daha parlak bir geleceği yaratmamız için bize itici bir güç olduğuna inanıyoruz.
Dijitalleşmeyi bir araç olarak kullanarak, kriz dönemlerinde şirketlerin yeni düzene geçiş süreçlerini kolaylaştıracak çözümleri üretmek ve daha verimli, daha az maliyetli ve daha sürdürülebilir iş modelleri geliştirme amacıyla sprint etkinliğini kurguladık.
Farklı sektörlerdeki dijital dönüşüm ve remote çalışma zorluklarına beraber çözüm üretmek için iki günlük dijital 100 Ways to Fight a Pandemic & Tomorrow's Startups sprint aktivitemize katılın! Viveka ve Habitat tarafından düzenlenen, Endeavor ve Kök Projekt tarafından desteklenen, SpinOn Innovation Lab yürütücülüğünde gerçekleştirilecek aktivitimizde sizleri bekliyoruz!
Sprinte katılan takımların uygun iş modelleri geliştirmeleri durumunda tüm kalkınma ajansları tarafından açılmış olan destek programlarına katılma sürecinde sizlere yardımcı olacak ve bu zor günleri beraber atlatacağız!
8 Nisan saat 20:00'de problem sahalarının tanıtılacağı webinara katılmayı unutmayın!
Katılım Linki: bit.ly/vivekaspinon
Örnek destek programları:
ankaraka.org.tr/tr/covid-19-ile-mucadele-ve-dayaniklilik-programi_4742.html
istka.org.tr/destekler/acik-destek-programlari/
Not: Sprint Metodolojisi için blog yazımızı inceleyebilirsiniz.
blog.viveka.com.tr/tag/design-thinking/
Not 2: Etkinliğe takım olarak katılmak zorunludur.
Örnek Öncelikler:
Öncelik 1: Virüsün yayılımının önlenmesi ve kontrol altına alınması
Öncelik 2: Halk sağlığı için acil hazırlık ve müdahale çalışmaları
Öncelik 3: Krizin şirket çalışmalarının üstünde negatif etkilerinin azaltılmasına yönelik yenilikçi uygulamalar geliştirilmesi
10 Nisan
09:30 - 10:00 Program Açılışı ve Tanışma
10:00 - 10:30 Bilgilendirme: Kullanılacak araçlar ve süreç
10:30 - 12:00 Araştırma ve Bilgi Toplama
12:00 - 12:30 Karar vericilerle tartışma
Öğle Arası
13:00 - 14:00 Haritalama ve Problem Tanımlama
14:00 - 15:00 Nasıl İlerleyebiliriz?
15:00 - 15:30 Karar Vericilerle Tartışma
15:30 - 16:30 Fikir Üretme Maratonu
16:30 - 17:30 Senaryo Oluşturma
17:30 - 18:00 Karar Vericilerle Tartışma
11 Nisan
09:30 - 10:30 Çözüm Geliştirme
10:30 - 12:00 Yol Haritası Çıkartma
12:00 - 12:30 Karar Vericilerle Tartışma
Öğle Arası
13:30 - 15:00 Sunum Hazırlığı
15:00 - 15:30 Karar Vericilerle Tartışma
15:30 - 17:00 Sunumlar
17:00 - 18:00 Geribildirim Seansı - Ortak Değerlendirme
Paydaşlar