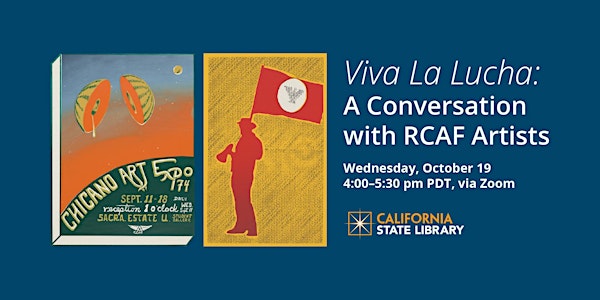 Viva La Lucha: A Conversation with RCAF Artists
A talk with founding members of the Royal Chicano Air Force, a Sacramento-based collective of artists and activists formed in the 1970s.
About this event
**This event will be on Zoom. We will send you instructions 24 hours before the event on October 18th at 4PM. If you register after 4PM on October 18th, then the instructions will be emailed at 3PM the day of the event, an hour before the event starts. Please note all times are Pacific Daylight Time.**
Initially formed in 1970 as the Rebel Chicano Art Front by art professors José Montoya and Esteban Villa with students attending Sacramento State University, the group expanded to become the Royal Chicano Air Force (RCAF), a collective of artists and activists in support of artistic expression and cultural affirmation as well as Chicano civil rights and labor organizing. Over five decades, its artists, writers, musicians, dancers, filmmakers, and scholars have created works that garnered international acclaim and influenced generations, while its community organizers and civic leaders have been at the forefront of social justice movements.
The RCAF posters are well-known for their aesthetic innovations and powerful messages. Join us for a free virtual conversation with founding members Rudy Cuellar and Louie "the Foot" González, who will share the history, context, and purpose of their prints from our Chicano Poster Collection. Moderated by RCAF member and art historian Terezita Romo.
Rodolfo "Rudy" Ojeda Cuellar was born and raised in Roseville, CA. Cuellar graduated from Roseville High School, where he learned screen printing and linoleum block printing as well as gained a deeper understanding of his role as an artist. At Sierra College, he became interested in ceramics and cultural sculptural images. Neighbor and artist Juan Cervantes helped him transfer to Sacramento State University, where he met professors José Montoya and Esteban Villa and other students who became members of the Royal Chicano Air Force. There he learned mask making, mold making, and silversmithing. From 1971 to 1979, Cuellar worked at the Centro de Artistas Chicanos, teaching at-risk youth from the school district screen printing and art & design skills as well as how to get along with each other. Cuellar also taught and assisted other RCAF members with the silk-screening process, creating prints for them along with producing signs and posters for myriad community events.
Luis González, aka "Louie the Foot" is a Chicano poet and silkscreen artist who grew up in Sacramento, CA and was educated in local schools and neighborhoods. In his teens, González was active in many of the social issues of the burgeoning Chicano Movement. In lieu of going abroad as a Peace Corps volunteer, he remained in Sacramento, where he served his community as a member of the Jr. Brown Berets, MEChA, La Raza Bookstore, and the Royal Chicano Air Force, among others. An accomplished poet, González was at the forefront of graphic art experimentation, printing his poems within the screen print format and in the process expanding Chicano art into concrete poetry and vice versa. He continues to believe that America will need to own up to its past crimes committed against the native peoples of this land before it can claim to be a country of freedom, justice, and equality.
Terezita "Tere" Romo is a Lecturer and Affiliate Faculty in the Chicana/o Studies Department at UC, Davis. An art historian, she has published extensively on Chicana/o art, most recently as a contributor to the Smithsonian American Art Museum exhibition catalog, ¡Printing the Revolution: The Rise and Impact of Chicano Graphics, 1965 to Now. She is the author of the artist monograph, Malaquias Montoya as well as the coeditor of Chicano and Chicana Art: A Critical Anthology. Romo has also served as executive and artistic director of Sacramento's La Raza Bookstore and La Raza Galeria Posada, resident curator at the Mexican Museum in San Francisco, arts Project Director at the National Museum of Mexican Art in Chicago, and Arts Project Coordinator at the UCLA Chicano Studies Research Center. Most recently, she co-curated "Traitor, Survivor, Icon: The Legacy of La Malinche," which opened at the Denver Art Museum, traveled to the Albuquerque Museum, and is currently at the San Antonio Museum of Art.
Sponsored by the California State Library Foundation.