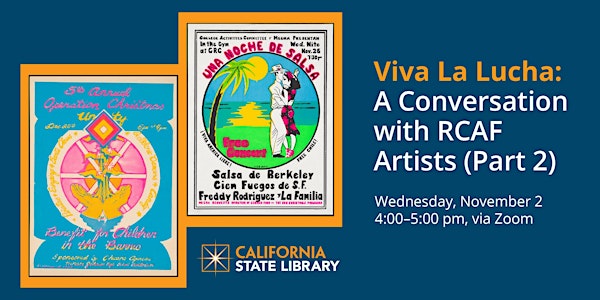 Viva La Lucha: A Conversation with RCAF Artists, part 2
A talk with founding members of the Royal Chicano Air Force, a Sacramento-based collective of artists and activists formed in the 1970s.
About this event
**This event will be on Zoom. We will send you instructions 24 hours before the event on November 1st at 4PM. If you register after 4PM on November 1st, then the instructions will be emailed at 3PM the day of the event, an hour before the event starts. Please note all times are Pacific Daylight Time.**
Initially formed in 1970 as the Rebel Chicano Art Front by art professors José Montoya and Esteban Villa with students attending Sacramento State University, the group expanded to become the Royal Chicano Air Force (RCAF), a collective of artists and activists in support of artistic expression and cultural affirmation as well as Chicano civil rights and labor organizing. Over five decades, its artists, writers, musicians, dancers, filmmakers, and scholars have created works that garnered international acclaim and influenced generations, while its community organizers and civic leaders have been at the forefront of social justice movements.
The RCAF posters are well-known for their aesthetic innovations and powerful messages. Join us for a free virtual conversation with founding members Juan Carrillo and Juanishi Orosco, who will share the history, context, and purpose of their prints from our Chicano Poster Collection.
Juan Manuel Carrillo is a retired Deputy Director of the California Arts Council and faculty member of Cosumnes River College. He is a historian, writer, poet and visual artist. He was born in Mexico, raised in San Francisco and has lived in Sacramento for over 50 years. His drawings, prints and paintings have been exhibited in various galleries and exhibition spaces in solo and group shows with the Royal Chicano Air Force.
Juanishi Orosco was born and raised in Sacramento. He attended California State University, Sacramento and in 1969, alongside similarly minded artists like Jose Montoya and Esteban Villa, started the Royal Chicano Air Force. Orosco is an arts educator providing outreach and training to hundreds of young artists throughout Northern California. He is known for his vivid prints and murals depicting his Mexican, Chicano and indigenous cultural roots which can be found across California as well as nationally in repositories like the Smithsonian American Art Museum.