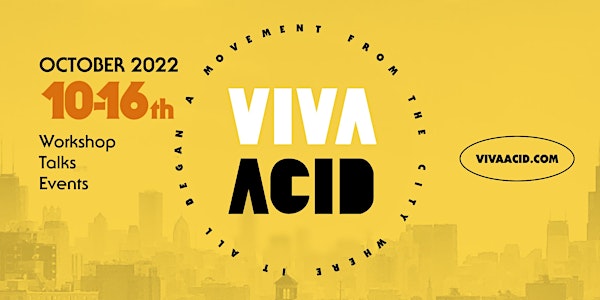 Viva Acid Talks/Workshops Six06 Cafe
Join us for a number of early evening talks and workshops. Stay late for club events across the city...
When and where
Location
Six06 Cafe Bar 1641 West Chicago Avenue Chicago, IL 60622
About this event
Back for its 2nd Year Viva Acid hosts talks, events and demos, providing advocacy for a new gen. of underground artists, djs, and producers. A Chicago-focused cultural celebration telling The Authentic Story of Acid House. A community-centric investment into advancing the city's youth of today, providing inspiration and empowering advocacy for the next generation of Chicago's disruptive cultural innovators.
Six06 Café – Workshop/Talks Thursday Oct 13th 5:00 pm/9:00 pm
Moderator: John Simmons
6:00/7:30 pm – Ableton Workshop "Many Colors of Acid" How to use stock plugins, various VST's utilizing analog, Serum and Element to make 303 bass lines. Presenters Orville Harley Kline, Danny Digable and Sireena Yancour
7:30/9:00 pm - Opportunities in Music & Decentralization (Bryan Balli, Audio Soul Project, Hieroglyphic Being)
Oct 14th Friday Moderator: Lady Dee
6:00/7:30 pm - Careers in Music (Vince Lawrence, Noncompliant, Jamal Moss)
7:30/9:00 pm - Impact of Vernacular Music on Society (DJ Pierre, Craig Alexander, Vince Lawrence)
Oct 15th Saturday Moderator: Luis Baro
6:00/7:30 pm - Building a Community (Ron Carrol, Matt Fusello, Brenda Curtis)
Manufacturing, promoting, and using the tools available to maximize your impact (Luke Vibert, Posthuman)