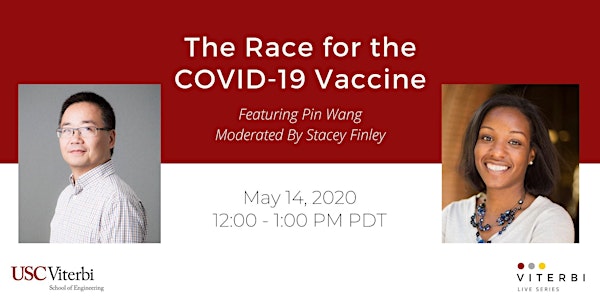 Viterbi Live: The Race for the COVID-19 Vaccine
Viterbi Live: The Race for the COVID-19 Vaccine - Featuring Pin Wang and Stacey Finley
By USC Viterbi School of Engineering
Date and time
Thursday, May 14, 2020 · 12 - 1pm PDT
About this event
As the global pandemic of the COVID-19 virus continues, USC Viterbi professor Dr. Pin Wang is leading a team in the development of a new vaccine.
Their research isolates the human antibodies that can successfully fight the viral infection in order to create treatments that improve recovery times for COVID-19 patients.
Join us for a live discussion as Dr. Wang presents his findings and challenges ahead. Dr. Stacey Finley, USC Viterbi Associate Professor of Biomedical Engineering and Biological Sciences, will host and moderate the session.
Dr. Wang is the Zohrab A. Kaprielian Fellow in Engineering and Professor of Chemical Engineering and Materials Science and Biomedical Engineering. His lab specializes in the emerging field of immunobioengineering, which uses engineering tools to better understand the immune system and to develop novel molecular and cellular immunotherapies.
Dr. Finley is the holder of the Gordon S. Marshall Early Career Chair and the Director of the Center for Computational Modeling of Cancer. She has a joint appointment in the Mork Family Department of Chemical Engineering and Materials Science and the Department of Biological Sciences.
This session will be hosted on Zoom. Links and passwords will be sent to all registered participants the morning of May 14th.
For any questions, please email us at engalums@usc.edu.
About the organizer
Located in the heart of the Pacific Rim, USC Viterbi fosters world class research and practical innovation.
The USC Viterbi School of Engineering is innovative, elite and internationally recognized for creating new models of education, research and commercialization that are firmly rooted in real world needs. The school's first priorities are the education of outstanding students and the pursuit and publication of new research.
As the school's faculty and students extend the frontiers of engineering knowledge through their research, they also apply engineering and technology to address societal challenges. The school stimulates and encourages qualities of scholarship, leadership, ambition and character that mark the true academic and professional engineer — to serve California, the nation and the world. At USC Viterbi, we call this the enabling power of Engineering+.