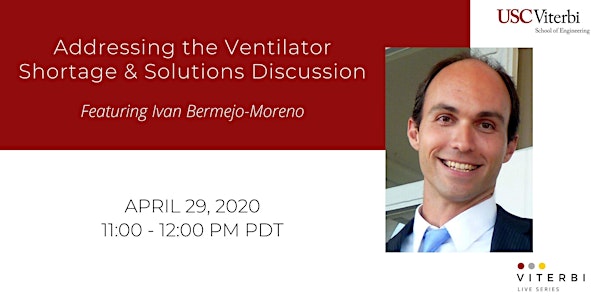 Viterbi Live: Addressing the Ventilator Shortage and Solutions Discussion
Addressing the Ventilator Shortage and Solutions Discussion Featuring Ivan Bermejo-Moreno
By USC Viterbi School of Engineering
Date and time
Wednesday, April 29, 2020 · 11am - 12pm PDT
About this event
Dr. Ivan Bermejo-Moreno, an assistant professor in the USC Viterbi Department of Aerospace and Mechanical Engineering, will lead a discussion on the current ventilator shortage due to the COVID-19 pandemic. Join us as he shares his findings on ventilator design from the standpoint of fluid mechanics in this 60-minute webinar. He will define the minimal requirements necessary for ventilator functionality, describe several ongoing open-source emergency ventilator efforts worldwide, and cover supply chain, cost, and how to best scale production. This webinar will feature an introduction from Dr. SK Gupta and a live Q&A session.
Dr. Bermejo-Moreno received his Ph.D. in aeronautics (2008) from the California Institute of Technology. Afterwards, he held a postdoctoral research fellowship at the Center for Turbulence Research, Stanford University/NASA Ames Research Center (2009-2014). He joined the USC Viterbi Department of Aerospace and Mechanical Engineering as an assistant professor in 2015.
His research combines numerical methods, physical modeling and high performance computing for the simulation and analysis of turbulent fluidflows involving multi-physics phenomena.
This session will be hosted on Zoom. Links and passwords will be sent to all registered participants the morning of April 29.
For any questions, please email us at engalums@usc.edu.
About the organizer
Located in the heart of the Pacific Rim, USC Viterbi fosters world class research and practical innovation.
The USC Viterbi School of Engineering is innovative, elite and internationally recognized for creating new models of education, research and commercialization that are firmly rooted in real world needs. The school's first priorities are the education of outstanding students and the pursuit and publication of new research.
As the school's faculty and students extend the frontiers of engineering knowledge through their research, they also apply engineering and technology to address societal challenges. The school stimulates and encourages qualities of scholarship, leadership, ambition and character that mark the true academic and professional engineer — to serve California, the nation and the world. At USC Viterbi, we call this the enabling power of Engineering+.