Location
Mickey's Black Box
101 Rock Lititz Boulevard
Lititz, PA 17543
A one-hour adaptation of The Wizard of Oz, the classic tale that has been entertaining audiences for ages
About this event
The Wizard Of Oz
Perfect for audiences 2-7 years old. Rediscover the joy of following the yellow brick road with Dorothy, the Scarecrow, the Tinman, and the Cowardly Lion as they travel through a reimagined world of Oz. Originally adapted, designed and directed for Vital Theatre Company by Michael Schloegl.
Vital Theatre Company is dedicated to producing entertaining and educational theatre for young audiences. Located in New York City, Vital Theatre Company commissions three to five new musicals for children each season. Since its founding in 1999, Vital Theatre Company has been honored with the Off-Broadway Alliance Award for Best Family Musical, two Awards for Excellence by the Off-Off Broadway Review, and has received high acclaim from audiences and critics alike for being "a wonderful place for parents to introduce their kids to the glories of live theatre, done well and at modest prices" (Off-Off Broadway Review). Now entering its 20th anniversary season, the company has presented over 75 original productions for over 300,000 children and their families.
Event Information:
Doors | 12:30 P.M
Show | 1:00 P.M
Please find additional information about Mickey's Black Box on our website:
www.mickeysblackbox.com
Creatives
director STEPHEN SUNDERLIN
choreographer REBECCA FRAZIER
musical director BENJAMIN STAYNER
production stage manager ELIZABETH HATHAWAY EMOND
costume assistant SHARON MEJIA
casting director HOLLY BUCZEK
adaptor and original director MICHAEL SCHLOEGL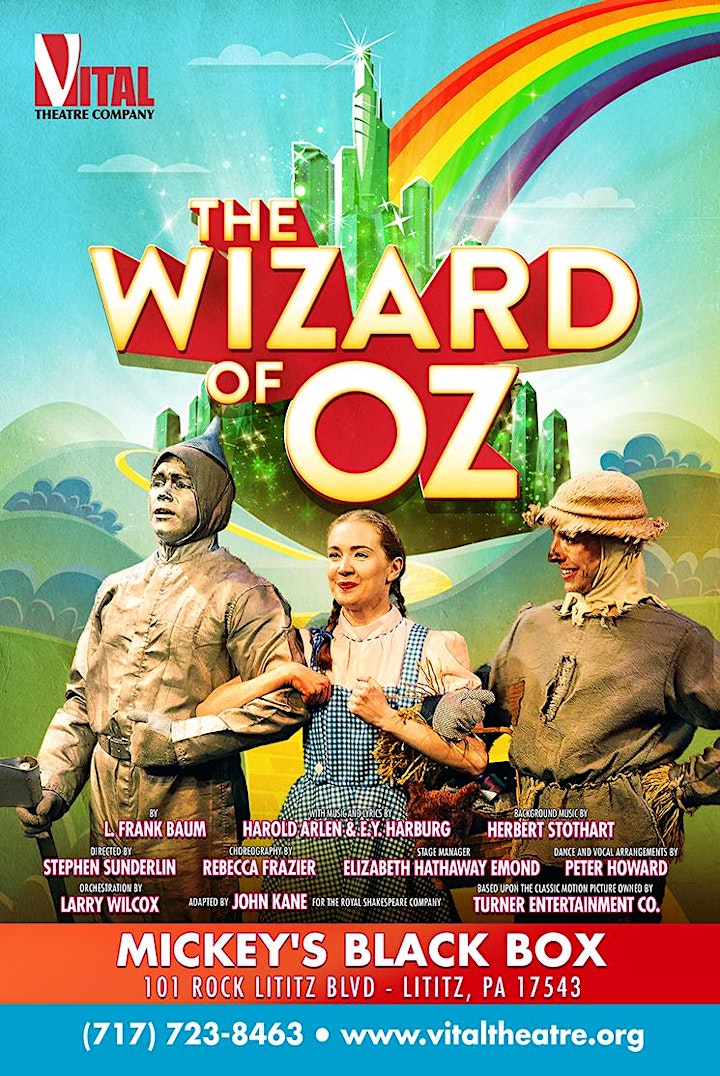 Methods Of Payment:
- Mickey's Black Box is a cashless venue.
- All points of sale must be completed with a debit card or credit card.
Wireless Internet (Wi-Fi)
- Mickeys Black Box has free Wi-Fi courtesy of Rock Lititz and Clair. To connect, please access the following network: Rock Lititz.
Prohibited Items:
- Aerosol Cans
- Cameras with removable lenses and flashes
- Umbrellas
- Coolers
- Backpacks
- Fireworks
- Illegal drugs
- Gifts for the artist/performer
- Laser pens and pointers
- Noise-making devices
- Musical instruments
- Skateboards or skates
- Electronic Cigarettes
- Outside food and beverage
- Video cameras or other recording devices
- Weapons of any kind
- Chain Wallets
- Drones
- Posters, signage (unless approved by the artist)
- Personal property that is a potential hazard to others and any other items deemed inappropriate or dangerous by Black Box Management.
These items will have to be returned to your car or discarded at the door.
Smoking & Tobacco Use:
-Smoking, vaping or chewing tobacco are prohibited in the venue.
Unverified Tickets:
Event tickets purchased from a source other than the Mickey's Black Box or EventBrite may not be honored for admission. Black Box Management is not responsible for counterfeit tickets. To avoid counterfeit, stolen or voided tickets, guests should make ticket purchases through EventBrite only.
Re-Entry:
Re-entry is generally prohibited. Guests who need to leave and re-enter should contact a guest services representative for assistance, and exceptions may be made on a case-by-case basis.
Inclement Weather:
Events at Mickey's Black Box are held rain or shine. In the event of inclement weather, events may be postponed or, in rare occurrences, cancelled. Weather updates will be posted on the Mickey's Black Box social media channels.
Alcohol Policy:
- Minors (under the age of 21) are not permitted to consume alcoholic beverages
- Alcoholic beverages purchased in Mickey's Black Box must be consumed inside the building or in the designated area within the grand entrance footprint.
- A maximum of two (2) alcoholic beverages per person may be purchased per sale.
- Guests who are intoxicated can and will be denied the purchase of alcohol and may be subject to ejection and/or arrest.
- Black Box Management reserves the right to check the ID of any guest trying to purchase alcohol that looks intoxicated or under the legal age limit.
- Alcohol can be purchased at the portable bars located throughout the venue.
- Alcoholic beverages are subject to availability based on event.
- Any issues that involve an intoxicated guest, underage drinking, line jumping etc., shall be reported to Black Box Management.
- All purchased items must be made with a credit or debit card as Mickey's Black Box is a cashless venue.
Mickey's Black Box Hours of Operation:
- Mickey's Black Box opens for most events an hour prior to the event start.
- The Box Office // Customer Service phone line is open for calls from 9:00 A.M – 5:00 P.M , Monday through Friday. For any questions please call ‪(717) 723-8463‬. ‬‬‬‬‬
- Eventbrite is the only verified seller of tickets for Mickey's Black Box.
Child Admission:
-All children 12 months and older are required to have a ticket.*
* Newborns and infants are permitted but we ask you to take them to the lobby if they become fussy.
Cancelled // Postponed Events:
- If a Mickey's Black Box event is canceled, you may return your tickets to the point of purchase to receive a refund.
- If a Mickey's Black Box event is postponed, please retain your ticket, as it is typically honored on the date to which the event has been rescheduled.
Lost & Found:
- Any items found in the building should be turned into Black Box Management staff during the event. When an event ends, all unclaimed items are logged and secured. Any unclaimed items will be donated or discarded after thirty (30) days. For any additional questions, please call: ‪(717) 723-8463‬‬‬‬‬
Lost / Stolen Tickets:
- For lost tickets, guests should contact their original point of purchase. For stolen tickets, guests should contact local law enforcement first, then their point of purchase with a police report.
Service Animals:
- No pets or animals except for certified service animals that are covered by Titles II & II of the Americans with Disabilities Act. U.S. ADA regulations, guests with disabilities may use a dog that is individually trained to do work or perform tasks for the guest. The work or tasks performed by the service animal must be directly related to the guest's disability. Please note that, ESA or Emotional Support Animals are not covered under this.
Dress Code:
- Guests are required to dress appropriately. Shirt and shoes required.
ADA
- When a show includes reserved seating sold via Eventbrite, please note the designated ADA seats available for purchase. If you have an ADA or special needs request, please contact the Box Office in advance at ‪(717) 723-8463.‬‬
Covid-19 Policy
- If you are not vaccinated it is suggested that you wear a mask indoors while attending the event.
Refunds
All sales are final and refunds are only allowed in limited circumstances (for instance, when an event is canceled—or where an event is postponed, rescheduled, or moved.