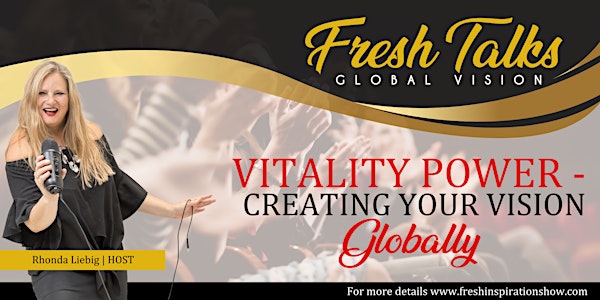 Vitality Power - Creating Your Vision Globally
Vitality Power -Vision Globally
About this event
Fresh Talks - Global Vision is an on-line virtual event that will hand you supporting tools for your health, business, spiritual and lifestyle. This show creates a three to four hour journey that is motivating with a unique approach as Fresh Talks - Global vision believes that you can live in every day of Mindset Transformation Entertainment (TM) so that you live at a higher frequency and/or level to create a world of no more blaming, shaming or feeling afraid. That's our global commitment to you through our movement #Speakerlockingarms.
This is how we do it...
Fresh Talks brings motivational speakers from all over the world to share their global movement and leaving you with lifelong tools to discover your how to's into your life healing, motivation and #truth living just by learning basic tools from every new expert that enters this global platform, fresh Talks - Global Vision. Fresh Talks global movement is #speakerlockingarms as this is represented in each monthly theme throughout the year. You will get to experience expert talks that are from 10 to 17 minutes that are personal visions -driven ideas elevating them to the experts, global vision.
Grab your complimentary digital ticket and enjoy your front row seat for Mindset Transformation Entertainment (™) directly from your social device as we go LIVE in our private group in Facebook so that you can post comments and be ALL IN with your comments and claiming your fabulous breakthroughs throughout showtime and even after the digital LIVE show..
Once you grab your digital ticket(s) Rhonda Liebig founder and host will send you a personalized email welcoming you into the community and guiding you into your next steps so that you can enjoy your journey with Fresh Talks.
Click and get your ticket and this event will keep getting updated as we get closer to the virtual LIVE date of the show. Rhonda Liebig will also be sending you personalized emails to keep you up to date on Fresh Talks details such as the speakers that are being added for your mindset transformation entertainment (TM), the schedule of the show and also some playful ideas to showcase the vibe that is building along the way before showtime as we start right at 8AM pacific/ 11AM eastern.
8AM Pacific -
Opening Ceremony with Rhonda Liebig, creator and host of Fresh Talks - Global Vision (2023) / The Fresh Inspiration Show - Mindset Transformation Entertainment (5 years running show). Rhonda will be prepping this exciting day of "Vitality Power" by sharing motivational stories and starting up insightful conversation for YOU, Fresh Talks - Global Vision group in this private Facebook group and BEEKONNECTED app.
8:30AM - 9:15AM Pacific : Sexy Energy into Vitality Power
Rhonda Liebig will transition the energy to introducing Rhonda Lou Moxy as she will be creating more #truth into your Sexy Energy to Your Vitality Power. Your Vitality Power will be revealed throughout the remaining part of the show by utilizing Rhonda's signature, Three Energy Revitalize Pillars: * Mindset/Motivation * Energy Foods and *Vitality Movement
Rhonda Lou Moxy has been playing with this Sexy Energy vibe where you get into your heart and discover all the energy that has been locked away for many years and you get to discover the key through motivation and transformation the brain to more gratitude base. This is a must when you are looking at getting tired of living too long in your low energy in your life, your health and your business. Rhonda's going straight in with Mindset Transformation Entertainment (TM) that she has trade marked as she believes deeply in movies ,music and talks is a way to heal the world. You will be enjoying wonderful results by spending time with us, Fresh Talks this hour such as:
Clearing blocked energy
Unveiling your Sexy Energy
Discovering your Vitality Power Bank
9:15AM - 9:45AM Pacific : Energy Food to your Vitality Power
Rhonda will be taking you onto a path to create your vision for your personal plan of energy foods. This is where you will take her Energy Quiz and discover your themed food based on if you are living in anger relative to living in a feeling of weepiness. This time you will be discovering more about yourself learning:
Food energy healing
Deconstructing your food stories
Strategies into new Energy Foods to your Vitality Power.
9:45AM - 10:30AM Pacific: Vibration Rhythm to Open Your Vitality
Meet up with Rhonda in her studio as she shares with you meridian flow workouts to open up your energy throughout your body to think clear and feel more of how you get to have the results that you yearn for by resolving chronic pain. Here are some of the results from this session:
Learning how to open and release anger and weepy emotions
Discovering body movement that can heal your chronic pains
Movement that will open up daily energy from lymphatic cleansing to organ detoxing
10:30AM - 11:00AM Pacific Closing ceremony for Vitality Power - Global Vision revisit the largest themes throughout the Fresh Talks - Global Vision time. Also in this closing ceremony Rhonda will share with you her 10 to 17 minutes, Fresh Talks #speakerlockingarms movement. This is where you will learn more about who Rhonda is and what she has been building throughout the years of her show. You will also get to know yourself more through questions that Rhonda will ask you so that you start envision your #globalvision.
P.S. Make sure to put on your calendar all three session with Rhonda's Three Energy Revitalize Pillars. Grab your tickets, mark your calendar and follow the emails so you can get to Fresh Talks - Global Vision virtual LIVE shows.