Vital Voices Miami Virtual Mentoring Walk|Talk + WE Evolution Program 2021
IT'S NOT JUST AN EVENT, IT'S A WHOLE ONE-YEAR PROGRAM! Connect. Get mentored. Get Inspired. Join the Mentoring Movement!
About this Event
It's finally here! Miami's 6th Mentoring Walk!
Join hundreds of women in the Miami area as well as 15,000+ around the world to connect, get mentored, and inspired in this exclusive online event. Miami's Mentoring Walk is a unique opportunity to celebrate International Women's Day and meet amazing, like-minded women.
It is the one time of the year where we offer our Mentoring Walk along our exclusive Vital Voices Miami-WE Evolution annual program 2021 all in one value packed bundle.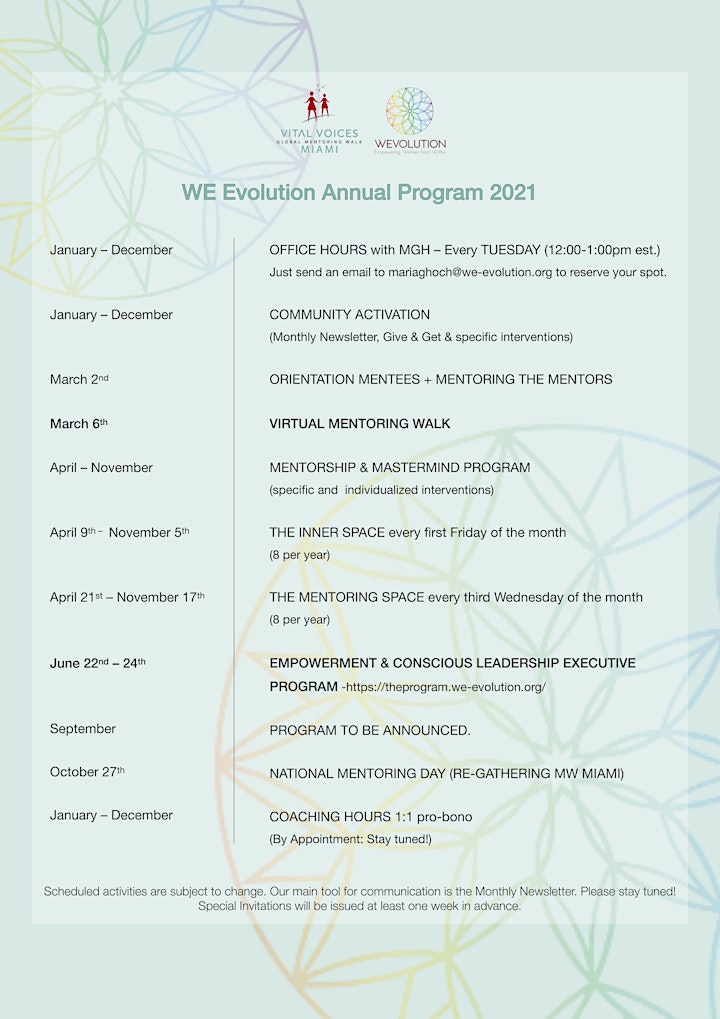 JOIN THE COMMUNITY!
Kick start your 2021 energized and keep it out throughout the year making amazing connections and investing in your personal and professional growth.
Vital Voices Miami - WE Evolution is all about community and our ability to get together as women, transform ideas into action, give and get support and create magic!
Don't delay another year - let 2021 be your year of Empowerment!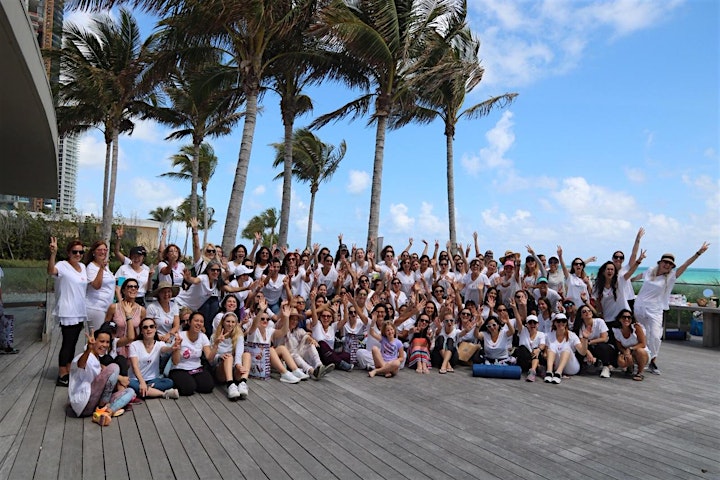 REGISTER NOW
Join us today before space runs out!
You can register as a mentor or as a mentee.
Students get free access.
Do you need financial aid? Contact us team@we-evolution.org
Applications are due March 1st or when spaces run out!
A PEEK AT VITAL VOICES MIAMI MENTORING WALK 2020
🎥Credits: @lemonmediaprod @rociosanudolimon
The annual Mentoring Walk brings together established and emerging women leaders to walk | talk together in their community.
The 60-minute walk | talk consists of a dialogue between the mentor and the mentee, where both engage in the reflection of their professional and personal challenges. As they walk|talk, they discuss their professional challenges and successes, and establish a mentoring relationship in which the mentor guides, advises and supports the mentee. Through this opportunity, mentorship has become a tool to build a new generation of leaders who could unlock some of the most pressing problems facing their communities.
Learn more here: www.vitalvoicesmiami.org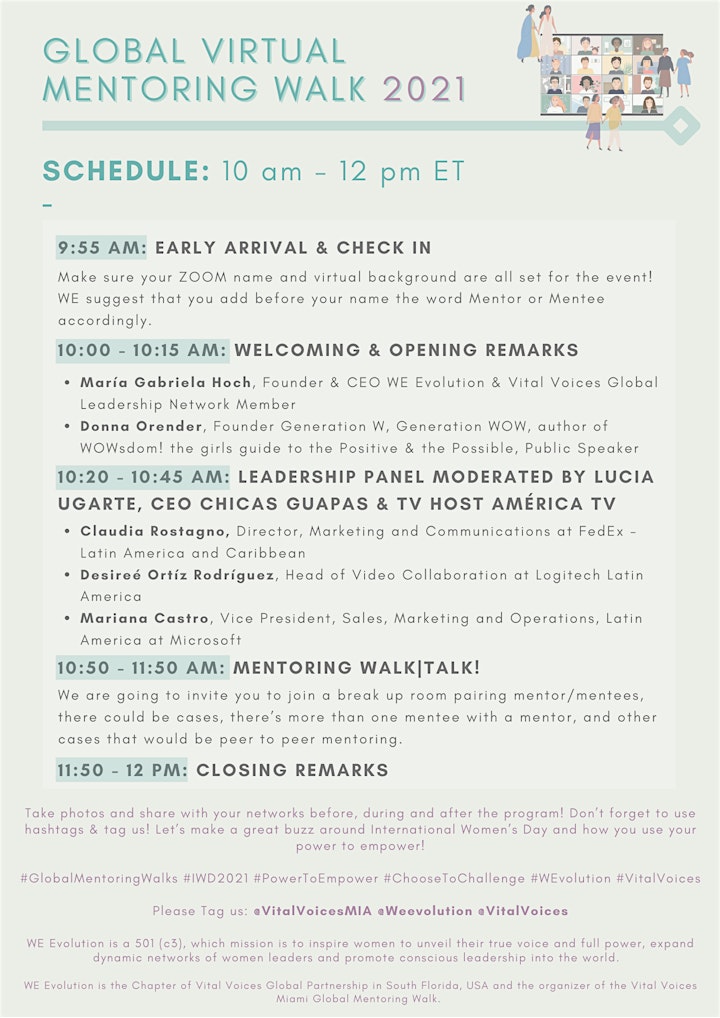 Hear what our members have to say:
"One of the best things about Vital Voices Miami is the community. When you join, you will be welcomed into a supportive community of soul-led entrepreneurs from all corners of the globe who are committed to working their light and rising alongside you. We all need support on our path, and in my experience, connecting with people who really get us and have our best interests at heart can make all the difference to our motivation and rate of growth."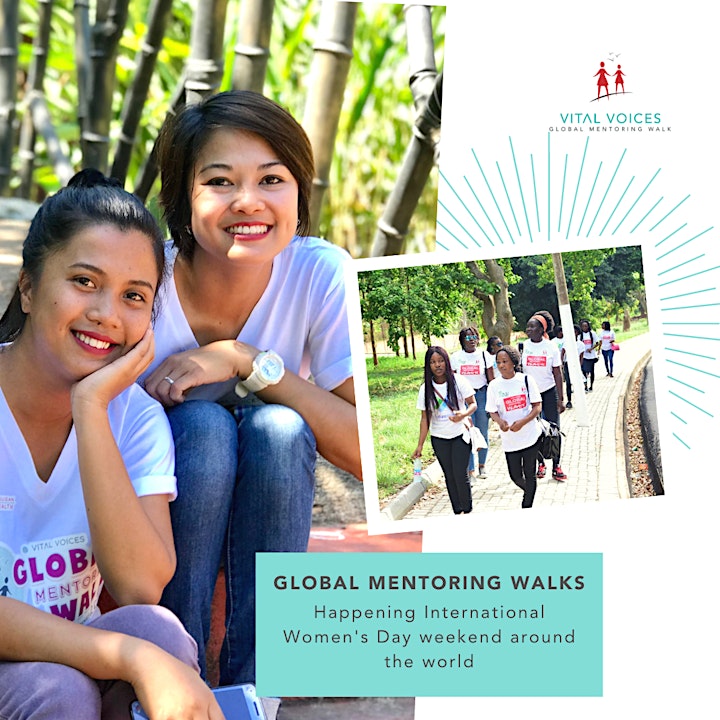 Thanks to the invaluable support of our partners and members:

FOLLOW US!
@weevolution
@vitalvoicesMIA
WANT TO LEARN MORE ABOUT US?
www.vitalvoicesmiami.org
www.we-evolution.org
By signing up to the event, I hereby release and discharge WE Evolution Corp | Vital Voices Miami of the total cause of action of claim for damages I now have or may hereafter possess against all parties responsible for my damages. I acknowledge the release of Vital Voices and all other persons or corporations involved from any liability claims, damages, causes of actions related to physical injuries or consequences of such injuries, including damages resulting from any accident or injury at this event or by participation in the event. I also consent that there will be use of photography or video and footage may potentially be taken of me at this event to be used in promotional or other materials.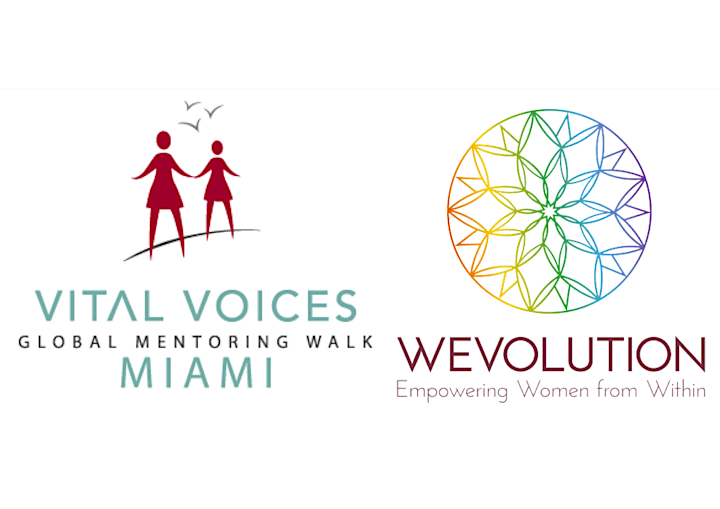 Date and Time
Location
Refund Policy