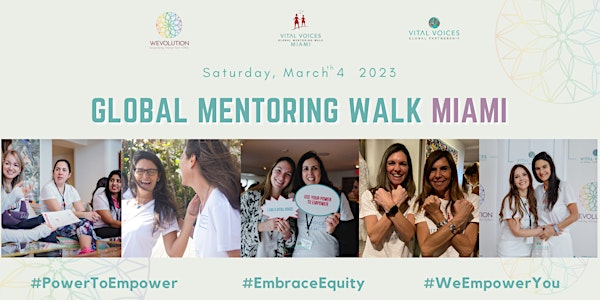 Vital Voices Miami Mentoring Walk|Talk + WE Evolution Membership 2023
Mentoring + Networking + Opportunities. Join us!
When and where
Location
Faena Hotel Miami Beach 3201 Collins Avenue Miami Beach, FL 33140
About this event
Our favorite time of the year is around the corner, International Women's Day. Let's celebrate together doing what we know the best, lifting up each other!
The 8th Vital Voices Miami Mentoring Walk|Talk will take place on Saturday, March 4th in the exquisite and exclusive Faena Hotel Miami Beach!
The annual Mentoring Walk brings together established and emerging women leaders to walk | talk together in their community.
We will welcome you with a morning yoga and meditation class, followed by a leadership panel with talented experts about WEB3, and then you will join your mentoring session. As part of WAGMI LatAm focused on onboarding more women into Web3, we will also have Web3 experts and activities to help you understand the next phase of the Internet. You will also receive a POAP (proof of attendance protocol) to commemorate your participation in the event and a domain from Unstoppable Domains.
This event is packed with networking opportunities, Vital Voices signature t-shirt, amazing prizes, light snacks, fun and more!
The 60-minute walk | talk consists of a dialogue between the mentor and the mentee, where both engage in the reflection of their professional and personal challenges and successes. As they walk|talk, they establish a mentoring relationship in which the mentor guides, advises and supports the mentee, building a new generation of leaders who could unlock some of the most pressing problems facing their businesses and communities.
You can register as a mentor or as a mentee. As we work on the matching process, we may reach out to you for more information.
Our revolution begins within and when we come together magic happens. Bring your uniqueness, let's make magic together!
Early Bird Registration ends January 31, 2023 at 11:59 PM ET
ENHANCE YOUR EXPERIENCE WITH THE ANNUAL MEMBERSHIP
If you didn't consider it yet, this is the possibility to enroll as a WE Member, this is the time of the year to do so!
With your membership, you will have direct access to our annual mentoring walk, along with a full-packed year o mentoring, coaching & power events. It's a no-brainer, isn't it?
With your support, we can reach our goal to empower 10,000 women in 2030.
All the proceeds from tickets & memberships are allocated to further and expand our empowering work with women.
WE NEED YOU!
FAQs
Do I need to walk?
You do not need to walk during the whole event. The "walk" consists of a conversation that can be done seated.
What should I bring to the walk?
Sunscreen, a yoga mat and/or towel, a reusable water bottle, comfortable shoes and clothes. Don't forget your business card for networking
Can I join you online?
No, this event is live and in person. There is no livestream available.
Can I choose a mentor in Spanish, Portuguese or English?
Yes, you can! We have Spanish-speaking, Portuguese-speaking and English-speaking mentors.
What happens if my mentor is not able to attend?
No worries! You will always have the opportunity to receive mentoring, you could be offered a Mentoring Circle with other 2 members or have the opportunity to offer Reverse Mentoring (mentoring among peers).
Where Can I park my car?
There is public parking available 1 block away from the venue and valet service is available at Faena Hotel Miami Beach (parking fees ARE NOT included in your event ticket). Uber or carpooling is highly recommended.
What's the WE Annual Membership?
The We Evolution Membership came to life 8 years ago to empower and uplift women from all life paths. We are a network of more than 1,500 women only from South Florida who come together to empower each other and aid them in evolving to the next level in their personal and professional lives. The Annual WE membership includes:
- Access to our Mentoring Walk
- Community Activation (online and in-person events)
- Mentoring and Coaching Programs (April-Nov)
- Monthly Newsletter
- Opportunities and Connections
- 20% discount from our list of signature Events
Also, your monthly contribution impacts young women with great potential and women with little or no access to empowering opportunities while empowering yourself.
What is the COVID protocol?
Vital Voices Miami | WE Evolution continue to monitor the challenges associated with COVID-19. Your safety is a top priority, and we will adhere to strict measures to protect our whole community.
Access to the Vital Voices Miami Mentoring Walk|Talk in person will be in accordance with the Faena Hotel Miami Beach policy.
*All tickets are non-refundable. Tickets can be transferred to another attendee two days before the Walk | Talk.
Please contact us if you have any questions at production@we-evolution.org
The Vital Voices Miami | WE Evolution Team
FOLLOW US!
#PowerToEmpower #WEempowerYou #EmbraceEquity
WANT TO LEARN MORE ABOUT US AND SUBSCRIBE TO OUR NEWSLETTER?
By signing up to the event, I hereby release and discharge WE Evolution Corp | Vital Voices Miami of the total cause of action of claim for damages I now have or may hereafter possess against all parties responsible for my damages. I acknowledge the release of Vital Voices and all other persons or corporations involved from any liability claims, damages, causes of actions related to physical injuries or consequences of such injuries, including damages resulting from any accident or injury at this event or by participation in the event. I also consent that there will be use of photography or video and footage may potentially be taken of me at this event to be used in promotional or other materials.