VITAL TABLE TALKS 2016 - Fri 14th October - Vital Table Talks Finale "An Ev...
Description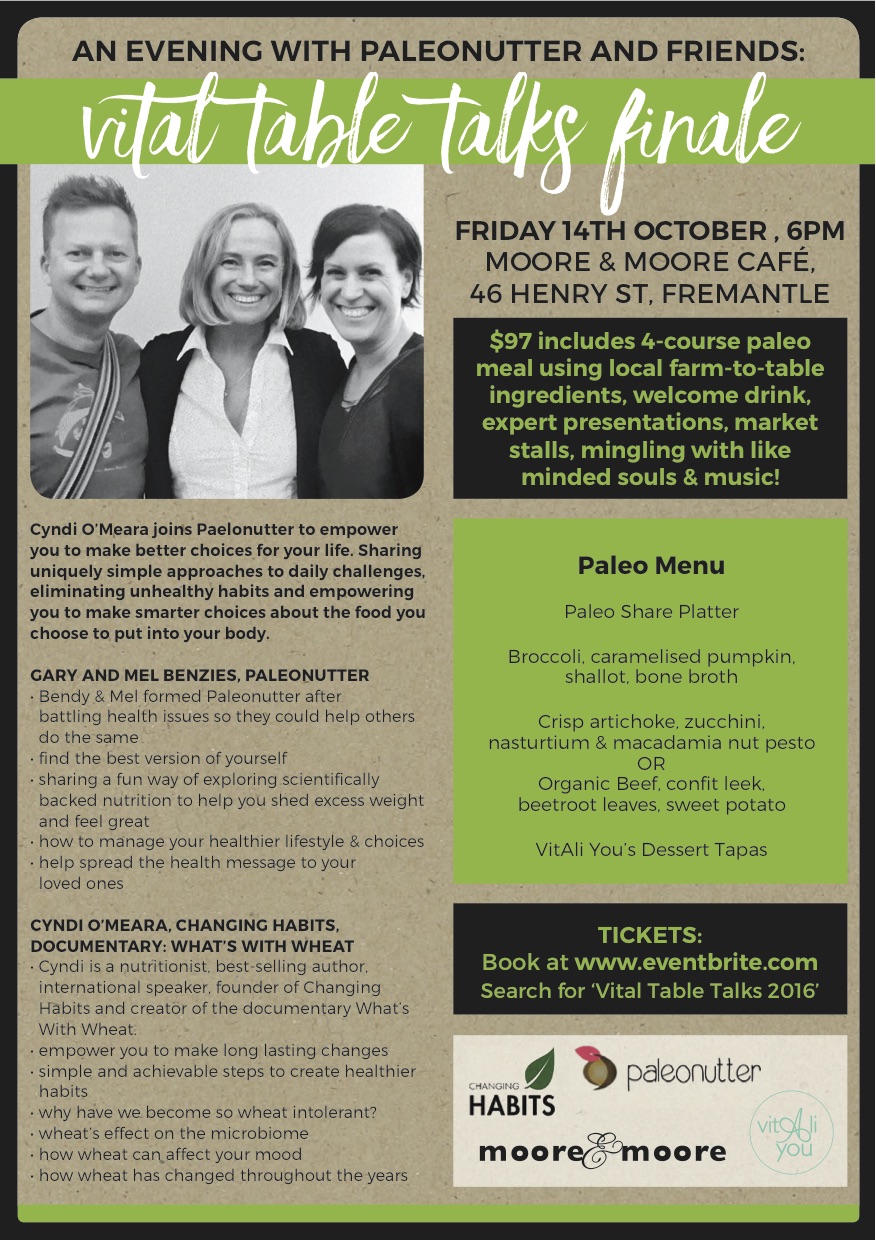 Friday 14th October, 6:00pm
Moore & Moore Café, 46 Henry Street, Fremantle
$97 includes 4-course paleo meal using local farm-to-table ingredients, welcome drink, expert presentations, market stalls, mingling with like minded souls & music!
Cyndi O'Meara joins Paelonutter to empower you to make better choices for your life. Sharing uniquely simple approaches to daily challenges, eliminating unhealthy habits and empowering you to make smarter choices about the food you choose to put into your body.
Gary and Mel Benzies, Paleonutter
Bendy & Mel formed Paleonutter after battling health issues so they could help others do the same

find the best version of yourself

sharing a fun way of exploring scientifically backed nutrition to help you shed excess weight and feel great

how to manage your healthier lifestyle and choices

help spread the health message to your loved ones
Cyndi O'Meara, Changing Habits, Documentary: What's With Wheat
Cyndi is a nutritionist, best-selling author, international speaker, founder of Changing Habits and creator of the documentary What's With Wheat.

empower you to make long lasting changes

simple and achievable steps to create healthier habits

why have we become so wheat intolerant?

wheat's effect on the microbiome

how wheat can affect your mood

how wheat has changed throughout the years
Paleo Menu
Paleo Share Platter
Broccoli, caramelised pumpkin, shallot, bone broth
Crisp artichoke, zucchini, nasturtium and macadamia nut pesto
or
Organic Beef, confit leek, beetroot leaves, sweet potato
VitAli You's Dessert Tapas
Tickets:
Book at www.eventbrite.com
Search for 'Vital Table Talks 2016'
Bendy and Mel Benzies, Paleonutter
Bendy and Mel Benzies formed Paleonutter after discovering that food really is medicine and regaining their health through good nutrition.
Bendy had suffered from Crohn's Disease and Gastric Reflux Disease and was barely coping day to day and on the verge of having to give up work. Mel had suffered a brain infection with facial paralysis that started from an infection in a tooth, which through the over use of antibiotics compromised her gut flora, resulting in autoimmune and thyroid issues.
Mel came across 'Paleo' or a Low Carb High Fat diet and introduced it to Bendy and together they got on board and their health was dramatically improved.
Their stories attracted media attention and Bendy was featured on Pete Evans' The Paleo Way program and in their online Paleo Way Magazine. He was featured on Channel 9 News with Dr Joe Kosterich and also highlighted by US Paleo guru and world-renowned author, Mark Sissons on the famous international blog, 'Mark's Daily Apple'.
Since then the married couple, who have two teenage children, have made it their purpose to spread the knowledge they've learnt so that others can regain their health too. Mel devised 'Paleonutter', which was a play on words as the media portrayed us as a load of eccentrics. 'Nutter' came from nuts being a good source of good fat and protein on a Paleo diet and the fact that we are not afraid to be a little bit crazy. The couple now have a large following on social media. They have worked with Helen Padarin from The Paleo Way and Nourish'd, Dr Jeremy Princi (The Holistic Lifestyler) and Therese Kerr founder of 'Divine' toxic free beauty range, all of who are strong advocates for healthy living.
Paleonutter keep it real and offer real solutions as they both work full time and are a normal Perth suburban family. They'll show you how living like this is achievable in the real world.
Cindy O'Meara
Cyndi O'Meara is a nutritionist, best-selling author, international speaker and founder of Changing Habits.
Cyndi graduated with a BSc majoring in Nutrition from Deakin University in 1984, her special interest was ancestral foods. At the end of her degree she was so disillusioned by the nutritional guidelines that she paved her own path and stayed clear of the low fat diets of the day, and not without controversy.
Her ground breaking book Changing Habits Changing Lives (1998) became an instant best seller and from there she has grown a successful organic food company, certified online education program and ground breaking documentary.
Cyndi is about educating, her greatest love is to teach people, in order for them to make better choices in their life, so they too can enjoy greater health throughout their life. Her unique, surprisingly simple and down-to-earth approach challenges and encourage others to eliminate unhealthy habits and has inspired thousands to make smarter choices about the food they choose to put into their body.
By educating people on how to read food labels, why diets don't work, and how drugs can affect your total well being and vitality, Cyndi confronts her audiences with new truths and empowers them to make long lasting changes with simple and achievable steps on how to create healthier habits.
You can find out more about Cyndi and Changing Habits at www.changinghabits.com.au