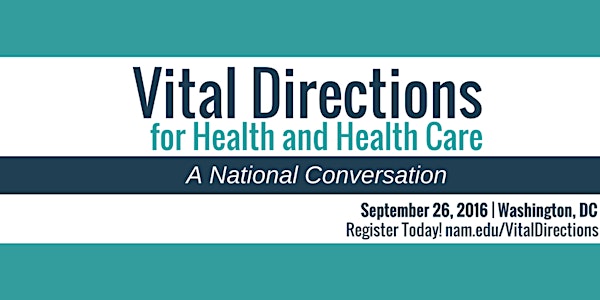 Vital Directions for Health and Health Care: A National Conversation
When and where
Location
National Academy of Medicine 2101 Constitution Avenue NW Washington, DC 20010
Description
Vital Directions for Health and Health Care: A National Conversation
To tune into the LIVE webcast, please click here.
The National Academy of Medicine will host a public symposium to gather stakeholder feedback on issues identified in Vital Directions for Health and Health Care, an NAM initiative that has stewarded the development of expert discussion papers on opportunities in 19 priority areas for health policy, for consideration by the next presidential administration, other policy makers, and the public. The symposium will feature remarks from initiative co-chairs Victor Dzau (NAM) and Mark McClellan (Duke University), as well as steering committee members Meg Gaines (University of Wisconsin), Sheila Burke (Harvard Kennedy School), and Elias Zerhouni (Sanofi) (additional panelists to be announced).
The event will feature interactive discussions of important themes and outstanding questions to emerge from 19 NAM Perspectives papers in three major topic areas: better health and well-being, high-value health care, and strong science and technology. Feedback received during the symposium will help inform a summary paper to be released following the election.
For those unable to attend in person or via webcast, submit comments via Twitter using #NAMVitalDx or via e-mail to NAMedicine@nas.edu with subject line "Vital Directions."
Sign up for the Vital Directions listserv for updates and to be notified when the papers are published.