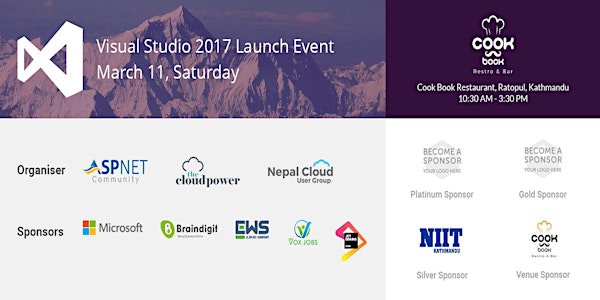 Visual Studio 20th Anniversary
When and where
Location
Cook Book Ratopul Kathmandu Kathmandu, 44600 Nepal
Description
Happy Birthday Visual Studio & .NET
To mark the 20th anniversary of Visual Studio and 15th anniversary of .NET, we invite all the community members to be part of this global event where we will also be part of Visual Studio 2017 launch.
This is more of a fun event and Knowledge sharing session, we will create some stories and videos to share via #MyVSstory around the web. We all will be sharing the experiences of working in .Net platform and Visual Studio.
Know more https://launch.visualstudio.com/local-events/
Come be part of this Global Event
This event is Co-Organized by three communities in Nepal
Insight of Visual Studio 2017
Explore New Devops Features in vs 2017
Share Your Experince with Visual Studio & Many More
Contacts for the Event
Mr. Alok Kumar Pandey, 9803793463
Mr. Ravi Mandal, 9823606132
Mr. Mahesh Dahal, 9849027963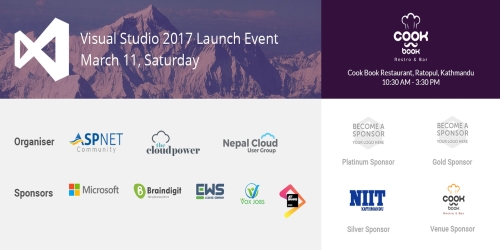 This Event is co-hosted by three communities in Nepal.



ASPNET Community is an online platform where .net geeks from all around the globe can gather to share their knowledge and views. Share your experiences, problems you are facing, exchange your ideas and knowledge and obtain better understanding of what you are doing. Become a member and spread your knowledge and ideas. We have been organizing monthly meetups events and have presence with 100k+ members online.
Nepal Cloud User Group (NCUG) is a community of Nepal where IT Professionals and developers can share their knowledge and technical expertise of cloud computing. NCUG is focused on cloud computing platform. NCUG helps professionals and community members to learn new things by sharing knowledge by community meet-ups every month and also try to solve the problems with it.
The Cloud Power is a user group focused in various technologies like Azure, .NET, Power Bi, Internet of Things etc. We have been organizing webinars, meetups and workshops attempting to leverage the best from various technologies. While we discuss about various technologies every month, we also try to empower users and enthusiasts with latest technology. Because at 'The Cloud Power" we believe that caring to share, is growing