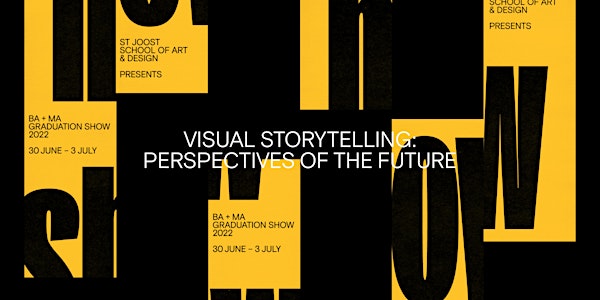 Visual Storytelling: Perspectives of the Future
St. Joost School of Art & Design presents Now Show 2022. Visit the events, exhibition, online platform and more from 30 June - 3 July.
When and where
Location
St. Joost Academy Breda 1 Beukenlaan 4834 CR Breda Netherlands
About this event
This is an event as part of Now Show 2022, the BA + MA Graduation Show of St. Joost School of Art & Design.
Talks & Tour
As makers, we are conveyors of narratives. With story at the core, we shine light on buried and new perspectives that hold the potential of transformation – from individuals to society. Our social responsibility calls for being intentional with work – but how exactly do we do that?
Through inspiring talks by Daeun Lim (Foundation We Are) and Marcel van Brakel (Polymorpf) as a starting point, we will connect to the work of a selected group of graduates and together engage in conversation that addresses this very question as well as their work.
Afterwards, you are invited to join a curated tour through the Now Show Exhibition and take in what you saw over an evening drink.
This event will be in English.
Register Now
Do you work in design, art or in the creative field? Is visual storytelling intrinsically linked to your daily practice? This event is for you. Register for your free ticket by using the link below. This event has a limited capacity, so please make sure to register in advance.
Stay Updated
If you want to stay informed, visit nowshow.nl. Want to be updated once a week? You can subscribe to our newsletter on our website.
Follow us: nowshow.nl | Instagram | Linkedin