Description
Come join us for an afternoon with Haji Noor Deen
Renowned Master of Chinese and Arabic Calligraphy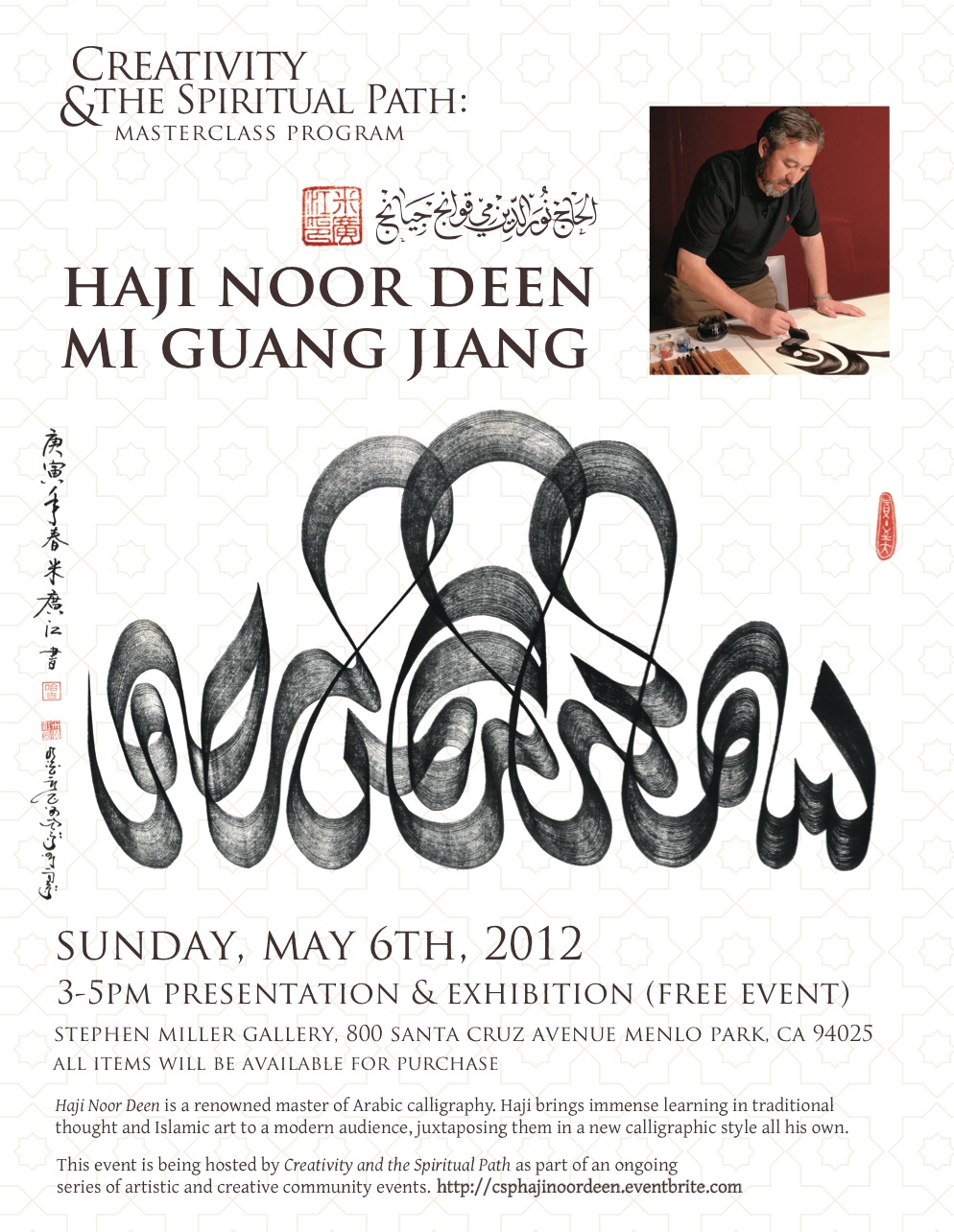 Haji Noor Deen combines Chinese and Arabic calligraphic traditions to create a unique fusion of styles. Watching Haji bring ink to paper is a form of visual poetry and all the while he weaves in lessons of history, technique and his own style.
Haji Noor Deen Mi Guang Jiang is a renowned master of Arabic calligraphy. Born in 1963 in Shangdong province, China, he brings an immense learning in traditional thought and Islamic art to a modern audience, juxtaposing them in a new calligraphic style all his own. Please click through to read about Haji Noor's achievements or explore his artwork gallery.
The Chinese and Arabic calligraphic traditions have often been compared as two of the world's finest manifestations of the written word; indeed, they are at once opposites and complements. When combined, the result is an artistic piece that is a work of incredibly unique beauty, and a testimony to man's synthesizing genius.
This event is being hosted in the beautiful Stephen Miller Gallery in Menlo Park. Stephen Miller has made fine rugs his life's work. For over 30 years, he has traveled the world and cultivated relationships with rug makers, designers and collectors. His passion for history and art are expressed in careful research of rug weaving and dyeing techniques. Stephen Miller Gallery maintains a fine tradition of unhurried personalized service to generations of San Fransisco Bay Area families and Interior Designers.
http://stephenmillergallery.com/stephen-miller/
DRIVING DIRECTIONS
FROM SAN FRANCISCO: Take US-101 South toward San Jose.
Take exit 408 to merge onto CA-84 W/Woodside Rd (1.3 mi)
Take the State Route 82 S/El Camino Real exit (0.1 mi)
Turn right onto Redwood Ave (253 ft)
Turn right onto El Camino Real (2.7 mi)
Turn right onto Santa Cruz Ave. We're on the right. (0.2 mi)
FROM SAN JOSE: Take US-101 North toward San Francisco.
Take exit 404B for Willow Rd W (0.1 mi)
Merge onto CA-114 S/Willow Rd. Continue on Willow Rd (1.1 mi)
Turn right onto Middlefield Rd (0.7 mi)
Turn left onto Ravenswood Ave (0.6 mi)
Turn right onto Merrill St (456 ft)
Turn left onto Santa Cruz Ave. We're on the right. (0.3 mi)
Organizer of Visual Poetry: Haji Noor Deen