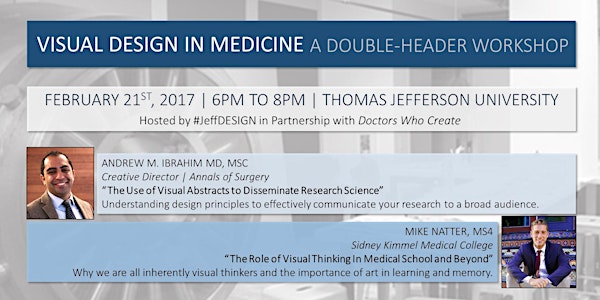 Visual Design in Medicine: a Double Header Workshop
When and where
Location
Jefferson Health Design Lab 925 Chestnut St Basement Level Philadelphia, PA 19107
Description
This two part workshop will feature two groundbreaking thought leaders:
Andrew Ibrahim, MD, MSC, Creative Director for Annals of Surgery, on the Use of Visual Abstracts to Disseminate Research Science.
Andrew M. Ibrahim MD, MSc is a Clinical Lecturer in Surgery at the University of Michigan and a Robert Wood Johnson Clinical Scholar at the Institute for Healthcare Policy & Innovation. He completed his undergraduate and medical degrees education both with Honors at Case Western Reserve University with a year of coursework at University College London – Bartlett School of Architecture. In addition to his health services research degree from the University of Michigan, he completed additional policy training as a Crile Fellow at Princeton University and as a Doris Duke Fellow at John Hopkins Hospital.

Dr. Ibrahim currently serves on the Design & Health Leadership Group at the American Institute Architects. In this national appointment, he leads efforts to merge health and architecture expertise through innovative curriculum design and cross-­‐disciplinary research collaboratives focused on building safer hospitals and designing better healthcare delivery systems. His research evaluating population level strategies to improve health care delivery has resulted in numerous peer-­review publications, book chapters, international presentations and appointment to the editorial board at the Annals of Surgery where he is their founding Creative Director. He also serves as a technical advisor to The Leapfrog Group.
Twitter: @AndrewMIbrahim
Mike Natter, MS4, Sidney Kimmel Medical College, on The Role of Visual Thinking in Medical School and Beyond
Michael Natter is a native of New York City to which he attributes much of his initial creative influence. Growing up blocks away from beacons of culture exposed him to the arts at a young age. A type 1 diabetic, diagnosed in childhood, Natter was always drawn to the medical field, however, since his strengths were in the arts and not initially in the sciences, he was steered away from a traditional pre-medical route. Natter studied studio art and neuropsychology at Skidmore College where he first began to recognize the parallels between art and science and where he gained the academic confidence to realize his dream of becoming a physician.
Natter then went on to complete a post-baccalaureate pre-medical program at Columbia University and is currently in his final year at Sidney Kimmel Medical College of Thomas Jefferson University in Philadelphia.
The body of his work is largely inspired by his medical studies, anatomy, and the human condition. He has gained national recognition for his use of visual study techniques and his doodling of his medical journey on Instagram, which was highlighted on Buzzfeed. His work has been featured in medical journals as well as periodically in the health section of the Philadelphia Inquirer. He plans to do a residency in internal medicine and fellowship in endocrinology.
Instagram: @mike.natter Twitter: @mike_natter
Location on campus: TBD