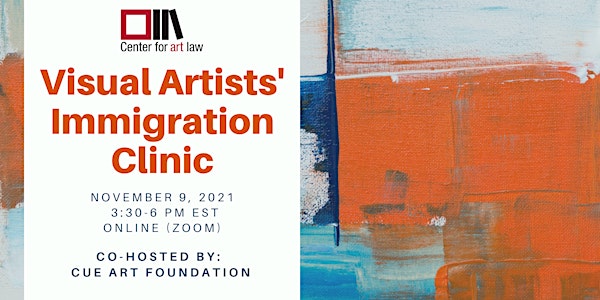 Visual Artists' Immigration Clinic
Are you an international visual artist seeking to work in the United States? Meet an attorney of the Visual Artists' Immigration Clinic.
Refund Policy
Contact the organizer to request a refund.
About this event
The Visual Artists' Immigration Clinic is designed to guide emerging and established international visual artists through the process of obtaining a visa to the United States. A refundable $10.00 fee is required to reserve your spot for a consultation. If you do not show up for your consultation, the $10 fee will not be returned. Anyone who does not have a reservation for consultations will not be guaranteed a spot.
Please be sure to read the following information and to refer to our FAQ below to ensure that you come fully prepared for the Clinic.
Date:
Our session, co-hosted by the Center for Art Law and CUE Art Foundation is on:
November 9, 3:30pm-6:00pm EST
Schedule:
3:30–4:00 PM EST: Keynote Address by Rakhel S. Milstein, Milstein Law Group, NY
4:00–6:00 PM EST: participating artists will be paired with a Volunteer Attorney for a confidential 15-min consultation.
For the duration of the COVID-19 pandemic, the Visual Artists' Immigration Clinic is continuing virtually: sessions are hosted on Zoom and the consultations take place in breakout rooms to ensure confidentiality.
Volunteer Attorneys:
Rakhel S. Milstein | Milstein Law Group, NY
Teresa Woods Peña | Woods Law Group, NY
Rebecca Lenetsky | Stropheus LLC, NY
Alejandro Filippa | Lehach Filippa, NY
Cielomar Puccio | Brandlett, Puerto Rico
Are you interested in becoming a participating attorney? Please contact us at clinic@itsartlaw.org.
Hosts:
The Center for Art Law is a Brooklyn-based research and education nonprofit that offers resources and programming for the advancement of a vibrant arts and law community. Through its website and monthly Art Law Blast newsletter, the Center disseminates information and keeps readers updated on art- and law-related news, events, cases, and publications. The Center facilitates conversations by hosting and participating in programs including conferences, workshops and clinics for visual artists, film screenings, and more. Today a world-renowned asset to the art law field, the Center serves artists, attorneys, students and scholars of both disciplines, art market professionals, and members of the general public.
CUE Art Foundation is a dynamic visual arts center dedicated to creating essential career and educational opportunities for emerging and under-recognized artists of all ages. Through exhibitions, arts education, and public programs, CUE provides artists and audiences with sustaining and meaningful experiences and resources. These programs make a profound difference in the lives of the students and artists who participate. CUE is one of the few New York City arts organizations offering such transformative services to visual artists, providing them with the tools and resources needed to start and sustain a successful career as an artist. CUE was founded in 2003 by a group of visionary and entrepreneurial art enthusiasts who wanted to showcase a wide range of incredible artwork from across the country. Ever since, CUE's founders have remained dedicated to supporting artists at all stages of their careers. CUE is a W.A.G.E. certified institution.
Frequently Asked Questions
Who may register?
We encourage participation by visual artists who wish to build and strengthen their case for employment-based visa applications over the next 6-12 months.
The 1:1 consultations that occur at the Clinic are not suitable for artists with urgent immigration issues. However, all visual artists are welcome to attend and listen to the presentation.
The Clinic best serves those artists which have no attorney and are seeking a first-time legal consultation. If you already attended a session of the Visual Artists' Immigration Clinic, we encourage you to reach out to the attorney(s) you already met with (contact information is in the handouts distributed at the session).
How do I register?
Pre-registration is mandatory.
You may register to Reserve a Consultation (Keynote Presentation included) for a refundable $10 reservation fee, which will be reimbursed after your consultation. If you do not show up for your consultation, the $10 fee will not be returned.
You may register for the Keynote Presentation only for free or any amount you would like to donate.
Registration takes place through Eventbrite, where you will need to fill out a confidential intake form.
Dial-in details and other instructions will be emailed once registration has been confirmed; be sure to check your emails in the days leading up to the Clinic.
How do I prepare for the Clinic?
Make sure that you have the following documents on your computer:
A passport showing your current visa;
CV or resume;
List of exhibitions and media publications about your work.
What happens after the Clinic?
The Center for Art Law will be providing immigration law guides and the contact information of the Volunteer Attorneys participating in each session.
If you wish to pursue the conversation with the Volunteer Attorneys participating in the session, you should reach out to them directly!
VERY IMPORTANT:
Attending this legal clinic does not create an attorney-client relationship.
The information provided during the individual strategy session does not constitute legal advice.
All the information shared during the Clinic will be kept confidential.
If you have any further questions, please write to clinic@itsartlaw.org.