Description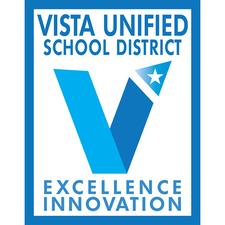 Vista Unified School District
Vision
Our vision in Vista Unified School District is to be the model of educational excellence and innovation.
Mission
The purpose of Vista Unified School District is to inspire each and every student to persevere as critical-thinking individuals who collaborate to solve real-world problems.
Values
Respect: Treating all with dignity.
Trust: Having confidence that every decision focuses on the best interests of all students.
Collaboration: Working in a collective partnership with clear two-way dialogue that builds relationships among home, school and the community.
Schools
With 29 schools serving more than 22,000 students from preschool to 12th grade, Vista Unified School District is one of northern San Diego County's largest educational agencies. The district stretches 39 square miles across most of Vista, a large portion of eastern Oceanside, some unincorporated areas and small slivers of Carlsbad and San Marcos. In addition to the campuses district administrators oversee, Vista Unified also includes one of the county's largest adult-education programs with about 20,000 enrolled each year and another 3,000 students in four charter schools sponsored by the district.
Schools include:
fifteen elementary schools,

five middle schools,

three comprehensive high schools,

two alternative high schools,

two schools for students with special needs,

one k-8 school,

one home-school/independent-study school,

one adult school.
Students
The district serves a diverse population of students, including more than 3,000 in its special education programs and more than 6,000 who are learning English as a second language. Enrollment has declined over the last several years from about 26,000 students in 2000 to more than 22,000 in 2012.
Student demographics include:
58 percent qualify for free lunch,

24 percent English learners,

10 percent homeless,

60 percent Hispanic,

28 percent white,

4 percent African American,

3 percent Asian,

3 percent two or more races,

1 percent Filipino,

1 percent Pacific islander.