Description
Last year was our first food drive. We successfully reached our goal and fed 25 Military families in need.
This year, we reached our goal to feed 50 families. The big goal of this annual event is to feed 100 families.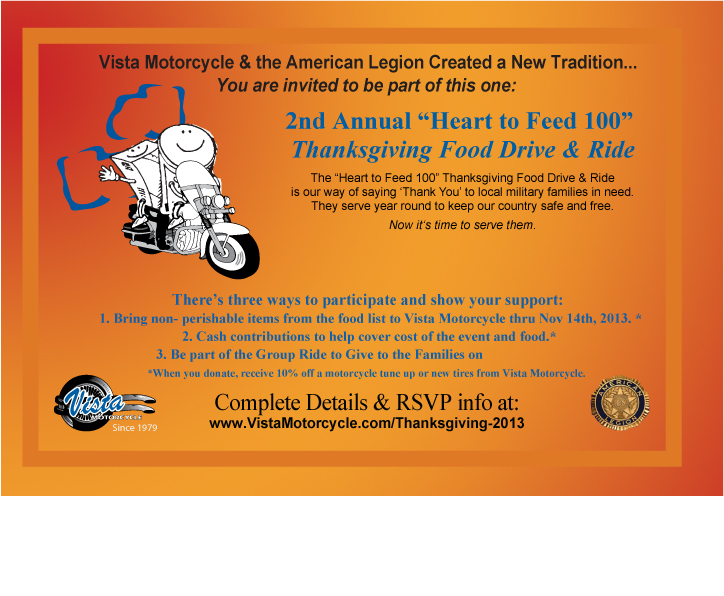 The Goal: Deliver Fixin's for Full Thanksgiving Dinners to 50 Military Families in Need (each family of 4 will be 100 total people fed)
The Group Ride: Ride with us and hand deliver the fixins' to the
families on Nov 16th, 2013.
Note: Ride staging as of now will be set for 9 am PDT at Vista Motorcycle. Departure time for delivery is 10am. This is subject to change based on weather and you will be notified via email of any changes after you register. Once the food is delivered, you are invited to ride back down to the American Legion Post 365. They serve food and beverages through out the day, and these proceeds help to provide other outreach support to our local community throughout the year.
Complete Food Drive & Donation Menu Details found at:
http://vistamotorcycle.com/thanksgiving-2013/
Ready to do a cash donation now? Simply click here and scroll down to find the Donate Button. All funds donated through this link will go to the American Legion to help cover food costs. You will receive a letter of recognition of contribution from the Post Commander for your records.
This Years Event Sponsors & Supporters are: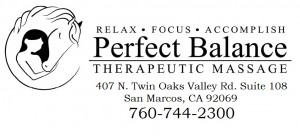 A special Thank You to these Additional Supporters:
Kenny's Kar Klinic
Warner's Truck Rental
Bitchin' Sauce
GEICO Motorcycle Insurance
O'Reilly Auto Parts
Polito Eppich CPA's
Colonial Life: Sam Tadlock
A & D Glass
Patritti Sparkling Juices
Wallace Insurance Agency
Wellness Center in Vista, CA
Art Beat on Main Street
Starbucks
ML Bookkeeping
Kristi Cowan
George Simmons
Norma Eckblad
Sam Tadlock, Colonial Life
Jeanette Taylor
Tricia Coates
James Ziglar, AML 146
FAQs
What are my transport/parking options getting to the event?
Ride your motorcycle and stage at Vista Motorcycle between 9-9:30 a.m. Ride captains will give route/saftely info around 9:30. Departure to take place at 10 am. After all the food is delivered to the two locations on Camp Pendleton, you are invited to ride back to enjoy lunch from the Bar & Grille at the American Legion Post 365.
There is plenty of parking up at the cycle shop for motorcycles.
If you are riding in a car, truck or van, please park on the street below the drive to Vista Motorcycle. Street parking on S. Santa Fe. We will head out and go east on S. Santa Fe towards Mar Vista Drive for ride departure.
What can/can't I bring to the event?
Bring your friends who also ride that want to honor and show gratitude to the recipient miliatry families. Any extra cash donations you wish to contribute that morning are greatly welcome.
Where can I contact the organizer with any questions?
www.VistaMotorcycle.com or contact Debbra Sweet at: 760-597-2790, www.SweetMarketingSolutions.com
Is my registration/ticket transferrable?
Yes.
Can I update my registration information?
Yes.
What is the refund policy?
Since this is a donation for a fund raising event, no refunds will be given. Your contribution is greatly appreciated to help make this event a success for serving these familiems.