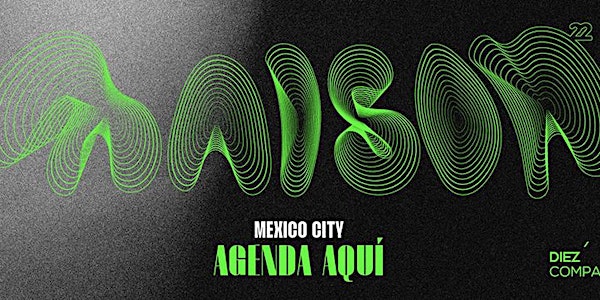 Multiple dates
Visita Maison Diez Company 2022
MAISON DIEZ COMPANY CUARTA EDICION Regresa la ansiada edición de Maison Diez Company a una locación espectacular de la CDMX
Date and time
November 11, 2022 · 11am - May 31 · 6pm CST
Location
Maison Diez Company 2022 Gobernador José María Tornel 34 San Miguel Chapultepec Ciudad de México, CMX 11850 Mexico
About this event
EL MEJOR EVENTO DEDICADO A LA LUZ EN MÉXICO
Maison Diez Company cumple cuatro años de celebrarse con gran éxito en distintas colonias de la majestuosa Ciudad de México: la Roma, la Juárez y la Escandón fueron sus primeras locaciones. Desde 2018, Maison Diez Company se ha convertido en uno de los proyectos y exhibiciones de gran relevancia en la escena del diseño de nuestro país. ¡Maison Diez Company es el evento anual más exitoso dedicado a la iluminación en México!
En su cuarta edición, Maison Diez Company llega a la San Miguel Chapultepec con una propuesta de importantes dimensiones en la que prioriza la luz como principio básico de la decoración de alta gama y de la creación de ambientes inolvidables.
Un esfuerzo anual de Diez Company por reunir a importantes actores de la industria y consolidarse como el mejor evento de iluminación y diseño en México.
About the organizer
DIEZ COMPANY + THE LIGHT REPORT
A través de más de una década de experiencia en el diseño, distribución e implementación de luminarias de alto nivel en proyectos de lujo, Diez Company se ha convertido en líder del sector y hoy cuenta con un portafolio de clientes que incluyen proyectos particulares, colaboraciones con despachos de diseño internacionales y, sobre todo, ha adquirido una sólida reputación en el sector contract, en el cual ha sido proveedor de lámparas para las cadenas hoteleras, restauranteras, etc. más exclusivas en todo el territorio nacional.
Un proyecto de Gina Diez Barroso y Rodrigo Fernández Barajas, Diez Company cuenta, además, con el blog The Light Report (thelightreport.mx), especializado en iluminación con tres ediciones impresas al año, lo que lo confirma como la empresa que marca y define tendencias de iluminación decorativa en México.