Visit Zanzibar, Mount Kilimanjaro and Serengeti National Park
About this Event
Running in Zanzibar is a rich experience. You don't need to be an expert runner to participate: dazzled by the turquoise of the Indian ocean and the white of the endless beach, entranced by the scents of spices. Through the race you will know the most authentic aspect of the island, Zanzibar is recognised as UNESCO world Heritage Site. Set your expectations high, because nothing spells relax-and-restore than 3 days of beach combing, snorkeling and diving in Zanzibar after a trail RUN.
Consider Mount Kilimanjaro as Tanzania's gravitational core. At 19,341 feet (5,895 meters) it's Africa's tallest peak and the highest free-standing mountain on the planet. Lucky for you, Kili is a non-technical ascent and can be accessed without any mountaineering experience. Kilimanjaro, a World Heritage Sites, was formed over 1 million years ago by volcanic movement along the Rift Valley.
The Serengeti National Park is arguably the world's most well known, and best wildlife viewing destination. Commit to 3-5 days here and you're saying "yes" to the best, witnessing one of the most undisturbed wild habitats on the planet. You will see the Big Five consist of the lion, buffalo, elephant, leopard and rhino. And did I mention the possibility of observing 2 million animals migrate each year? Yeah, that's a thing.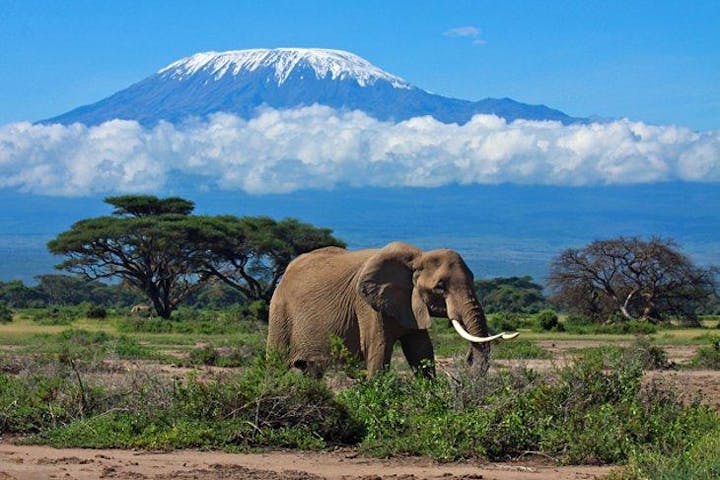 THE PROGRAM STRUCTURE.
Activity One: Zanzibar Tour and Trail RUN (3 days)
Day One | Arrive in Zanzibar International Airport (ZNZ)
• Transportation will be arranged for you from the airport, to our check-in point.
• Flights from your country to Tanzania are not included in pricing
• Get acquainted, group activities and share meals. Official welcome, presentation of the staff and program Structure.
Day Two: Trail RUN
• 16 km Soft / Walkers program
• 26 km Advance program
The RUN Day, taking advantage of the low morning tide, develops in the first part on the beach of the East coast and then goes back northwards through internal paths characterized by low vegetation. Arrival is at the magnificent bay of the beach!
Early afternoon: Barbecue on the beach (in definition)
Late afternoon: Return to the hotel
Evening: Dinner and overnight stay
Day Three: Zanzibar Tour.
We will start our day by visiting Prison Island. Once an outback for convicted prisoners, today Prison Island, also known as Changuu Island, is most visited for its resident colony of Giant Aldabra tortoise, an endangered species that arrived in Zanzibar as a gift from the government of the Seychelles. Some are over 100 years old and amble peacefully among other wildlife that includes colorful peacocks and butterflies, as well as shy buck.
House of Wonders
Also sometimes referred to as the Palace of Wonders, this remarkable structure overlooks the waterfront of Stone Town and features enormous, carved doors that are said to be the largest in East Africa. Inside the rise of striking tiers of both pillars and balconies, one will find the Zanzibar National Museum of History and Culture, showcasing Swahili culture and the people of the Indian Ocean.
Last but not least, we will have an interesting tour to a sand bank at Indian Ocean, snorkeling and for those who like diving plus other group activities.
Activity Two: Mount Kilimanjaro Trekking (8 days)
Day Four |Travel and Acclimation and immersion Day
• Travel by Air from Zanzibar International Airport to Kilimanjaro International Airport. Get acquainted, group activities, share meals and most importantly adjusted to the altitude change
Day Five | Begin Lemosho climb: high-altitude drop off and trek to Shira 1 camp
• A guide and a mountain support crew will arrive at the hotel in the morning in order to meet you and hold another briefing, after which you will travel by vehicle (roughly 3–4 hours) to Kilimanjaro National Park's western entrance: Londorossi Gate (2,200 m). After the quick formality of acquiring climbing permits and registering with the search and rescue service, the group continues upwards towards their drop off point by off-road vehicles (reaching 3,500 meters).
Day Six | Trek from Shira 1 camp to Shira 2 camp
• Departing from Shira 1 Camp (3,505 m) and a light trekking towards the second high altitude camp: Shira 2 Camp (3,900 m). This trek is not difficult and you will be able to enjoy spectacular views of Africa and the unique flora of Kilimanjaro and the surrounding area. Shira 2 Camp is the best place on the trip to see Mount Meru (the fifth summit of Africa), weather permitting.
• When you arrive to camp you will have lunch, and after a two-hour rest everyone will complete an acclimatization hike towards Lava Tower Camp that features a 200-meter gain in altitude.
Day Seven | Trek from Shira 2 camp to The Lava Tower and decent to Barranco Camp
• After breakfast you will leave Shira 2 Camp (3,900 m) and start your way to the key point of the route: Lava Tower (4,630 m). This section of the route has a lot of ascents and descents that end in a camp at over 4,600 meters.
• Then you will descend to Barranco Camp (3,960 m). Here you can see the famous Barranco Wall, impressive in both its massive size and steepness! Next day you will be climbing it, but don't worry: it features a very simple hiking trail.
Day Eight |Trek from Barranco to Karanga Camp
• Early wakeup, breakfast and the start of summiting Barranco Wall . Hiking up the gorge wall is not difficult and only takes around an hour. After the climb you can have a rest and take photos in front of the Kibo volcano.
• Then you start a more difficult hike to Karanga Camp, which features numerous ascents and descents during the route, but don't worry: our guides are experts at choosing an optimal pace for the group. After a couple of hours you will have to complete an acclimatization hike in the direction of Barafu Camp with a 200-meter gain in altitude, and then descent back down to the camp.
Day Nine | Trek from Karanga to Barafu Camp
• In the morning after breakfast you begin your way to Barafu Summit Camp (4,640 m), the starting point for a night summiting Uhuru Peak (5,895 m). Our team will set up a camp for you ahead of time, including tents and sleeping bags, so you can relax. After regaining strength, you have to complete an acclimatization hike towards the intermediate Kosovo Summit Camp (4,800 m) and then back to Barafu Camp, where you will be served a hot dinner. It is better to spend the remainder of the day resting and sleeping before night summiting.
Day Ten | Ascent to Uhuru Peak and Descent to Millennium Camp
• Departure from Barafu Camp (4,640 m) at night and the start of summiting Kilimanjaro: Uhuru Peak (5,895 m). Technically the climb is relatively simple; however, the most challenging part is the high altitude. Each pair of climbers will get a personal guide for the entire ascent to monitor your physical and mental conditions. After your successful ascent to Uhuru Peak, you can descend to the nearest glacier if desired. Then you will return to Barafu Camp and after a 2-hour rest continue your descent to Millennium Camp (3,820 m).
Day Eleven | Descent from Millennium Camp to Mweka Gate
• The camp is situated in a tropical rainforest. When you wake up, you will feel relief from the reduction of the height and the satisfaction of reaching the summit. After a warm breakfast, you will head for the park's exit: Mweka Gate (1,650 m). After your descent the whole group will gather to congratulate you, followed by offering you a chance to share your opinions on the climb in the guestbook. Lastly, we will present you with your commemorative certificates and provide you a transfer to Serengeti National Park.
Activity Three: Visit Serengeti national Park - (3 days.)
Day Twelve to Day Fourteen Inclusive.
Our Experienced Tour Guides will ensure you enjoy and get most of your 3 days stay.
Serengeti National Park is a vast treeless plain with thousands, even millions of animals searching for fresh grasslands. As the largest national park in Tanzania and the World, the Serengeti attracts thousands of tourists each year. Large herds of antelope as well as lion, leopard, cheetah, hyena, bat eared fox, hunting dog and jackal not to mention the big five are found in Serengeti National Park. Nearly 500 species of bird have been recorded on the Serengeti. Many of these are attracted to the swamp area. 'Serengeti' means an 'extended place' in the Maasai language.
Day Fifteen | Depart
• Final morning at the hotel and arranged transfer to the airport. **Note: Hotel check-out is at 11:00 AM. In case you need a late check-out because of an evening flight or extend your stay, there is the option to do that for an extra fee.
OPTIONAL: SAFARI (Tour) ADD-ON
Day 16 and above, tailored to suit your needs
Ngorongoro Crater
The Ngorongoro Crater is over three million years old and the largest intact volcanic caldera in the world. Thousands of wild animals graze the verdant crater floor that is blessed with a permanent supply of water and abundant vegetation. Besides the animals, the natural panoramas that Ngorongoro provides are a treat for the eyes, and bird watching is superb in the area. Another highlight is the Olduvai Gorge, an archaeological site situated on a series of fault lines, where centuries of erosion have revealed fossils and remnants of early mankind.
*If you want to hang around Tanzania and see some other amazing sites, just say the word. We can design something just for you.
Don't miss out on this once in a lifetime experience! Prices per activity is as follows;
1. Zanzibar Tour and Trail RUN, 3 Days -USD $1200
2. Mount kilimanjaro Trekking 8 days including flight ticket from Zanzibar to Kilimanjaro and hotel stay - USD $ 2750
3. A visit to Serengeti National park, 3 days - USD $1950
The total price for all three activities is $5,900 with a $500 deposit required to reserve your place. We will discount $400 for early bird tickets through August 8th (38 days out from the experience). We will collect the balance payment remainders on cash upon your arrival in Zanzibar. You may choose to participate in all Activities and request additional trips or may participate in some of the activities. I look forward to receive you!