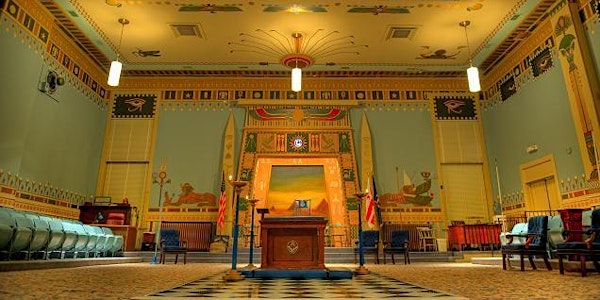 Visit to the Freemasons - Naval Lodge No. 4
Join us for a discussion with a local Naval Lodge to learn about freemasonry - THIS EVENT HAS BEEN MOVED ONLINE.
When and where
Location
The Naval Lodge Hall 330 Pennsylvania Avenue Washington, DC 20003
About this event
NOTE: Due to COVID concerns, the lodge has decided to move this event online and to invite us back in person later this year. Join us Thursday night via Zoom at the adjusted time of 8pm.
https://us02web.zoom.us/j/88216345725?pwd=bFN0dWJ6YUJWa0pXR0RHWm1CdHBDUT09
Freemasonry is a centuries-old, worldwide group of fraternal organizations. While some of its teachings are kept confidential, it promotes loyalty and morality and invites its members to seek knowledge and opportunities to serve others. In lodges, Masons ritually reenact a story based on the brief biblical account of a man named Hiram, whom Solomon commissioned to work on the temple in Jerusalem. During the reenactment, Masons advance by degrees, using handgrips, key words, and special clothing.
Some early Latter-day Saints were Masons. Joseph Smith joined the fraternity in March 1842 in Nauvoo, Illinois. Soon after he became a Mason, Joseph introduced the temple endowment. There are some similarities between Masonic ceremonies and the endowment, but there are also stark differences in their content and intent.
Naval Lodge No.4 in Washington D.C. is the oldest continually operating lodge in the District of Columbia, chartered in 1805. The lodge gained its name from the many workers in Navy Yard who originally made up the lodge's core members in the early 1800s.