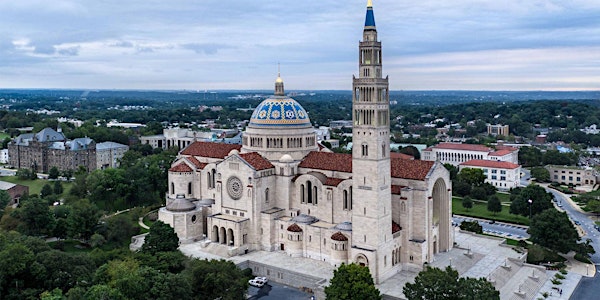 Visit to the Basilica of the National Shrine of the Immaculate Conception
Join us at the National Basilica for a tour, discussion, and dessert reception.
When and where
Location
Basilica of the National Shrine of the Immaculate Conception 400 Michigan Avenue NE Wasington, DC 20017
About this event
The Basilica of the National Shrine of the Immaculate Conception just saw its 100-year anniversary; the first foundation stone was laid in 1920. Intended to model "great cathedrals of the Old World" in its beauty, dignity, and sanctity, the Basilica blends Byzantine Revival and Romanesque Revival architecture. It is the largest Catholic church in the United States, one of the largest in the world, and the tallest habitable building in Washington DC. Built from the generosity and imagination of many generations of American Catholics, it is often considered to be America's official Catholic Church. 
We have been invited for a tour of and talk about the Basilica during the season of Lent, where Catholics fast and make intentional sacrifices to maintain spiritual focus while awaiting the Easter Holiday. This makes this a special time to learn about American Catholicism.
Please register by midnight on Wednesday, March 16th so we can give our hosts an accurate headcount for the reception.
Program outline:
2:00pm - Tour of the Shrine
2:45pm - Talk in the Upper Church
3:15pm - Cake & Tea Reception
Parking & Public Transportation
Parking is available at the Basilica
The Basilica is a ~10 minute walk from the Brookland-CUA Station
Carpool Information:
If you would like to sign up for the carpool, either as a driver or as a passenger, please register by Tuesday, March 15, 2022. While our team facilitate initial communications for the carpool groups, we delegate responsibility for transportation to the individuals in the groups, and will not make alternative or last minute accommodations. Please also note that the availability of the carpool will depend on your zip code.