Visit George Washington's Mount Vernon for FREE on President's Day
Description
Celebrate George Washington's Birthday on Presidents Day and visit Mount Vernon for FREE (normal adult admission price is $18-20). This event is open to the public and all are welcome, including children.
The event is sponsored by Washington, DC History & Culture:
https://www.meetup.com/DCHistoryAndCulture/
Mount Vernon is always popular. That combined with the free admission means that thousands of people will be visiting throughout this particular day. Therefore, our strategy is to arrive early (meet at 8:45 am outside of the Mount Vernon Inn Restaurant) and see as much as possible before it gets too crowded.
Normally I like to go through the Visitor Center, which has a nice orientation film, and/or the Museum, before visiting the Mount Vernon Mansion - and you are welcome to do that. However, our personal plan is to skip both the Visitor Center and the Museum, at least initially, and head straight to the Mansion. There will probably be a line to enter the house, but if we don't get in early the line is only going to get longer. After that we plan on visiting some of the historic trade displays in the outbuildings, the slave memorial, the Visitor Center, the Museum, etc.
We're not sure how long we'll spend at Mount Vernon - maybe 3 or 4 hours. You are welcome to join us at 8:45 am and stay with us during our visit. Of course you are also free to arrive later and/or leave early.
Mount Vernon Web Site: http://www.mountvernon.org/
Additional Details – Please Read Carefully!
Weather: This event will take place rain or shine.
Transportation Options: Please see below. Michele and I are driving by ourselves. Guests are responsible for their own transportation to and from Mount Vernon - we are not coordinating any else's travel.
Parking: Visitor parking is always free at Mount Vernon. There are parking lots on the east and west sides of the George Washington Memorial Parkway as you approach the entrance. If these parking lots are full, you will be directed to an overflow parking lot.
Public Transportation: Take Metrorail's Yellow Line to Huntington Station. Exit at the lower level of the station (Huntington Avenue) to catch a Fairfax Connector bus to Mount Vernon. Board the Fairfax Connector Bus #101, the Fort Hunt Line, for a 20-minute trip to Mount Vernon's entrance gate.
For more information about Metro bus and subway transportation, call 202.637.7000 or visit the Washington Metropolitan Area Transit Authority (WMATA) website. https://www.wmata.com/
For bus fare information and schedules, call Fairfax Connector at 703.339.7200 or visit the Fairfax Connector website. http://www.fairfaxcounty.gov/connector/
Meeting Point: Look for Robert, Michele, and people with Meetup stickers outside of the Mount Vernon Inn Restaurant.
Finding Our Group: If you arrive at 8:45 am we'll hand out our Meetup stickers to everyone, and we'll continue doing so to people we meet throughout the day so you can tell who's in our Meetup group.
If You Arrive Late: Look for people with Meetup stickers and we'll try (no promises) and post our various locations on the Meetup site throughout the day. Because of the size of Mount Vernon and the number of people attending it may be challenging locating us after 8:45. I will do my best to respond to texts (202-821-6325) but not phone calls, and will only be able to do so on a limited basis as I want to enjoy the day myself and not be a dispatch service for those that chose to sleep in. Best bet for being with our group - arrive at 8:45 like we are.
Additional Questions: Anything that can't be answered by the above event description, the Mount Vernon web site, Google, or common sense please let me know.
This will be a fun and educational – come join us. Thanks!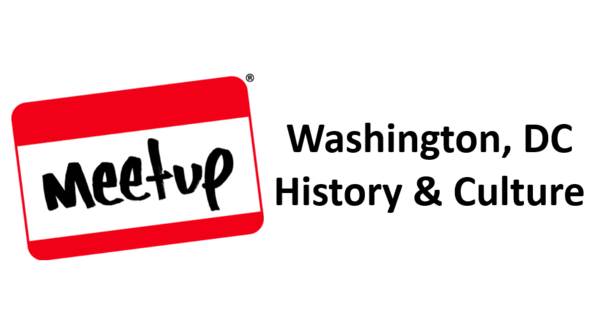 The event is sponsored by Washington, DC History & Culture:
https://www.meetup.com/DCHistoryAndCulture/
Robert Kelleman