Visions Teen, ONE Recovery & Partners Present Audrie & Daisy w Panel
Description
AUDRIE & DAISY: A NETFLIX DOCUMENTARY
Sundance Nominated - Free Passes - Groups Welcome
Words from our esteemed panel member, Dr. Ericha Scott:
"Please join us for the showing of this powerful documentary regarding the sexual abuse and cyberbullying of several young girls. The primary case, the Maryville case, (which in real life followed the Steubenville case), was at least partially exposed by the group Anonymous after the DA dropped rape charges against the perpetrator for the rape of a 14 year old girl who was functionally unconscious at the time. I am honored to be on the panel of professionals along with several colleagues - Dr. Don Grant and Candy Finnigan."
We encourage you to watch the trailer or entire piece on Netflix if you have any concerns about your adolescent viewing. We will be providing a panel of experts for questions immediately following the event as well as community resources in the lobby following the film. We seek to raise awareness of all by showing this powerful work.
Panel of Esteemed Mental Health Professionals
Candy Finnigan, Nationally recognized Interventionist, Author of "When Enough is Enough", Penguin Press and regularly featured on A&E's Intervention.

Dr. Don Grant, PhD, (un)BOOT CAMP, award-winning Media Psychologist, Chair of the American Psychological Association Committee on Device Management

Dr. Ericha Scott, PhD, LPCC, Internationally Certified Advanced Addiction Counselor, Board Certified Art Therapist, Registered Expressive Arts Therapist, Trauma Specialist

Chris Shumow, Founder of Visions Adolescent Treatment Centers and SAMOHI Alumni. Chris has set the standard for adolescent treatment amongst industry professionals.
6:00-6:20PM Reception
6:20-8:00PM Documentary (will start promptly)
8:00-8:30PM Q&A w Panel of Professionals
8:30-9:00PM Resource Center in Lobby
In two towns on different sides of America, two teenage girls pass out while intoxicated at high school parties and, while unconscious, both are sexually assaulted by boys they call friends. In the aftermath, the girls each endure online harassment, both attempt suicide, and tragically, one dies.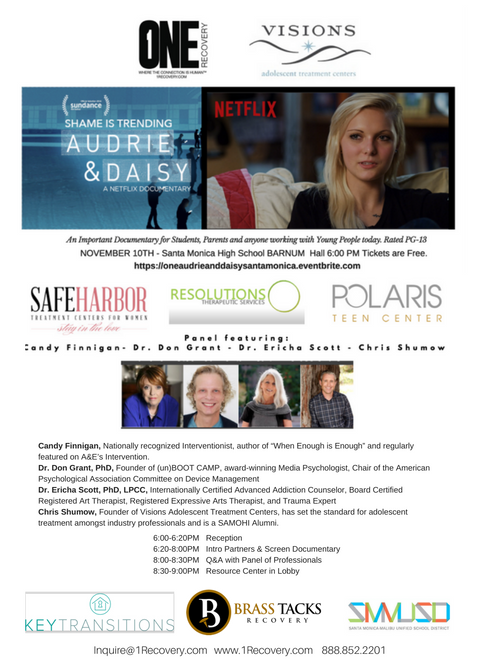 The film is rated PG-13. Please review trailer or documetary on Netflix if you have concerns about your adolescent attending.
COMPLIMENTARY TICKETS FOR ALL
Schools, Residents, Community...all are welcome.