Description
Do you feel stuck (at your job, in a relationship, in your whole life), but you can't seem to find the strength to move forward?
Your time is filled supporting everyone in your life while your dreams are at a stand-still, hoping to see the light of day.
You can't stomach another success story showing ordinary people just like you living their dreams - while you seem to be living the same year over and over.
It's time for a change. That's where a VisionCon comes in.
VisionCon is the premier event for ambitious women to build community, get clarity on their goals and design a life they can be proud of.

Now if you're thinking...
I don't want anything to woo woo.
I already have a 2019 vision board, what more do I need?
Not another women empowerment event where we look cute and take pictures but nothing really changes. *cue eye roll*
This isn't your average goal setting event.
We have amazing speakers lined up like...
>> STACEY FERGUSON | Chief Curator of Blogalicious (yes, the huge blogger conference with over $2M in brand sponsorships)
>> RICHE HOLMES GRANT | Founder of Martha Stewart-endorsed luxury baby gear brand
>> TERRI TOLLIVER | 16 Emmy Award Winning News Producer at Fox5
>> SKYE CHARLIE | Celebrity Wardrobe Stylist (with clients like Budwiser, NBA and Grammy nominated artists) #winning
If you know 2019 will be your breakthrough year and you're ready to:
Get clarity on the best goal for you
Make the right connections to accelerate your journey
Learn from top business leaders and influencers sharing real stories and sure-fire strategies for success
VisionCon gives you the resources to say yes to yourself... to your future... to your destiny.
Register for VisionCon19 to save your spot.


---
Meet The Speakers

Keynote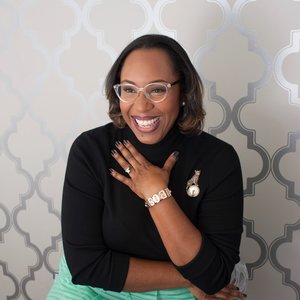 From Full Time Lawyer to Be Blogalicious Creator + Full Time Influencer + Over $2 Million in Brand Sponsorships
MASTERMIND BEHIND BLOGALICIOUS &
ROCKSTAR INFLUENCER BUSINESS COACH
Featured in FastCompany.com, Inc.com, Entrepreneur.com, The Washington Post, Black Enterprise, NPR, FOX, The Root, and more, Stacey is a sought-after influencer coach, media personality, digital brand strategist, public speaker, and Chief Curator of the Be Blogalicious community and conferences celebrating diversity among women in social media.
Event Host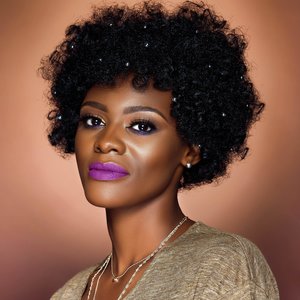 Fight For Yourself: From Losing Everything to National TV Commercials & Fueling Your Passion
BUSINESS OF BLACK HAIR FOUNDER + CELEBRITY WARDROBE STYLIST
At 29, Skye ended her engagement and quit her job. Fueled by a desire to start over on her own terms, she created Business of Black Hair. When she's not slaying natural hair, she graces production sets to style clients like Budweiser, Planters, NBA, Jetsmarter and Stella Artois.
Visionary Panel Speakers
RICHE HOLMES GRANT
Bambiniware Founder + Designer & #TheRicheLife Host

RECREATING YOURSELF: FROM LAWYER TO BUILDING A MARTHA-STEWART ENDORSED LIFESTYLE BRAND FOR MOMS
Riche Holmes Grant is a modern mom + mompreneur who designs smart + stylish products that make #MomLife easier. She's the host of #TheRicheLife YouTube channel, famous for her amazing tablescapes and home decor tours.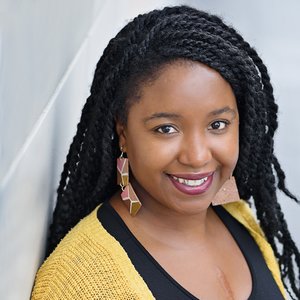 ADAMA HAMADI
Adama Hamadi, Delicious Living Coach & Founder of Dream. Leap. Live.

TAKING CONTROL OF YOUR PERSONAL LIFE: LEAVING YOUR JOB TO LIVE YOUR PASSION
Adama, founder and Delicious Living Coach at Dream Leap Live, is the "human permission slip" for overachievers that feel overworked and underappreciated. Adama helps burned out SuperWomen free up time and energy to do the work that matters.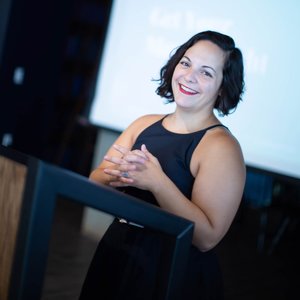 MAGGIE GERMANO
Financial Education Instructor and Financial Coach for Women
KNOWING YOUR WORTH: LANDING SPEAKING GIGS WITH TOP COMPANIES LIKE DELOITTE, BOSSED UP + LADIES GET PAID
Maggie Germano is a feminist and financial coach for women. She helps women improve their relationship with money so they can take control of their futures. She wants to reach even more women from all backgrounds to give them the financial literacy they need to get their money right.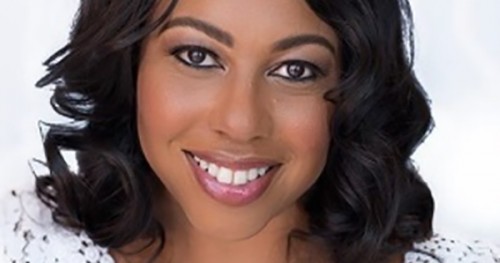 Terri Tolliver
Director of News Projects and Partnerships at Fox5 DC

SHATTER THE GLASS CEILING: 16 EMMY-AWARDS & FIRST AFRICAN AMERICAN WOMAN ON FOX5 MANAGEMENT TEAM IN A DECADE
Formerly the Executive Producer for Fox 5's number one rated 10 and 11 o'clock news, Terri Tolliver is now the Director of News Projects and Community Partnerships.

Vision Board Workshop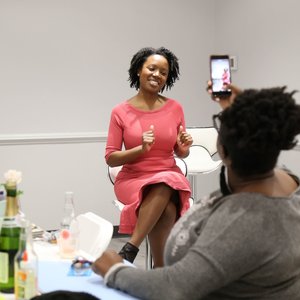 CHANTL MARTIN
Founder, Thrive Lounge DC
UNSTOPPABLE: TEEN MOM TURNED DATA SCIENTIST + PUBLISHED AUTHOR + PAID $30K STUDENT DEBT IN 2 YEARS
After being rejected from medical school, losing her job and battling with burnout and depression, Chantl got a masters, landed her dream job (3x-ing her income) and created Thrive Lounge, a online community that reaches 20K+ goal-getters monthly.
---
Testimonials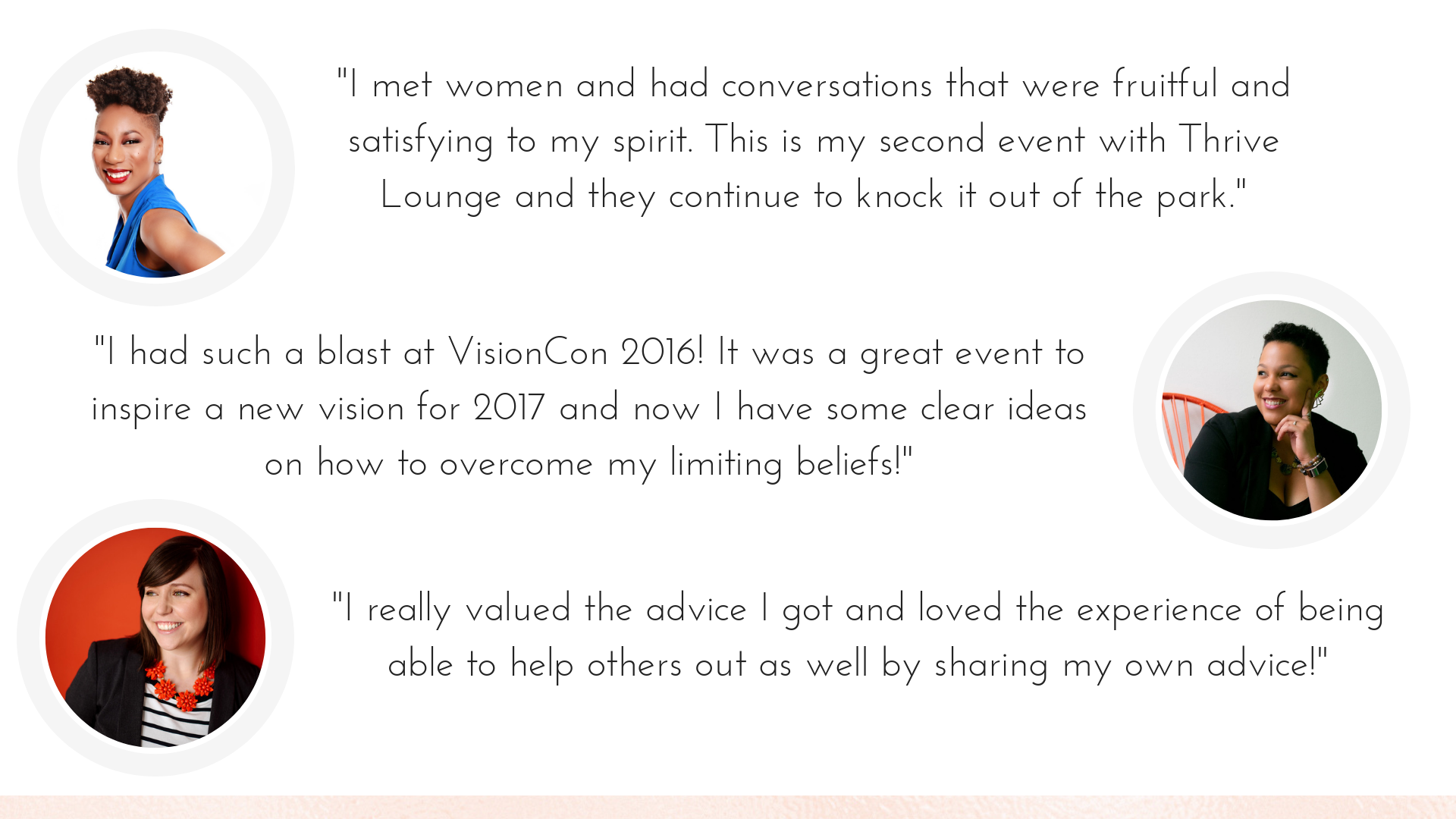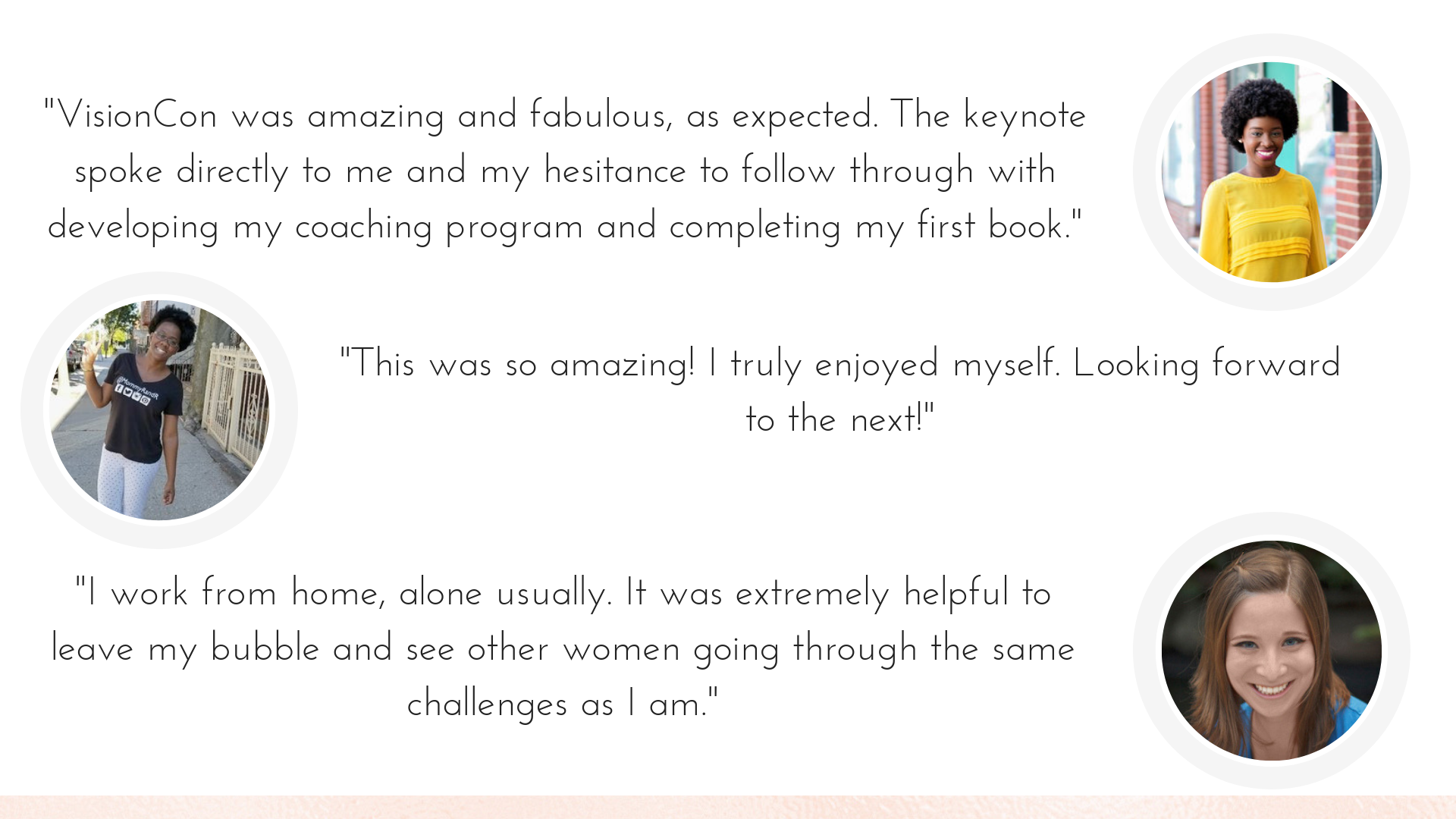 ---


FAQ's
I don't want anything too woowoo. Is VisionCon right for me?
This is not your typical vision board event. We have speakers sharing tactical information about solving their goals. We strategically envision the future by honing in on your values, goals and challenges in a knowledge-sharing environment. (Plus, we're not a fan of fluffy woowoo events either.)
I already have a 2019 vision board. Is VisionCon right for me?
Yes. VisionCon is not just about creating a vision board. We focus on setting goals that are in line with your values to accomplish your goals without burnout or overwhelm. We bring out speakers to share strategies for playing a bigger game and balancing your life in the process.
What are my transport/parking options getting to the event?
Trinity is close to the Brookland/CUA Metro station on the red line which is a 15 minute walk to the campus. To catch the shuttle at the Brookland/CUA station, exit to the right. At the top of the escalator, turn left and walk to the end of the iron railing and wait for the shuttle with the Trinity logo on the side.
Parking lot and on-street parking is available.

What can/can't I bring to the event?
We will provide magazines, scissors, glue, a poster board and inspiration. You are welcome to bring additional creative design material or a canvas of your choosing or whatever your heart desires.
In our experience, women have so much fun chatting about their professional experiences and goals, eating and sipping on mimosas and clipping out inspirational quotes and images that attendees do not have time to begin pasting items to their board. Many collect their favorite images at the event and finalize their boards at home. (Side Note: We will also provide folders to hold any magazine clippings you wish to take home.)


Where can I contact the organizer with any questions?
hello@thriveloungedc.com


Do I have to bring my printed ticket to the event?
You may print out your ticket or present it on your phone.


What is the refund policy?
No refunds, ticket exchanges are permitted.


The name on the registration/ticket doesn't match the attendee. Is that okay?
Yes. Many people will choose to purchase multiple tickets for a group, family members and friends. This will be permitted.


Are you accepting sponsors for this event?
Yes! Please click here to view our sponsorship options. Thank you for your support!