Description
Silicon Valley Forum presents
Visionary Salon Dinner 2017
An Evening with 2002 Visionary Awards Honoree
Nolan Bushnell
Wednesday, February 22nd, 2017
6:00 pm to 9:00 pm
Palo Alto, California

Our fourth annual Visionary Salon Dinner will feature an intimate conversation with Nolan Bushnell, pioneering engineer and entrepreneur, founder of Atari, Inc, and VR thought leader. Nolan will be interviewed onstage by Gina Smith, award-winning journalist and New York Times best-selling author.

Attendance at the Visionary Salon is limited to provide a more intimate setting in which to hear from our honored guest. Tickets are now sold out; if you would like to request a seat, please email our executive director Denyse Cardozo (denyse@siliconvalleyforum.com).
This is a fundraising event for Silicon Valley Forum; all tickets are tax-deductible.
#Visionary17
About Our Guest of Honor:
Nolan Kay Bushnell is an American engineer and entrepreneur who founded both Atari, Inc. and the Chuck E. Cheese's Pizza-Time Theaters chain. Bushnell has been inducted into the Video Game Hall of Fame and the Consumer Electronics Association Hall of Fame, received the BAFTA Fellowship and the Nations Restaurant News "Innovator of the Year" award, and was named one of Newsweek's "50 Men Who Changed America." Bushnell has started more than twenty companies and is one of the founding fathers of the video game industry.
His latest startup, Modal VR, is an end-to-end virtual reality platform that delivers large-scale and fully wireless immersion for multiple users at once. The Modal VR ecosystem delivers new possibilities and growth in the enterprise VR market. Additionally, his company Brainrush has developed video-game based learning software that incorporates adaptive learning technologies to vastly increase the speed and efficacy of learning.

Nolan is credited with Bushnell's Law, an aphorism about games "easy to learn and difficult to master" being rewarding. Learn more


---

About Our Interviewer: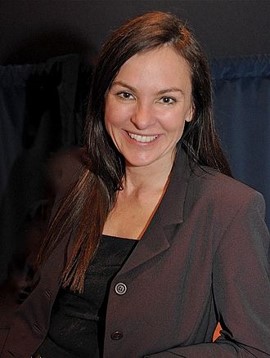 GINA SMITH
Entrepreneur, award-winning journalist, and best-selling author

Based in San Francisco, Gina Smith is the New York Times best-selling author of Apple founder Steve Wozniak's autobiography "iWoz: How I Invented the PC and Had Fun Doing It" and several other best-selling books on tech, genomics and psychology. She's also an award-winning sci-tech journalist.
She's the editorial director of aNewDomain.net, led by Gina, John C. Dvorak, Ted Rall and a long list of decorated writers, editors and content producers. aNewDomain is an ad free journalist's site publishing deep dive news commentary, tech how tos, sports analysis and award-winning podcasts and video shows. The 100-member staff of journalists and video producers at aNewDomain also team up to create content as a service for Fortune 250 companies and startups. The team helped launch the Dell's original TechPageOne site and HTC's millennial lifestyle site, BreakingModern. Learn more
---
About the Visionary Salon:
The Visionary Salon is an intimate, exclusive event featuring an elegant dinner and a fireside chat with a Visionary Award Honoree and a leading Silicon Valley innovator. The Salon provides attendees with the opportunity to enjoy an illuminating discussion on innovation and leadership from an honored guest who is widely recognized for their contributions to both. Previous Visionary Salon guests have included Ray Kurzweil, in conversation with Steve Jurvetson, Reid Hoffman in conversation with Chris Yeh, and Tony Fadell, in conversation with Kevin Surace.
About the Visionary Awards:
Each year at the Silicon Valley Forum Visionary Awards, we honor industry leaders who have pioneered innovation and fostered the spirit of entrepreneurship. These visionaries and distinguished business leaders continue to shape Silicon Valley. This is an exclusive invitation-only event for 150-200 CEOs and executives, and where legendary colleagues and past honorees celebrate the spirit of innovation. In many ways, the event is Silicon Valley's Oscars®, as it is here where those that have made Silicon Valley synonymous with creativity and advancement in technology are honored for their contribution to the world. Previous honorees include Bill Gates, Elon Musk, Ray Kurzweil, Reid Hoffman, Sal Khan, Jessica Jackley, Vinod Khosla, Vint Cerf, Padma Warrior, Tim Draper, Lou Gerstner, Marc Andreessen, Tina Seelig, Steve Wozniak, and Tim O'Reilly.

For more information and a list of honorees through the years, please visit www.siliconvalleyforum.com/visionary-awards

Dress code: Smart Business Attire
---
Silver Sponsor