Description
We're excited to invite you to the Vision Long Beach Kickoff! The last several months we've been working with a diverse group of churches, lead pastors, as well as business and domain leaders in Long Beach to develop and launch Vision360 Long Beach. Our mission is to empower a collaborative church planting movement to transform our city by planting 50 churches in 5 years.
WHO WE ARE: We are like you! We are ministry leaders, pastors, churches, business and domain leaders who love the greater Long Beach area. We are Kingdom collaborators that have a heart and vision for the church and the city. We believe the only way we can accomplish this mission is with you. Click here to learn more about Vision360
Mike Goldsworthy, Parkcrest Christian Church
Larry Walkemeyer, Light and Life Christian Fellowship
Wayne Chaney, Antioch Church

John Teter,

Fountain of Life Covenant Church

Darren Rouanzoin, The Garden
Josh Chavez, Parkcrest 7th Street
Eric Marsh, Grace Long Beach Church, Vision360 Long Beach City Catalyst

Blake Christian, Business Catalyst,

Holthouse Carlin & Van Trigt LLP

Chris Lagerlof, Regional Catalyst, Vision360
Special Guest Speakers:
Rick Warren: Rick is the founding pastor of Saddleback Church in Lake Forest, California, a Christian community that he and his wife began in their home in 1980, with just one other family. Today Saddleback is one of the most prominent churches in America with more than 20,000 members attending four campuses each week, reaching out through some 200 ministries. Rick is author of the wildly popular book, The Purpose Driven Life.
Miles McPherson: Miles McPherson is the senior pastor of the ROCK Christian Fellowship in San Diego, California which he began in 2000. After playing in the NFL for several years, Miles gave his life to preaching the Gospel. The ROCK is a truly multi-cultural church, and is known throughout the US as one of the most innovative churches in serving their community.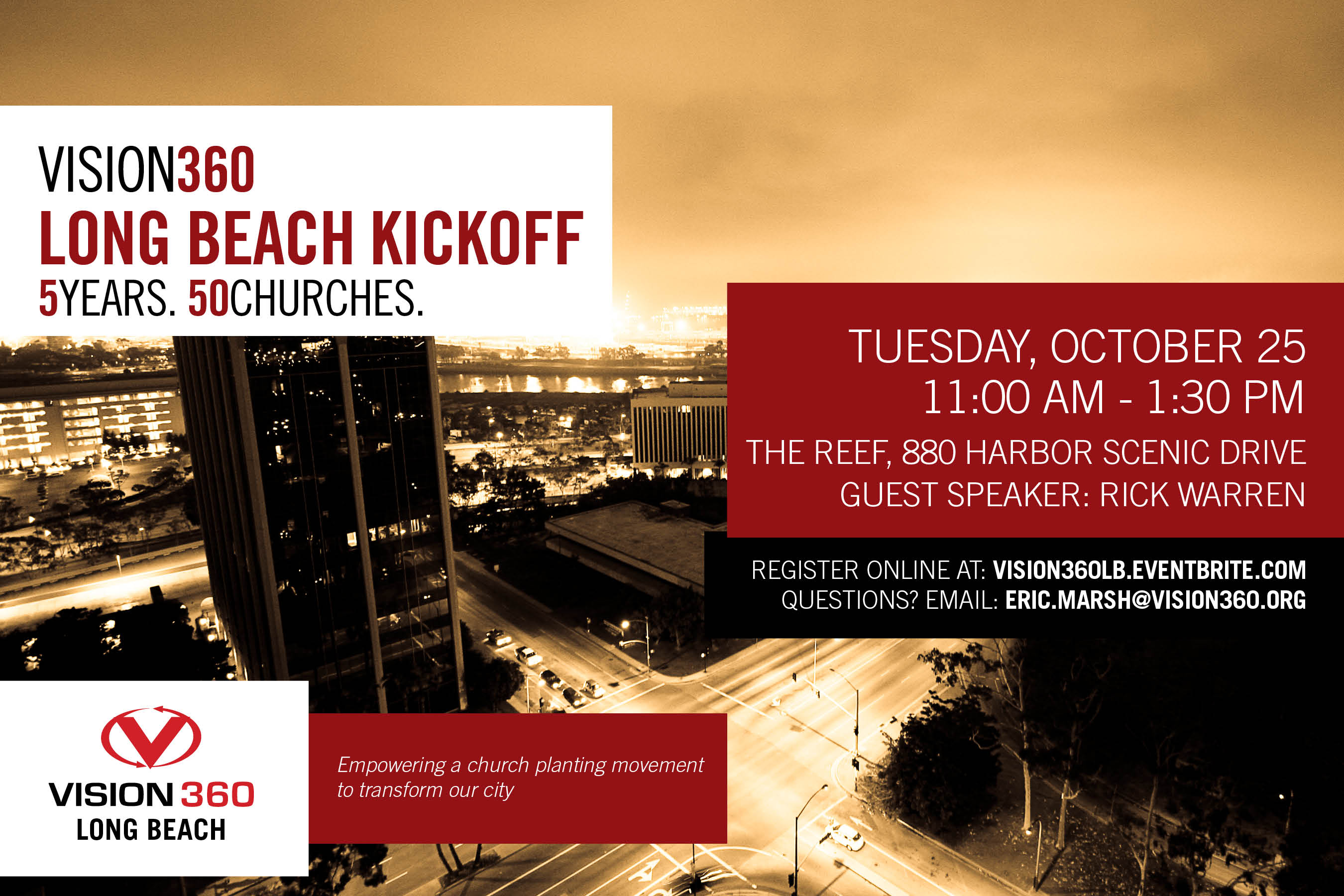 CONSTRUCTION & DIRECTIONS
Currently, there is a lot of construction by the Reef Restaurant, so to avoid confusion we are recommending these directions. We will also have signs directing guests towards the Reef in key locations. (Feel free to call the Reef at 562-435-3717 if you get lost).
- Take I-710 South (head towards Queen Mary)
- Exit Piers F-J Queen Mary
- Veer left at the fork
- Pass Harbor Plaza West & East exits
- Exit Harbor Scenic Dr/Harbor Plaza (Pier G East)
- Stay in your left lane
- Turn left on Harbor Plaza
- Turn left on Queensway
- The Reef Restaurant will be on your immediate right
Address: 880 Harbor Scenic Drive, Long Beach, CA 90802
* Luncheon is located in the Harborview Ballroom
Organizer of Vision360 Long Beach Kickoff