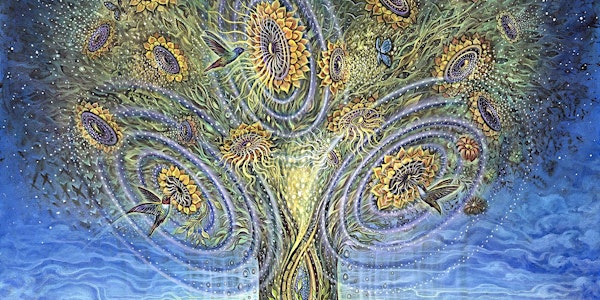 Vision Seeds
Join us for a donation based creative collaborative workshop hosted by Amanda Sage with Angela del Sol & Yadira Capaz from Seed Evolution!
Refund Policy
Contact the organizer to request a refund.
About this event
The seeds of the future we want to grow are in the visions we make today. Gather your paints and your pens, your dances, your songs, and come dream together. Through guided visualization, embodied play, and conversation in community, we will explore the life cycle of a seed as inspiration to create new pieces that give life to our visions of the Regenaissance. Artists have a crucial role to play in leading the paradigm shift and healing our world at this pivotal moment. We have the power to inspire change in the way things are done, and regenerate our connection to the Earth. Amanda Sage from Vision Train will host our Creation Room in partnership with Angela del Sol and Yadira Capaz from Seed Evolution to guide our creative intentions.
Feeling inspired? Join us! This event will be hosted on the 24/7 Vision Train Zoom Link. Sign up to the event to receive the link!
* Donations for the workshops will be shared between Seed Evolution and the Vision Train to support ongoing efforts and activites. Suggested donation $30 + (All are welcome, donations voluntary).
Seed Evolution is a public art project and educational platform encouraging people to plant their "seeds" for the future while participating in regeneration efforts in their communities and the world. Over the past year Seed Evolution collected more than 1000 "seeds" through a multi-city road trip documentary traveling in a modular bus from New York to Miami amplifying the dreams of people making change in their communities through food resilience and civic engagement. They are in the process of planting those visionary "seeds" in the form of 5,000 trees with Indigenous people across Peru and Colombia. If you would like to support their efforts, you can donate to their gofundme! Through their platform they inspire people to reimagine sustainable solutions in a creative way.
The Vision Train is an interactive art movement linking our visions into a self-manifesting destination of the most inspiring future. The Vision Train is an ever evolving co-creative project initiated by artist Amanda Sage. It evolved through visual story-telling, conversation and various projects since 2011. On March 24th, 2020 the Non-Stop Vision Train Global Art Jam left the virtual station to run an indefinitely open 24/7 art studio on Zoom. Generated by a rotating crew of volunteer artists from around the world, value and community are explored in a collective experimental virtual studio. All who find their way to this space are welcomed by a global tribe of established and emerging visionaries
exploring their creativity and exchanging ideas.
If you are feeling the call of curiosity and inspiration join us as we explore possibilities of a future unfolding:
Join our Facebook Group: The Non-Stop Vision Train Global Art Jam and find the 1yr Anniversary Schedule from March 20th - 28th on our website: visiontrain.org !
It is time for the children of the earth to rise up to design and implement systems that will empower the generations ahead with tools for a peaceful civilization of humanity co-existing with itself and all the other species of animals and plants on earth.
It is time to go back on the tracks
on a journey of healing,
to re-member our roots,
who we are
and our interconnectivity
with all of life.
From there we will build a new operating system that honors natural law
and the creative spirit inherent in all.