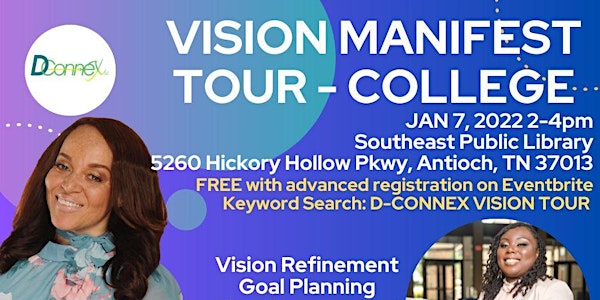 Vision Manifest Tour 2022-23 COLLEGE EDITION
College Students, we can't wait to help you kick start your VISION!!!!
When and where
Location
Southeast Public Library 5260 Hickory Hollow Parkway Antioch, TN 37013
About this event
It's time... Stop wishing! Nashville Let's grow! Announcing our 2022-23 Vision Manifest Tour, 3 FREE events open to the public thanks to our amazing Sponsors! We all have busy lives but are you busy or working in purpose? Release the fear and take the step to new beginnings. This session is tailored for College Students, however; high school students and young adults are also welcome.
This Interactive Vision Manifest Workshop will help you heighten the following:
Understanding Your Current State of Mind
Pathways to Vision
Goal Creation/ Refinement
Time Management
Tips to Successful Action Items
Developing Powerful Habit Creation
Impactful Accountability and Circles of Influence
Maintaining Balance throughout the Journey
Interested in having your city, organization, or company added to the tour visit www.dconnexllc.com to submit information request. Our goal is for you to not leave the same as you came in!!! Ready to Manifest? Grab your ticket ASAP!