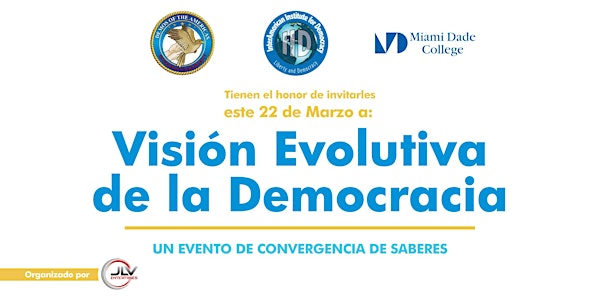 Vision Evolutiva de la Democracia
Date and time
Thursday, March 22, 2018 · 8am - 12:30pm EDT
Location
300 NE 2nd Ave 300 Northeast 2nd Avenue Wolfson campus auditorium 1261 Miami, FL 33132
Description
Visión Evolutiva de la Democracia:
Un Evento de Convergencia de Saberes.
La fragilidad de la democracia frente a retos sociales, económicos y políticos se ha transformado en un tema central de nuestros tiempos. La historia de muchos países termina por escribirse en referencia a las decisiones que tomaron las élites dirigentes y los ciudadanos en encrucijadas históricas donde se pusieron en juego los valores de la democracia y la libertad.
En este foro de convergencia de saberes se presentaran dos visiones sobre la evolución de la democracia y sus retos modernos de transformación, no solamente para la preservación del futuro de naciones individuales sino para avanzar hacia propósitos y objetivos que permita atender la salud del planeta.
Este evento se ha organizado bajo los auspicios del Miami Dade College, Demos of the Américas y el Interamerican Institute for Democracy. El mismo consiste de dos presentaciones centrales, una sobre la visión ancestral basada en la Cosmovisión Andina que ha encontrado nuevas energías y modos de proceder en la defensa y la práctica evolutiva de la democracia en el marco de la Cosmovisión Andina, a cargo del Sr. Nicolás Pauccar Calcina, III y una visión analítica sobre las contribuciones del mundo occidental desde la óptica de un líder intelectual del pensamiento moderno, Dr. Asdrúbal Aguiar
About the organizer
We are the leading mobile digital agency offering integrated, dynamic and streamlined website design & development solution to businesses worldwide. We have established a reputation for consistently delivering critical and technically challenging projects under given timelines, while also providing exceptional customer service and support to our clients.