Vision Boards + Mini Facials: Get a vibrant & clear start in 2020
About this Event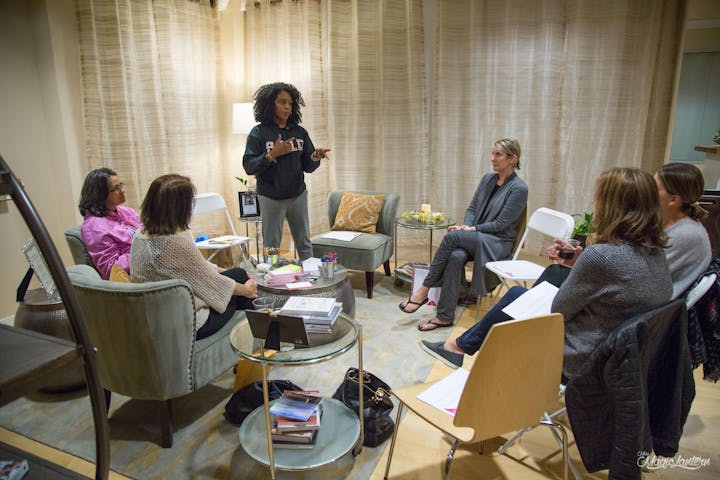 Get a smooth, vibrant, and clear start for the New Year. Leap into 2020 with a fresh face and a focus on boldness! This vision board event will inspire and support you in focusing on what matters, making space to prioritize your wellness, and mapping out your plans (and goals) for a successful calendar year.
What are your goals for 2020?
How will you support yourself with positive mind fuel to make your 2020 goals a reality?
How can you use your vision board as a tool to help you focus?
Kanesha Baynard - author, creativity expert, and productivity strategist - has curated a joyful and creative evening designed to help you feel pampered - while you put your desires at the center of mapping out your vision for 2020.
Kanesha has partnered with Bliss Beauty Center and Pam, The Beauty Conservator to provide a luxurious and sumptuous experience while you welcome the new year.
About the event
Vision boards are a great way to help you focus on your dreams, goals, and aspirations - in a way that is supportive, realistic, and motivational.
During our time together, we will:
explore the Wheel of Boldness
enjoy a facial
discuss the power of journaling
make vision boards
enjoy having time to prioritize ourselves
connect and celebrate with other amazing women
guests will enjoy 20% off on product and gift purchases from Bliss Beauty Center during the event
Vision Board Party Includes:
Wheel of Boldness curriculum and toolkit
Facial
Vision Board Materials
Journal
Amazing goody bag
Appetizers + Beverages
Invest in yourself, come have fun, and set yourself up to boldly leap into 2020 - while you create your vision board.
Who should attend?
Women (ages 21+)
Mothers
Female - leaders, educators, philanthropists, community activists, and, entrepreneurs
Basically, any woman who wants to dedicate time to make plans on her on terms.
Program Schedule:
6:45pm: Check-in
7:00pm: Welcome
7:15pm: Group Coaching | Beverages + Nibbles
7:45pm: Vision Board Creation | Facials
9:30pm: Event Concludes
________________________________________
About your hosts:
Kanesha Baynard considers herself to be the love child of Oprah Winfrey and Martha Stewart. In actuality, she is professional coach and author supporting people in transition. She is the founder of the Bold Living Today community which helps people disrupt unfulfilling patterns through creativity.
Kanesha specializes in helping creatives brainstorm and develop business ideas. She works with families to nurture individual connectedness. She also supports bold women who are relocating due to their spouse's/partner's career endeavors.
Kanesha's work has been featured in Fast Company, HuffPost Live, U.S. News and World Report, TiLT Parenting Podcast, Parents Magazine, WVON 1690 AM radio, and the Chicago Tribune. She has also appeared on the Dr. Oz Show.
We invite you to experience our world class therapeutic services for both women and men. We offer exclusive skin care treatments, innovative hair design, touch therapies, including massage, luxurious nail spa services and comprehensive finishing touches – all brought to you by professionally trained, accredited, and compassionate industry experts.
Bliss also carries a wide range of exquisite retail products in our boutique, from high-end skincare, fine cosmetics, perfumes, unique jewelry, beautiful accessories and hair care products. Our brand profile and product selection will always be on the leading edge to ensure that we meet your expectations and distinguished taste.
I help women gain confidence, feel comfortable in their own skin, and love who they see when they look in the mirror.
I use my training in holistic practices, Forbes standards, and European techniques to give women the best from each field.
________________________________________
Bold Feedback about Kanesha Baynard
- Kanesha can totally change your life - the way you work, interact with friends and professionals, and views of your contributions to our world. This is one of wisest and positive souls that has ever entered and transformed my "being"! - Professor
- Be ready to be entertained with plenty of interaction. You will not only learn new things about yourself but you will have fun doing so. Kanesha is an outstanding motivator who is knowledgeable, yet approachable. -Fitness Instructor/Entrepreneur
- Kanesha can help you find balance in your personal and professional life, make a plan to reach goals that you may have been putting off or that you didn't really consider possible. You will find that you can set all of your thoughts, desires and interests free to explore who you want to be and where you want to go. She'll give you tools to plan out how to reach your goals, keep your focus and keep your vision!!
– Veterinarian- Kanesha is a well-established life coach who knows what's she's doing. She will help you in such a fun way you'll be so surprised it's that easy to make changes and learn new ways of thinking. - Florist/Entrepreneur
- Kanesha was supportive, fun and wise. She helped me at a very low point in my life as I was negotiating a career change after a toxic work environment. She believed in me and helped me set realistic yet high goals for my next career. We discussed specifics such as negotiating salary, thinking outside the box and strategizing about work-life balance. Our sessions were fun - we laughed as she inspired me to be bolder and more authentic. It is now 2 years later and my income is 40% higher, and my happiness level is 2,000% higher. I have also lost 30 pounds as my life has come into more balance. Working with Kanesha was an important part of my transformation. -Scientist
- Please be open to whatever needs you have and willing to explore whatever possibilities come up, this is how I view working with Kanesha. - Retired Educator
________________________________________
FAQs
Is my registration/ticket transferable?
Yes. Contact Kanesha@BoldLivingToday.com to arrange this.
What is the refund policy?
We do not issue refunds.
I plan to travel to attend this event. Can you recommend a lodging locations and things to do?
Yes! Contact Kanesha@BoldLivingToday.com and we will send an exclusive Bold Living Today travel guide to you.
What is the dress code?
Bold women believe in feeling good and looking good. Come casual and comfortable. You will be in a a beauty center with a beautiful spa environment.
How can I add my company to your list of Sponsors?
For sponsor information, contact Kanesha@BoldLivingToday.com.